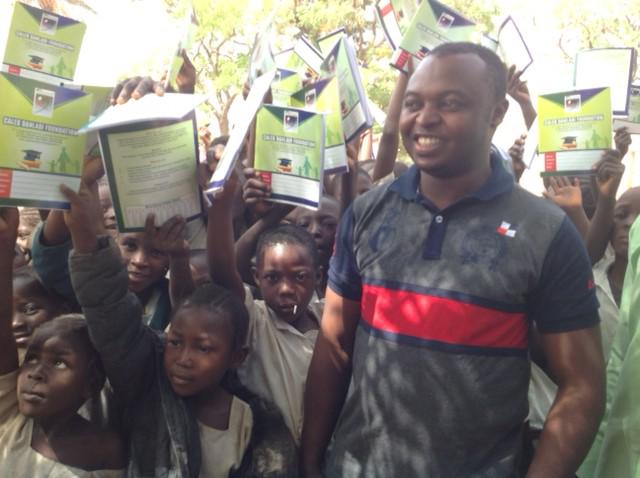 *To raise fund for orphans and widows living with cancer in Kaduna state
Photo: Caleb Danladi Foundation Donated Exercise Books to Students in Southern Kaduna
There is no doubt that cancer is a serious public health problem in Nigeria, and regrettably, its management has not been satisfactory due largely to the adverse effects of unfavourable economic factors. 
It is obvious that the number of cancer victims in the country at the moment is on the rise. 
Reports have it that no week passes without a Nigerian dying of cancer, just as hundreds of thousands are dying slowly and silently.
Experts have expressed concern that the prevalence and incidence of cancer among Nigerians is on a sharp rise. 
This is because of the frequent cases of breast, cervix, prostate and colorectal, among other cancers that have become regular in Nigerian hospitals.
Cancer is an expensive disease to treat and the patients under the scope of this proposal do not have access to health insurance – simply they cannot afford to pursue treatment. 
They live a hand–to-mouth existence and cannot afford to be ill.
However, hospital admittance, investigative techniques, blood samples, scans, the drugs used to treat the cancer, as well as other treatment options such as surgery, chemotherapy and radiotherapy, are often prohibitively expensive.
The lack of affordability of treatment means that there are high rates of treatment abandonment, with patients instead seeking alternative or traditional treatments (usually leading to premature death) and/or patients not presenting for treatment until the cancer is so advanced they can only receive palliation. 
Caleb Danladi foundation's [CDF] resolve to stand up to the menace of cancer is occasioned by the devastating effects of the disease on our population. 
The foundation plan to assists persons with cancer (Orphans and Widows) in securing accurate/timely information, diagnosis, treatments and rehabilitation services so that they may take/maintain their place in society as productive citizens.
Caleb Danladi foundation is well aware of the financial and other issues that cancer patients in Kaduna state face in accessing their treatments. 
We will fundraise to fulfill our mission to support cancer patients and assist both financially and emotionally. 
Caleb Danladi foundation will be Partnering with Kunak Foundation through Bavo Nyan to identify beneficiaries.
Caleb Danladi Foundation is a Non-Governmental Organisation (NGO) registered in Nigeria with the heart of reaching the most vulnerable persons in the society. 
CDF works to improve the living standard of standard of the less privilege in the society. 
CDF has been raising funds and operating programs that focuses on issues on empowering widows, assisting orphans who need education and entrepreneurship skills to better their future, offer charitable and humanitarian assistance to elderly, physically challenged, poor children and victims of disaster, community and rural development.
© Copyright 2015 www.elombah.com. Send eyewitness accounts/reports/articles to publisher@elombah.com; follow us on twitter handle @Elombah; like our Facebook page: "Elombah.com"