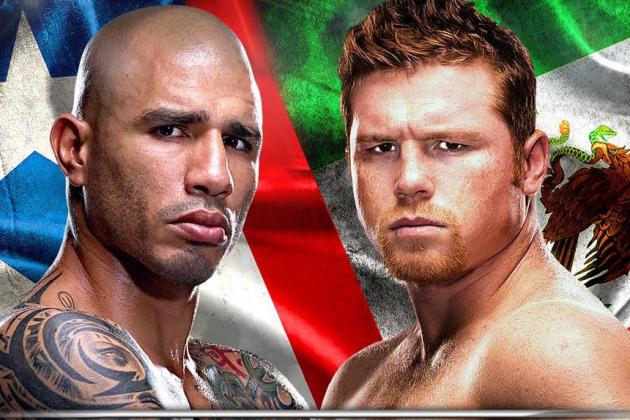 Given their antecedents, fight fans should expect some significant fireworks in the ring when the Ring Magazine and WBC middleweight champion Miguel Cotto (40-4-33Kos) puts his title on the line against former WBA and WBC junior middleweight champion Canelo Alvarez (45-1-32Kos) this Saturday in Las Vegas, Nevada.  
After the monumental half a billion dollar snoozer between Floyd Mayweather Jr.  and Manny Pacquiao  on May 2 this year, the Cotto-Alvarez showdown  should live up to the hype because both fighters don't have the safety first approach to boxing like the retired Mayweather.
Fight fans don't mind shelling out their hard-earned bread to watch boxers who love to mix it up like Cotto and Alvarez. Both men don't kid around the moment they climb through the ropes into the ring. And the subplot of this fight is the renewal of the rivalry between Mexico and Puerto Rico in boxing that goes back for decades.  
Just to mention a few, hardcore fight fans  will remember the classic duels between fighters from these two Latin nations such as the epic battle between the late great featherweight champion Salvador Sanchez and Puerto Rico's star and hero  Wilfredo Gomez   in Las Vegas in 1981. 
Fans will also remember Mexican all-time great Julio Cesar Chavez giving the late Hector "macho" Camacho a few boxing lessons in 1992. Coto himself has participated in some those Mexican-Puerto Rican showdowns.
Cotto is a master at reinventing himself, a fighter who has a knack for bouncing back from crushing losses that would have ended the careers of many boxers.    Cotto and Antonio Margarito fought twice.  The Mexican fighter (who was accused of padding his gloves to gain the upper hand) stopped Cotto in the 11th round in 2008. 
But Cotto would later avenge his knockout loss in 2011 with a brutal beat-down of Margarito when the referee stopped the fight on the advice of a ringside physician. 
In 2009, Cotto ran into a buzz-saw named Pacquiao, who took him apart en route to stopping him in the 12th round. Again the resilient Cotto came back in his next fight stopping Yuri Foreman to win a junior middleweight title.
The champ comes into this fight with a three-fight winning streak after back to back disappointing losses to Mayweather and Austin trout. In the loss to Mayweather, he gave the retired pound for pound potentate all kinds of hell, bloodying his nose before losing by a unanimous decision. But Cotto will have his hands full against Alvarez, who is 10 years younger than he is.  
Cotto has the edge when it comes to experience; he has had more hand-to-hand combats in the ring than Alvarez, who is trying to replace the legendary Chavez as the best boxer of all time in Mexico.
The experts say the only way for Cotto to prevail over Alvarez in this fight is to employ the same defensive tactics that Mayweather successfully deployed against him in 2013. Mayweather, perhaps the most technically skilled boxer of his generation, handed the young Mexican star his only loss two years ago at a catch weight of 154 pounds.  But Cotto, who has one of the most lethal left hooks in the fight game, is not in the mold of Mayweather as a fighter. 
Mayweather relied on his technical skill for his entire career to outlast his opponents. Cotto is all action once the opening bell rings for a fight. Cotto, like Alvarez, has never participated in a dull fight, which means this weekend's smack-down between Cotto and Alvarez may very well end in a knockout victory for the young, hard-hitting Mexican puncher. Cotto has a great chin, but he has been stopped twice in the past.  
Alvarez, on the other hand, as he demonstrated in his third round demolition of James Kirkland earlier this year, can take a punch. So the champ is going to have to find a way to neutralize Alvarez's fast and furious combinations, physicality, punching power and speed to have any chance of retaining his title.
It is close, but the bookies have installed Alvarez as the favorite to take the title from Cotto, the first fighter from Puerto Rico to win the middleweight title.
By Bayo Akinnagbe