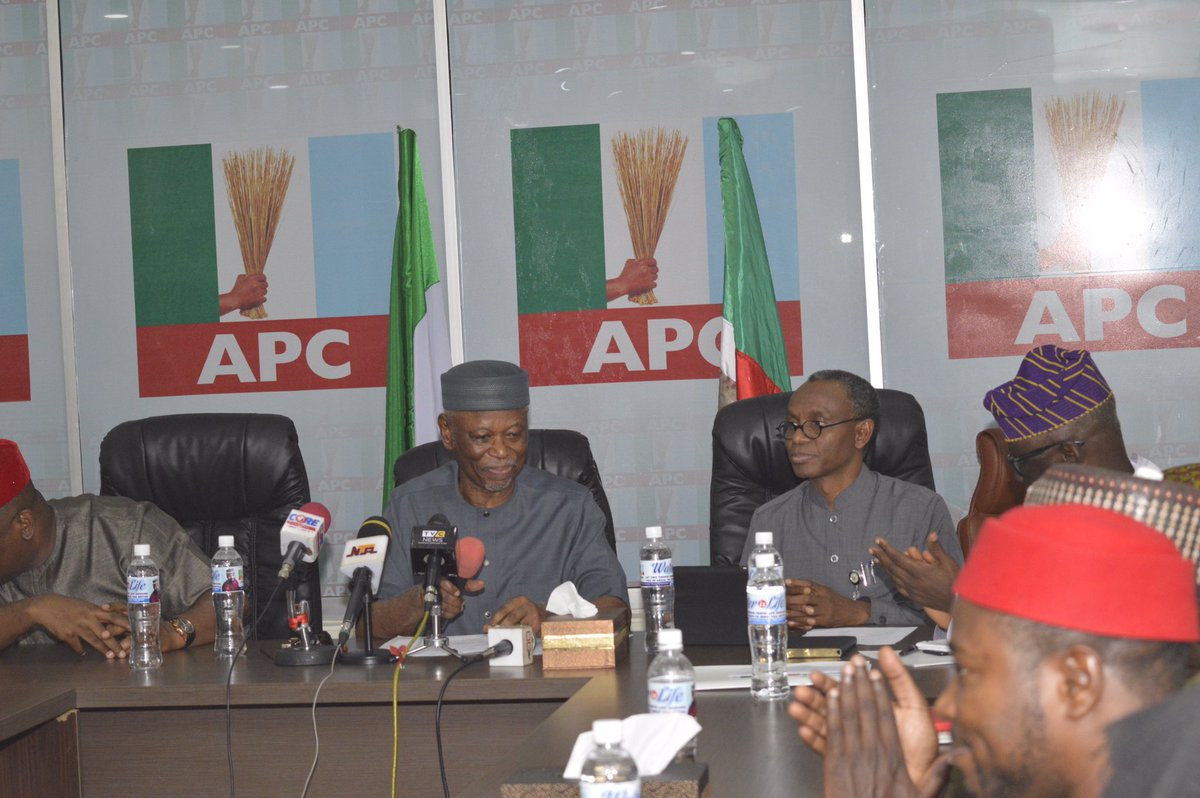 Fellow Anambrarians and respected members of the All Progressives Congress delegates, I greet you all in a special way today, the 13th August, 2017.
In the next one (1) week – precisely 19th day of August, 2017 – our great party, the APC, will go to polls in an all-important democratic exercise to elect a candidate who will fly the flag of our party in the November 18, 2017 governorship election in Anambra State. 
God willing, the APC candidate will emerge victorious in the said election to steer the ship of our state in the next four (4) years. 
I want to happily remark here that our dear state has recorded tremendous progress as well as enviable stability in her body politic. 
This stability, which has engendered unprecedented level of development in the pas fifteen (15) years, stems partly from our warm embrace of the principle of equity, justice and fair play. 
Clearly, this principle – consciously and sub-consciously enshrined in our minds – was the major reason why power had to shift from Anambra South senatorial zone in 2003 to Anambra central. 
It will be recalled that former Governors Chukwuemeka Ezeife and Chinwoke Mbadinuju both hail from Anambra South senatorial zone. 
During the eleven (11) years power stayed in the central senatorial zone (2003 – 2014), it was unfortunately punctuated by selfish, overzealous and unscrupulous elements leading to South senatorial zone occupying the seat at various times (Virgy Etiaba and Andy Uba). 
However, normalcy returned with historical court judgements independently procured by former Governor Peter Obi.
It is a blessing to the state that our brothers in the North Senatorial zone were allowed to have a shot on the gubernatorial seat of the state in 2014, first in the history of the state. 
This ensured a more stable polity for our dear state.
One pertinent question that our delegates need to patriotically answer is: is it the right time for power to shift from Anambra North to Anambra South? 
Does it mean that a zone that produced Owelle of Onitsha, Rt. Hon. Dr Nnamdi Azikiwe, Dr Chuba Okadigbo, Cyprain Ekwensi, etc., does not have the capacity to spend eight (8) years on the governorship seat of Anambra? 
Before writing this article, the above questions were answered by Anambra stakeholders including Ohaneze Ndigbo, Anambra leaders of thought, etc., who recently issued a unanimous statement to the effect that for us to deepen the stability in the state's polity, all political parties in the November 18 governorship election should pick their flag bearers from the North senatorial zone.
Fellow APC men and women, everybody knows that this election is basically being contested by three major political parties – APC, PDP and incumbent APGA. Other parties – UPP, PPA, Labour, etc., are just there to add some colouration to the contest. 
The handwriting on the wall is that the PDP will field a candidate from the North senatorial zone. 
The incumbent Governor who is also from Anambra North will mostly likely fly APGA ticket irrespective of the division in that party. 
It is now left for the APC delegates to patriotically contribute towards our state's success story by voting for a candidate from Anambra North. 
The electorate is already conscious of this and will definitely reflect this equity in the voting pattern of November 18. 
Thus, any mistake of not fielding a candidate from the North senatorial zone may cost the party her deserved electoral victory on November 18. 
If I am to be selfish about the whole thing, I would have desired my own senatorial zone, Anambra South, to produce the next Governor of the state. 
But the fact remains that any attempt to install a southerner at this time is tantamount to robbing the North their fair share in the state. 
We in the south should wait until 2021. It is a small period of time. 
The north currently parades very credible, eminently qualified, experienced and passionate aspirants who have the charismatic capacity to take our state to the next level.
Engr Ifeanyi Anagwu is a lecturer of chemical engineering and National Vice President, Chukwuemeka Odumegwu Ojukwu University Alumni Association.
—
Would you like to be receiving ALL Elombah.com news links 'On The Go' on WhatsApp?  If yes, please provide us your WhatsApp number via publisher@elombah.com or inbox +2349050382526 and you are ready to go!
© Copyright 2017 www.elombah.com; unless otherwise indicated, all images are courtesy of Twitter; send eyewitness accounts/reports/articles to publisher@elombah.com; follow us on twitter @Elombah; like our Facebook page: Elombah.com; join us on WhatsApp HERE
For advert placement call us on +447460770987, +2349050382526