Covid-19: ECOWAS records 2374 cases, 68 deaths
As South Africa records new total of 1934 cases COVID-19
The Economic Community of West Africa State [ECOWAS] has, as at April 4, 2020, recorded 2374 cases of the deadly Covid-19 pandemic.
According to the latest update, the region has also recorded 425 total recoveries as at the given date with  68 deaths.
A chart provided by the region's health management shows Burkina Faso with the highest number of infections, recoveries and deaths, viz: 414 cases, 134 recoveries and 23 deaths respectively.
Cote d'Ivoire follows with highest number of cases but with far lesser recoveries and deaths — 384, 48 and 3 respectively.
Niger Republic has third highest number of cases with 342 but lesser recoveries and deaths at 28 and 11 respectively.
Nigeria, with almost half the population of West Africa, trails at fifth position with only 288 as at the closing of April 9. She also has 51 recoveries and only 7 deaths.
With a population of about 200 million, Nigeria can be adjudged as the best Covid-19 management country in the world, population per ratio wise.
As at 09:30 pm 9th April, there are:
288 confirmed cases
51 discharged
7 deaths
See full data provided by the Nigeria Centre for Disease Control (NCDC) below:
Lagos- 158
FCT- 54
Osun- 20
Edo- 12
Oyo- 11
Bauchi- 6
Akwa Ibom- 5
Ogun- 4
Kaduna- 5
Enugu- 2
Ekiti- 2
Rivers-2
Kwara- 2
Delta- 2
Benue- 1
Ondo- 1
Katsina-1
See banner below: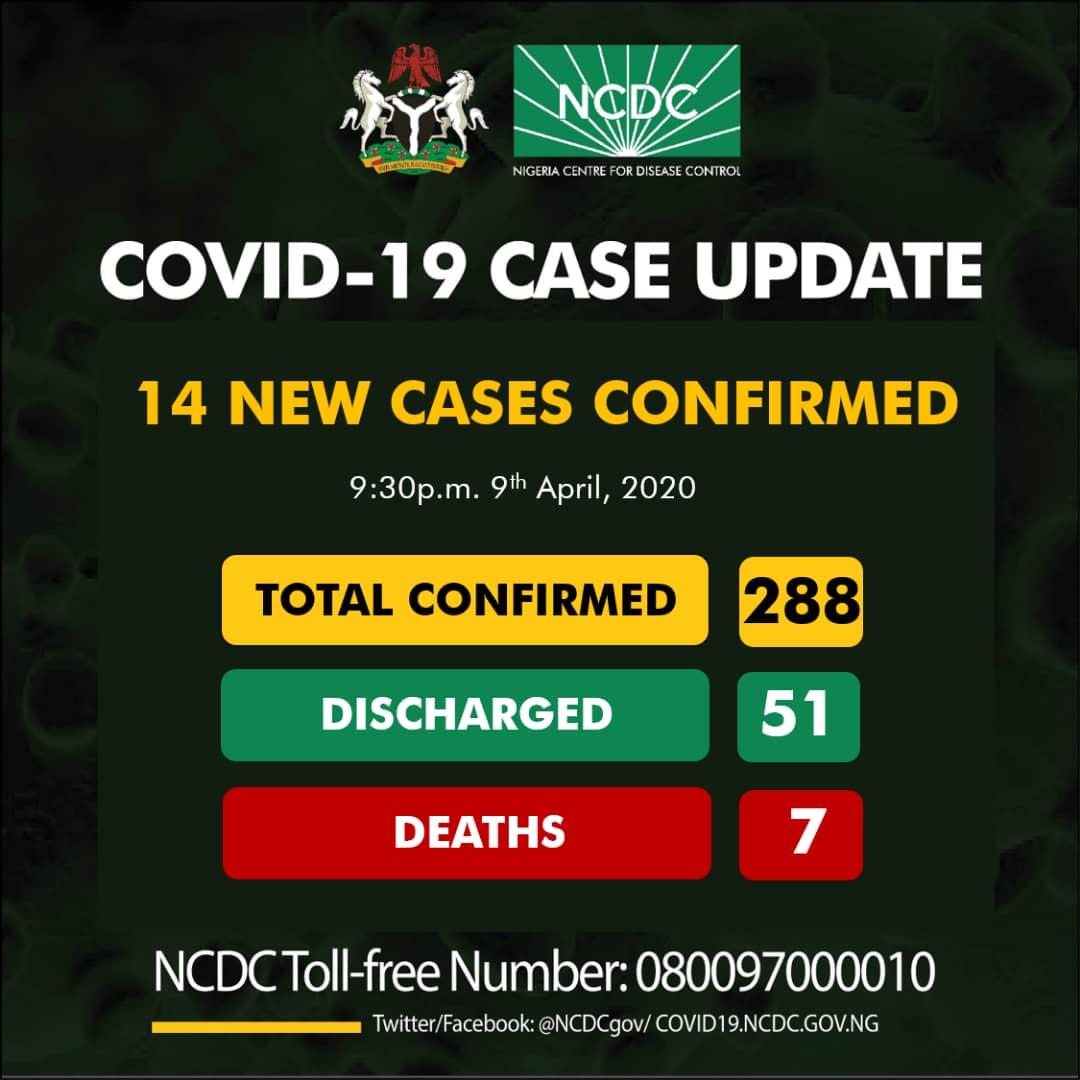 See chart below: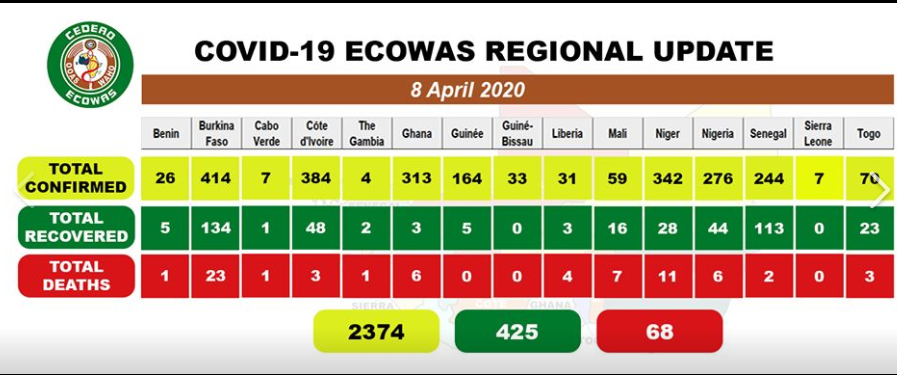 In another development, South Africa has continued to witness high Covid-19 cases with 89 new coronavirus cases confirmed on Thursday, taking the total number to 1934.
As at April 8, at least 18 deaths have been confirmed.
Current Cases of #Covid19 South Africa as of 09 April 2020:
Total cases: 1934
89 New Cases
45 Full recovery (Confirmed Negative)
18 Deaths
The breakdown per province:
GP: 782
WC: 495
KZN: 354
FS: 88
EC: 45
LP: 21
MP: 21
NW: 15
NC: 13
Unallocated: 11