Shops across England selling non-essential goods are welcoming back customers from today as the unlocking of the High Street begins.
Thousands of of people queue outside of Primark stores across England
Prime Minister Boris Johnson has urged people to "shop with confidence" following covid-19 outbreak.
Covid-19 guideline: Retailers are required to introduce plastic screens at the tills and floor markings to keep shoppers two metres (6ft 5ins) apart.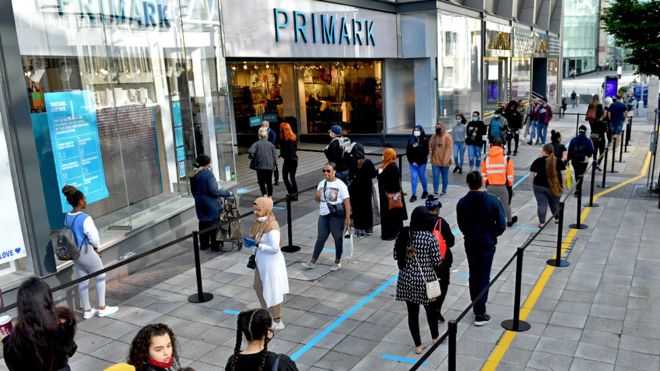 Pent-up demand has prompted queues at some shops as rules are relaxed in England after a three month lockdown following covid-19 outbreak.
Long queues were reported outside Primark shops in London and Birmingham ahead of their 8am opening time.
The chain, which like other clothing shops has been closed since 23 March, does not offer online shopping meaning customers can only buy in the store.
All shops in England are allowed to open, although retailers have had to introduce strict safety measures.
Jaydee Darrock, from Warwickshire, was one of the first inside Primark's Birmingham store after queuing from about 07:00. She described it as "surprisingly calm".
"We thought it would be chaotic, it's not, it's quite nice," she said.
In Manchester, people waited for almost an hour for some shops. Big queues formed outside Primark,TK Maxx and Foot Locker.
Although food shops, pharmacies, banks and other essential retailers have stayed open, vast swathes of the High Street, from bookshops to clothes outlets, have been closed since 23 March.
HMV owner Doug Putman told the BBC's Today programme that he expected a rush in the first week of trading after his shops open their doors. But he said retailers could be faced with a problem if shoppers do not return in the same numbers as before the lockdown.
"If you've got the same cost structure to run the business but sales are down even 20% it makes a lot of companies unviable."
"We're being very hesitant, we believe that it is going to be a tough year."
For more coronavirus updates, click here