The Nigeria Centre for Disease Control (NCDC) has stated that it confirmed 354 new cases of COVID19 in Nigeria on Thursday, August 6, 2020.
A breakdown of the 354 new cases shows that once again the Federal Capital Territory (FCT) topped Lagos at 78 and 76 respectively.
Kaduna followed with 23 new cases while Ebonyi and Oyo trailed behind.
See below a list of all 17 states affected:
FCT-78
Lagos-76
Kaduna-23
Ebonyi-19
Oyo-18
Nasarawa-17
Rivers-17
Delta-16
Kwara-15
Akwa Ibom-13
Edo-12
Ogun-12
Plateau-11
Kano-9
Bauchi-6
Borno-6
Ekiti-6
Summary
45,244 confirmed
32,430 discharged
930 deaths
See banner below: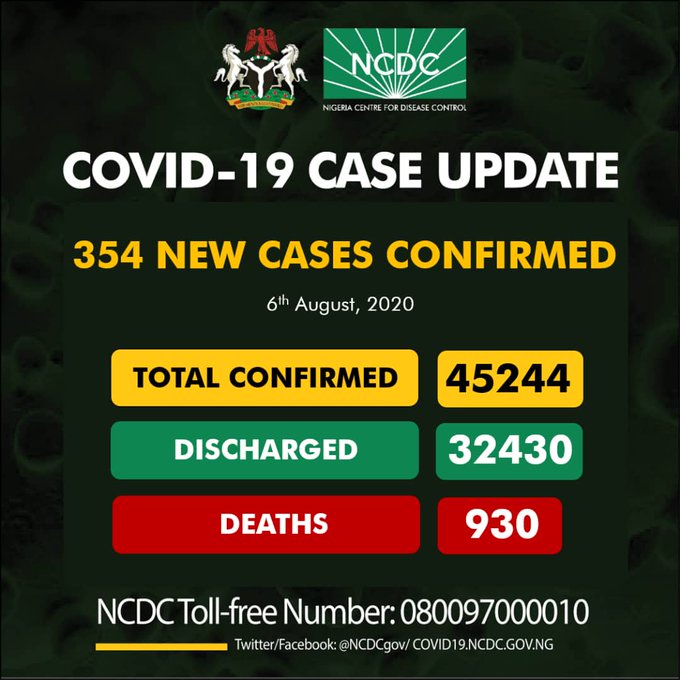 Confirmed Cases by State
| States Affected | No. of Cases (Lab Confirmed) | No. of Cases (on admission) | No. Discharged | No. of Deaths |
| --- | --- | --- | --- | --- |
| Lagos | 15,627 | 2,316 | 13,119 | 192 |
| FCT | 4,241 | 2,965 | 1,231 | 45 |
| Oyo | 2,825 | 1,392 | 1,402 | 31 |
| Edo | 2,340 | 174 | 2,073 | 93 |
| Rivers | 1,911 | 267 | 1,591 | 53 |
| Kano | 1,608 | 264 | 1,291 | 53 |
| Delta | 1,557 | 110 | 1,404 | 43 |
| Kaduna | 1,530 | 183 | 1,335 | 12 |
| Ogun | 1,428 | 200 | 1,204 | 24 |
| Plateau | 1,294 | 676 | 598 | 20 |
| Ondo | 1,243 | 565 | 651 | 27 |
| Enugu | 880 | 377 | 485 | 18 |
| Ebonyi | 838 | 19 | 793 | 26 |
| Kwara | 815 | 452 | 342 | 21 |
| Katsina | 746 | 265 | 457 | 24 |
| Borno | 634 | 30 | 569 | 35 |
| Abia | 625 | 103 | 517 | 5 |
| Gombe | 620 | 68 | 529 | 23 |
| Osun | 586 | 273 | 300 | 13 |
| Bauchi | 574 | 40 | 521 | 13 |
| Imo | 472 | 315 | 147 | 10 |
| Nasarawa | 360 | 129 | 223 | 8 |
| Benue | 356 | 285 | 64 | 7 |
| Bayelsa | 342 | 31 | 290 | 21 |
| Jigawa | 322 | 3 | 308 | 11 |
| Akwa Ibom | 234 | 55 | 171 | 8 |
| Niger | 226 | 81 | 133 | 12 |
| Adamawa | 176 | 80 | 85 | 11 |
| Ekiti | 159 | 81 | 76 | 2 |
| Sokoto | 154 | 1 | 137 | 16 |
| Anambra | 142 | 41 | 83 | 18 |
| Kebbi | 90 | 0 | 82 | 8 |
| Zamfara | 77 | 1 | 71 | 5 |
| Taraba | 72 | 13 | 55 | 4 |
| Cross River | 68 | 27 | 33 | 8 |
| Yobe | 67 | 2 | 57 | 8 |
| Kogi | 5 | 0 | 3 | 2 |
Highlights
On the 6th of August 2020, 354 new confirmed cases and 3 deaths were recorded in Nigeria
Till date, 45244 cases have been confirmed, 32430 cases have been discharged and 930 deaths have been recorded in 36 states and the Federal Capital Territory
The 354 new cases are reported from 17 states- FCT (78), Lagos (76), Kaduna (23), Ebonyi (19), Oyo (18), Nasarawa (17), Rivers (17), Delta (16), Kwara (15), Akwa Ibom (13), Edo (12), Ogun (12), Plateau (11), Kano (9), Bauchi (6), Borno (6), Ekiti (6)
A multi-sectoral national emergency operations centre (EOC), activated at Level 3, continues to coordinate the national response activities