The Nigeria Centre for Disease Control (NCDC) has reported 201 new cases of COVID19 in Nigeria on Wednesday, September 30, 2020.
According to the report, Lagos topped the chart with 77 cases, Rivers — 37 and Plateau — 25.
See a breakdown of the 201 new COVID19 cases below:
Lagos-77
Rivers-37
Plateau-25
FCT-13
Kaduna-12
Ogun-12
Adamawa-8
Taraba-7
Imo-4
Kwara-2
Osun-2
Abia-1
Oyo-1
Quick Summary
58,848 confirmed
50,358 discharged
1,112 deaths
See banner below: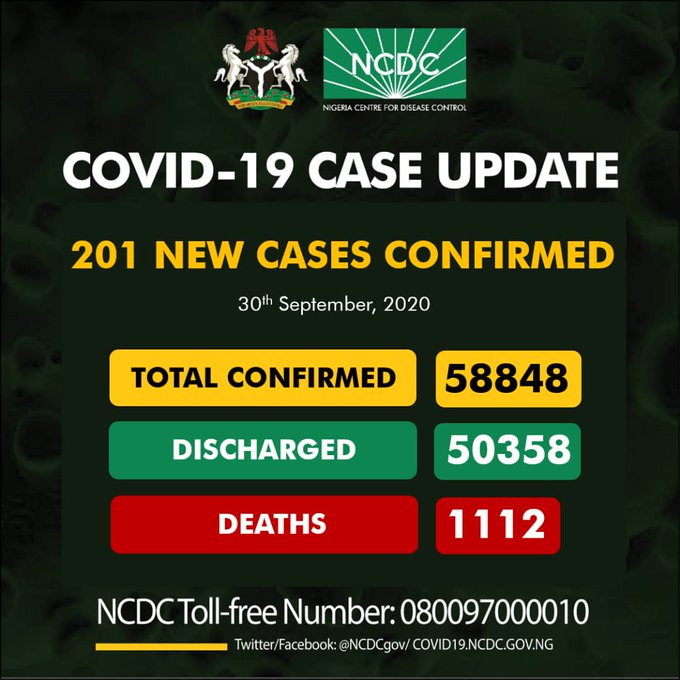 Concerning fears that reopening the airspace would lead to a spike in COVID19 cases, the Director General of NCDC, Dr. Chikwe Ihekweazu allayed fears of citizens, saying:
"People predicted that reopening our airspace would lead to a spike in COVID19 cases.
"Due to diligent efforts of the aviation sector and other colleagues we may have dodged a second bullet."
Dr. Ihekweazu made the above remarks at the Presidential Task Force on COVID19 briefing this week.
Watch full video below:
Meanwhile, NCDC said the latest Weekly Epidemiological Report for week 37 has been published.
"This week's editorial focuses on the steps taken to strengthen the fight against antimicrobial resistance in Nigeria using a collaborative One-Health approach," it said.
The COVID19 Nigeria situation report for 29th September, 2020 has also been published.
Today's COVID19 situation report provides the breakdown of testing done by states.
Chikwe explained that "benefits of this guideline is dependent on how it is used.
"We now have a collective responsibility in our various institutions to ensure these guidelines are well utilised, especially at the sub-national level for disease surveillance and outbreak response," he added.
Also, the Federal Ministry of Health said it has launched the revised edition of the Integrated Disease Surveillance and Response (IDSR) technical guidelines.
The IDSR is a strategy adopted to improve health systems capacity at all levels to detect and respond to disease outbreaks by providing timely and reliable data, it explained.
Dr. Chris Isokpunwu, who represented the Honourable Minister of Health, made the remarks.
He advocated for continuous multi-sectoral support for IDSR implementation in Nigeria.
Dr. Ihekweazu noted: "The COVID19 pandemic has further highlighted that we cannot do without effective disease surveillance systems.
"We've already begun implementation of the proposed strategies in the new IDSR guideline such as moving to digital surveillance through SORMAS Global, inclusion of event based surveillance and instituting a One-Health approach."
SORMAS Global system uses surveillance and management processes via mobile and web-based application to support the communication between health officers and stakeholders.
NCDC also disclosed that in Oyo and Edo States, it began NiCaDe training on Behavioral Change in Infection Prevention and Control for health facility focal persons.
Participants are trained on implementation of IPC measures through interactive activities, it added.