COVID19: Steady decline continues with just 125 new cases in Nigeria
Data from the office of the Nigeria Centre for Disease Control (NCDC) on COVID19 shows that a steady decline has continued with just 125 new cases confirmed in Nigeria on Thursday, September 3, 2020.
See a breakdown of the 125 new cases in Nigeria in thirteen states below:
Lagos-42
FCT-25
Katsina-14
Kaduna-11
Kwara-8
Ondo-7
Delta-4
Anambra-3
Oyo-3
Edo-2
Ogun-2
Osun-2
Cross River-1
Summary
54,588 confirmed
42,627 discharged
1,048 deaths
See banner below: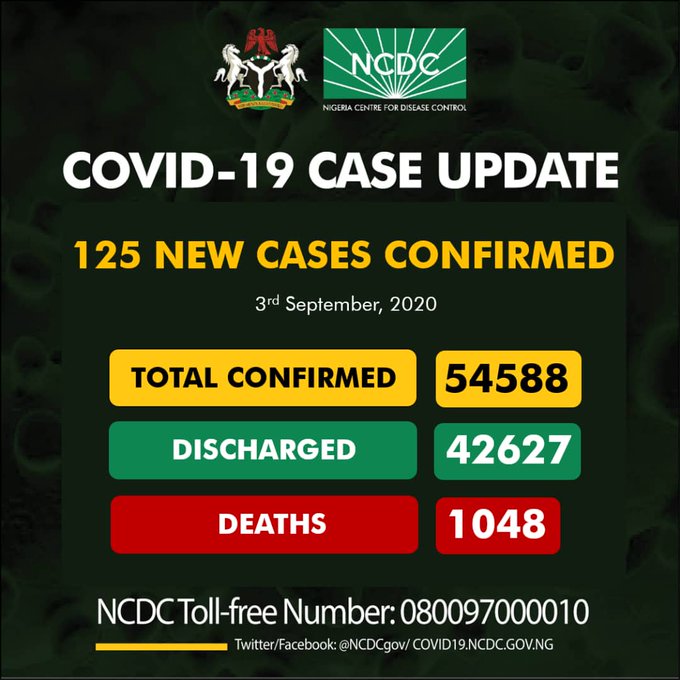 Meanwhile, today, the NCDC Team concluded a training for medical lab scientists in NCDC lab network on Biosafety & Risk Assessment organised by office of Public Health England (PHE) in the United Kingdom.
The program covered key lab practices and demonstrations of spill management, PPE donning and doffing, hand washing steps and safe glove removal.
Participants were also trained on Biosafety Audit using Strengthening Laboratory Biosafety Program (SLBP) checklist and mitigation, risk assessment of lab workflow, proper use of PPE, good microbiological practice, proper use of biosafety cabinet, decontamination and waste management.
See photos: