Custom Officers Are Nuisance, Armed Robbers On Our Roads
The Chief Executive Officer of Aliens Media Communication and Founder/ED of SIAF NG, known by his Twitter username as SEGA L'éveilleur has lambasted officers of the Nigeria Customs Service [NCS], saying that they are "nuisance", "armed robbers" on our roads.
SEGA stated this in series of tweets on his Twitter handle on Saturday in reaction to complaints received from road users.
He said that "Custom officers are now constituting nuisance on our roads with road blocks on inter-state roads, to demand money from private vehicles under the guise of low-custom duty made on the clearance of the vehicle.
"At each stop you'll be made to pay huge sums from N50k or be detained."
He wondered why Nigeria become so lawless as though we have no leaders at the helms.
He asked: "Why has Nigeria become so lawless as though we have no leaders at the helms?
"Why are the Security institutions plunged to abysmal depths like this?
"Why is it that every character in uniform see it an opportunity to rob their fellow citizens at gun point? What is really happening?
"Where is the pulse of the Federal Government superintending over grand corruption of this magnitude, where almost all security officers are basically Armed Robbers?
"When will the security of the people be prioritized by this administration?"
Drawing the attention of President Muhammadu Buhari and Vice President Yemi Osinbajo, he demanded that "these people should be called to order," adding that "this is armed robbery".
He noted: "I refuse to add customs to our headache. These people should be called to order. This is Armed robbery.
"It is unlawful and unethical. The due diligence should be done at the borders not on our interstate roads and streets. This is shameful."
Comparing Nigeria with other countries, he asked:
"If not for primitivism and grand Corruption, where in the world would you see all Uniform organizations lining up on highways to rob citizens?
"Where in the world do you find custom officers mounting road blocks on inter-state roads and streets to harass citizens? This is pathetic!"
See attached a Thank You note he received from a victim of Customs abuse: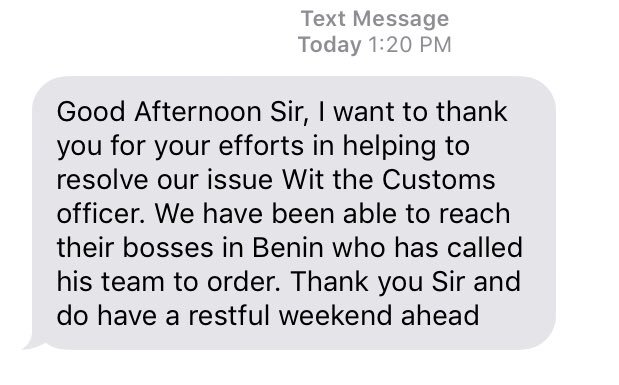 Early in February, ElombahNews reported about the killing of a civilian along Lagos-Benin Expressway which was admitted by Nigeria Customs.
Customs, however, stated that the victim is not a passenger as alleged, rather, one "Godwin", who it said "used to fetch water for Customs patrol men anytime they return to the base".
The statement was later debunked by eyewitnesses and video which indicated that the victim was a commuter based abroad going home to visit his people.
READ ALSO: