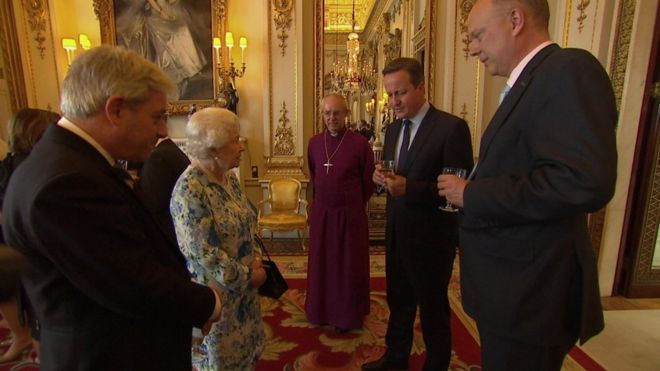 David Cameron has described Nigeria and Afghanistan as "fantastically corrupt" in a conversation with the Queen.
In what has been described as diplomatic gaffe, the PM was heard talking about the forthcoming anti-corruption summit when he made the comments.
It was not clear whether he knew the comments were being recorded.
"We've got some leaders of some fantastically corrupt countries coming to Britain… Nigeria and Afghanistan, possibly the two most corrupt countries in the world," Mr Cameron said.
Archbishop of Canterbury Justin Welby intervened to say: "But this particular president is not corrupt… he's trying very hard," before Speaker John Bercow said: "They are coming at their own expense, one assumes?"
To which Mr Cameron responds: "Everything has to be open. There are no sort of closed-door sessions. Everything has to be in front of the press. It's going to be … It could be quite interesting."
The government will host world and business leaders at the summit on Thursday in London, aiming to "galvanise a global response to tackle corruption".
ABOVE PHOTO: The British PM, David Cameron speaking with the Queen, the archbishop of Canterbury, Speaker John Bercow and Commons Leader Chris Grayling
The summit, which Mr Cameron has cited in response to anger following revelations over off-shore accounts contained in the Panama leaks, is due to take place on Thursday.
It's not the first time the Prime Minister has been caught making embarrassing comments while on microphone.
He was recorded in 2014 telling the media tycoon Michael Bloomberg that the Queen had "purred" in pleasure at the result of the referendum on Scottish independence.
He apologised to the Queen in person and said that he was "very embarrassed" and "extremely sorry" about the episode.
He was also caught complaining on microphone that Prime Minister's Questions was too long and poking fun at people from Yorkshire.
Both Afghan President Ashraf Ghani and Nigeria President Muhammadu Buhari are expected to attend the summit.
Mr Buhari is expected to give a keynote speech in London on Wednesday ahead of the opening of the summit on Thursday.
Afghanistan is second from bottom in the campaign group Transparency International's latest Corruption Perceptions Index, while Nigera is 136th out of 168 countries.