DSS Drops 5 Charges Against Sowore, Counsel Taunts
The Department of State Security [DSS] has dropped five out of the original seven from the charge sheet based on the Amended Charge proffered against the convener of #RevolutionNow protest, Mr. Omoyele Sowore.
Some of the charges dropped against the activist/politician include cyberstalking President Muhammadu Buhari.
See the attached documents: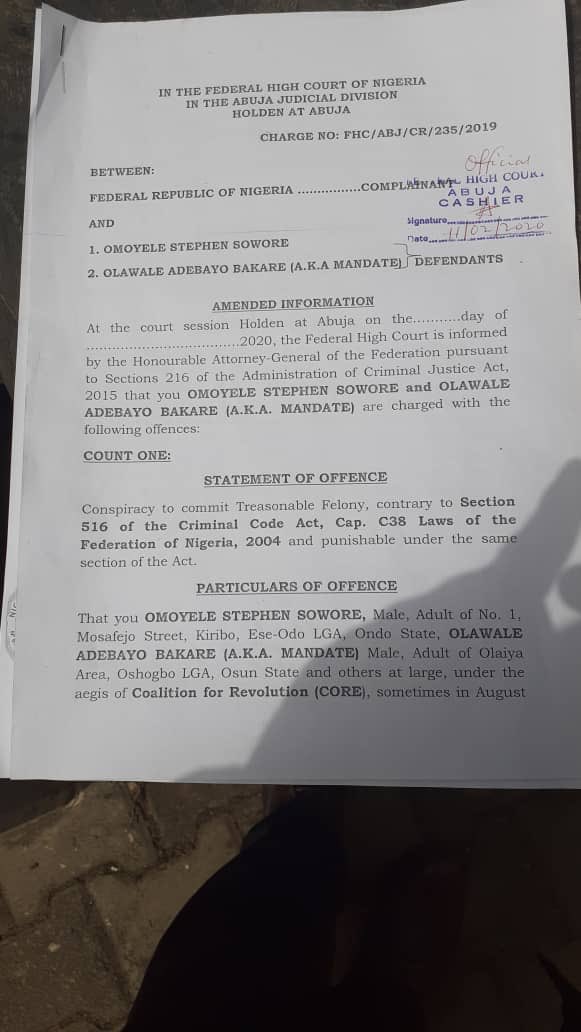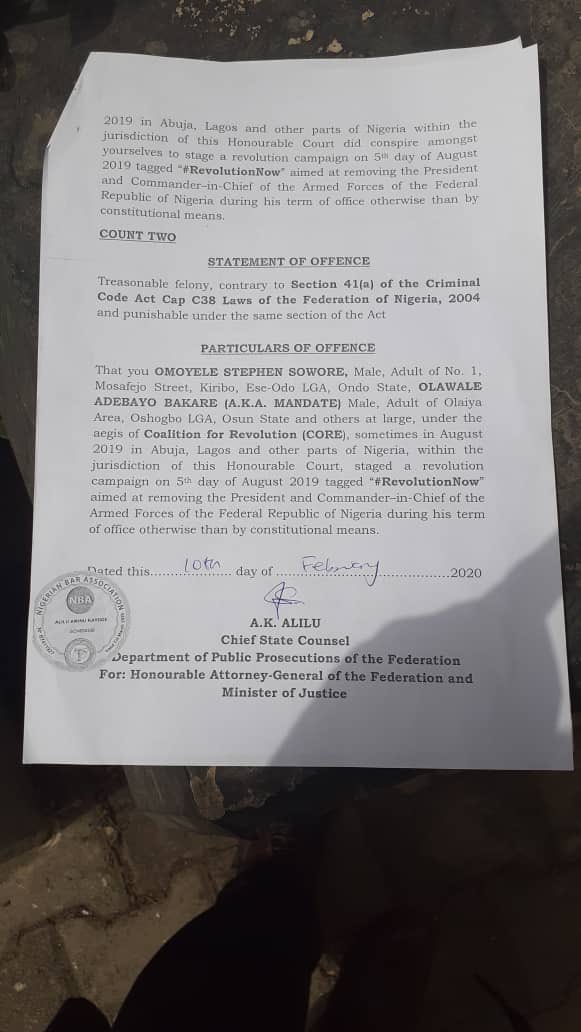 Reacting to the charge amendment, one of the counsels attached to Sowore, Barrister Inibehe Effiong laughed at the security agency over what he termed "careless" and "ludicrous charge".
Barrister Effiong said that this regime is so careless that they even charged Sowore for allegedly cyberstalking President Buhari.
He wondered whether the federal prosecutors are oblivious of the fact that there was no way they could legally prove that particular charge without the victim (Buhari) testifying in open court
He noted that Mr. Falana SAN had hinted in court that Buhari must enter the witness box if the charge can be proved but that apparently the DSS prosecutors did not know where the Learned Silk was coming from.
After laughing at their ludicrous charge of cyberstalking during our strategy meetings, he said he believe that they've now realised their fatal error.
After noting that Cyberstalking has been dropped from the charge sheet based on the Amended Charge against Sowore and Bakare served on them today and reducing the counts from seven to two, he said that these people are just wasting public funds.
Read his statement below:
The charges against Omoyele Sowore and Olawale Bakare have always been ridiculous. Now that they've amended the charge (They've now amended the Charge from seven to two counts only) against them, I will like to reveal a fact that we've not previously disclosed about this case.

During their sham investigation, the SSS wrote to the NFIU to investigate Sowore's finances. After their investigation, NFIU sent a Memo to the DG SSS that they could not establish that the funds in Sowore's accounts were from illicit sources. This isn't hearsay, I have the Memo.

Despite this important exculpatory information from the NFIU, the Attorney General of the Federation shamelessly charged Sowore for money laundering for purportedly concealing "the illicit source" of the very funds whose alleged illicit source was discredited by the NFIU.

This regime gave the public the dubious impression that Sowore was involved in some sort of financial impropriety. Meanwhile, their case regarding the so-called illicit transaction was that Sowore transferred money from his personal account to his company's account in New York.

Which sane prosecutor will charge someone for transferring funds through a financial institution from his personal account to his corporate account? It does not make sense.

It is like accusing me of crime for transferring funds from my personal account to my Law Firm's account.

There is no record of any criminal intent against Sowore. Now, they've dropped the false money laundering charges.

This regime also made noise about Sowore's interview on Arise TV which they alleged amounted to cyberstalking Buhari.

They've also abandoned that fake charge.

What compensation will the government pay to Sowore for defaming his character and subjecting him to illegal arrest and detention?

Bear in mind that the SSS originally arrested Sowore and secured a 45 days detention Order from the Court based on alleged acts of terrorism.

There is no charge of terrorism pending against Sowore. The charge of treasonable felony was only an afterthought.

I hope those who defended the recklessness and impunity of this regime will be humble enough to apologise.

Nigerians should tell this regime to end this show of shame and stop dissipating tax payers' funds on a fictional case that they created in their desperation to stop aggrieved citizens from protesting against their corruption, incompetence and wickedness.

—
Meanwhile, watch the post-hearing media briefing of Sowore's legal team led by Olumide Fusika [SAN] and Abdul Mahmud Esq. below:
Post-hearing media briefing of @YeleSowore's legal team led by Olumide Fusika SAN and Abdul Mahmud Esq pic.twitter.com/Op7WNnIaht

— Great Oracle (@AbdulMahmud01) February 12, 2020
Read also:
https://elombah.com/breaking-soyinka-shehu-sani-in-court-in-solidarity-with-sowore-video/