As the Senate president Bukola Saraki submits the names of confirmed Ministers to President Muhammadu Buhari at Aso Rock presidential villa in Abuja today, Tuesday November 3, observers have identified eight outstanding characters in the cabinet, namely, Babatunde Fashola, Ibe Kachikwu, Amina Mohammed, Rotimi Amaechi, Abdurrahman Dambazau, Kemi Adeosun, Audu Ogbe and Chis Ngige.
Cover photo: President Muhammadu Buhari meet senate president at state house, receives the official statement of screening of Ministerial nominees that ended last week, Tuesday November 3
The Senate under Bukola Saraki's presidency sent the official communication to President Buhari to expedite swearing-in of Minister designates. 
Nigerians now wait to find out who has been assigned to which ministry in President Muhammadu Buhari's cabinet, after the senate approved the list of 36 nominees, five months after the president took office.
When the much-anticipated list was released by Mr Buhari, who was elected in March partly on a promise to tackle corruption and insecurity, many were disappointed, asking whether the wait had been worth it, and whether those selected were the best in the country.
Some say the list is full of old and recycled politicians who have been part of Nigeria's problems.
The youths who worked tirelessly during his campaign have also been disappointed because none of the ministerial nominees is below 45 years. The average age in the cabinet is 52. Some women's groups have also voiced their anger that there are just six females on the list.
The 36 names approved by MPs – but yet to be given portfolios – include five former governors, nine lawyers, four former senators, three academics, two medical doctors, two retired soldiers and a clergyman.
The combination of experienced politicians and technocrats shows that the president was trying to balance his choice – rewarding party loyalists, while also selecting some professionals.
His hands were also tied by the constitutional requirement to choose at least one person from each of Nigeria's 36 states. But Buhari citing lack of resources has said some of the ministers will be without portfolio but will only attend Federal executive Council meetings every Wednesday.
Here are eighth interesting characters to watch in the cabinet according to BBC analysts: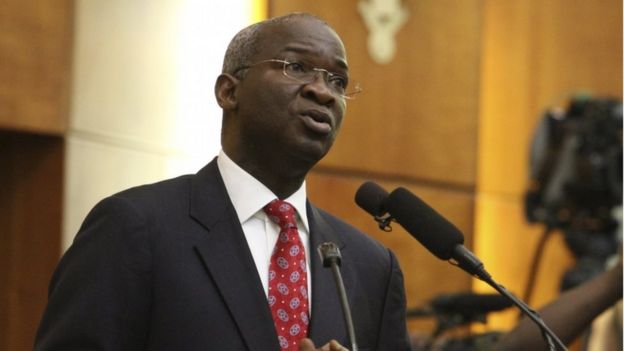 Babatunde Fashola
The Former Nigeria's Lagos state governor earned a good reputation during his tenure as governor of Lagos. It is not surprising that Mr Fashola made the list.
His achievements during his tenure as governor of Lagos state – Nigeria's commercial capital – makes him a good asset. He is credited with bringing an element of order to the chaotic city through massive infrastructure development that included demolishing illegal structures to pave the way for new road projects.
As a senior lawyer and experienced administrator, it won't be surprising if he is asked to head the justice ministry.
The president has promised to root out corruption and bribery allegations that tainted the image of Nigeria's judicial system.
Ibe Kachikwu
The former ExxonMobil executive vice-chairman was appointed by President Buhari in August to head the Nigerian National Petroleum Corporation (NNPC), an organisation vital to Africa's largest economy but notorious for corruption and mismanagement.
Many analysts believe his appointment has started to yield results. It is surprising that he has now been asked to join the cabinet and is very likely to be appointed a minister in the oil ministry.
This means a new NNPC head may have to be appointed. Even though the president has said he will oversee the ministry himself, most of the work and reforms he plans to carry out will be handled by Mr Kachikwu. It will be interesting to see how he will help Mr Buhari clean up the oil sector and recover the mind-boggling sums he said had been stolen.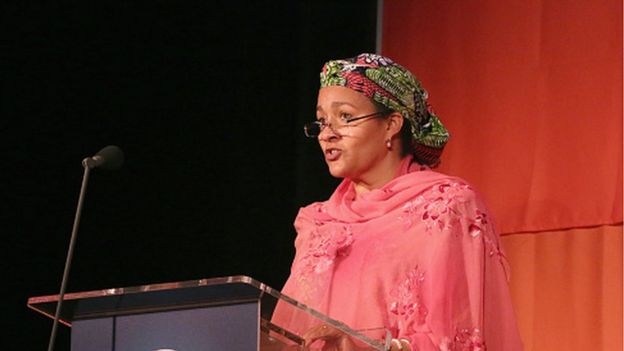 Amina Mohammed
Former Special Adviser to UN Secretary-General Ban Ki-Moon on post-2015 development planning, Amina MohammedImage copyrightAFP
She is a well-known technocrat within and outside Nigeria. She has more than 30 years of experience in the field of development, including as Nigeria's presidential adviser on the Millennium Development Goals (MDGs).
She was credited with designing and developing several government projects aimed at reducing poverty.
Before joining the cabinet, Ms Mohammed was the Special Adviser to UN Secretary-General Ban Ki-Moon on post-2015 development planning.
Her eloquence and globally-exposed experience in development and management could be an asset to the government if correctly exploited.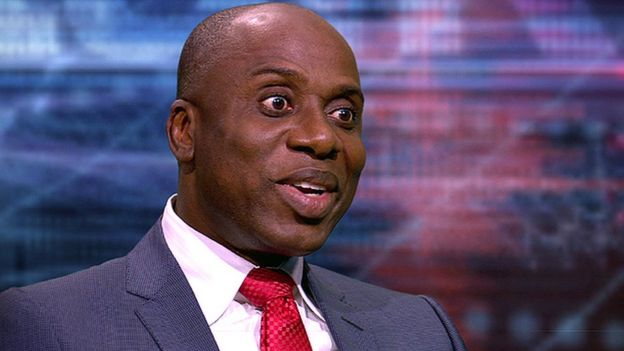 Rotimi Amaechi
The former Nigeria's Rivers state governor Rotimi Amaechi is a chieftain of the ruling All Progressive Congress and the most controversial of all the appointees even though his inclusion did not come as surprise.
As President Buhari's campaign director, many Nigerians see Mr Amaechi's appointment as pay-back for the role he played in the president's victory during the election. However, his choice has been heavily criticised after he was indicted by Rivers state's panel of inquiry for allegedly enriching himself during his eight-year tenure as the state's governor.
He denied all the allegations and said they were politically motivated. He also took the commission to court. Opposition MPs tried to block his appointment but the ruling party used its majority to get him through.
Abdurrahman Dambazau
As Nigeria's Chief of Army Staff between 2008 and 2010, he led a successful campaign against militant Islamist group Boko Haram.
After he was sacked, the militants regrouped in 2011. Since then, thousands of people have been killed and the insurgency has spread to neighbouring countries.
Tackling the group is one of Mr Buhari's top priorities, so it will be interesting to see how Mr Dambazzau will tackle the conflict now, assuming he is asked to head the ministry of defence as expected.
The militants have stepped up their attacks since President Buhari came to power
Kemi Adeosun
She is an economist and financial expert who was educated and worked in the UK before going back to Nigeria to serve as a commissioner of finance in the south-western state of Ogun.
Many expect her to be posted to the finance ministry.
During her presentation to the Senate, she said funds allocated for various projects are being diverted and identified ways to stop this happening.
She also said the country cannot afford to continue spending 78% of its budget on paying civil servants' salaries and other ongoing costs.
It will be interesting to see how the financial markets, investors and ordinary Nigerians will react to her appointment and whether she will be able to transform the country's struggling economy.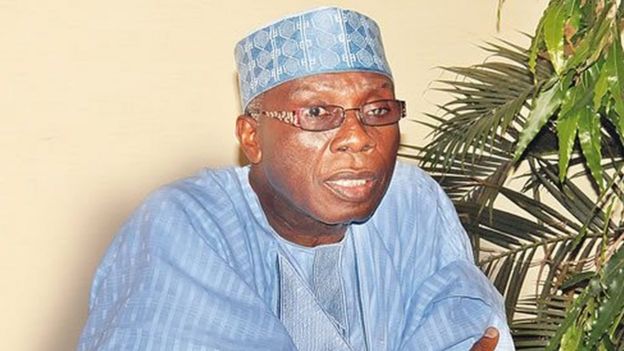 Audu Ogbe
As a veteran politician with four decades of experience, Mr Ogbe, 68, is known to be independent-minded and self-willed and has served in several previous governments.
Many remember him for his public row with ex-President Olusegun Obasanjo in 2005, when he was chairman of the then ruling Peoples Democratic Party.
He was forced to resign from the position after accusing Mr Obasanjo of interfering in party affairs.
Mr Ogbe is an experienced farmer who is expected to be appointed to lead the vital agriculture ministry.
Nigeria has a vast tracts of land that analysts say, if used properly, could create jobs for the country's army of unemployed youths and reduce Nigeria's dependence on oil.
Nigerians will be hoping that he is able to bring this theory to reality.
Chris Ngige
The Medical Doctor by Profession is a founding member of the PDP: Thereafter, Ngige turned to politics, becoming a founding member of the People's Democratic Party (PDP). He became the Assistant National Secretary and Zonal Secretary of PDP in the South East region of the country in 1999.
Ngige was elected Governor of Anambra State in 2003: Ngige actually wanted to be a Senator, but by virtue of a strong political backing, he won the governorship seat.
Ngige ran for election for Senator of Anambra Central, on the now defunct Action Congress of Nigeria (ACN) platform in April 2011 and won. He eventually lost to PDP's Hon. Uche Ekwunife in the March 2015 elections.
His stellar performance as Anambra governor has been used as yardstick to measure the performance of his successors since his tenure was abruptly cut short via a court order.
---
---
DISCLAIMER

: Opinion articles are solely the responsibility of the author and does not necessarily reflect the views of the publishers of ElombahNews!
---
Would you like to be receiving ALL ElombahNews links 'On The Go' on WhatsApp Or Telegram? If yes, join us here on WhatsApp or Telegram, or provide us your Telephone number via publisher@elombah.com or sms/inbox +2349050382526 and you are good to go!
---
DOWNLOAD ElombahNews mobile app here
---
Send eyewitness accounts/ reports/ articles  to publisher@elombah.com; follow us on twitter @ElombahNews; like our Facebook page ElombahNews 
---
For adverts & inquiries, call +447460770987, +2349050382526