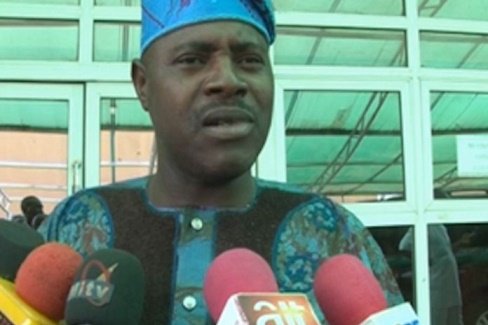 Former Chairman, House Information Committee, Ekiti State House of Assembly, Gboyega Aribisogan has been suspended.
He was suspended for having unholy alliance and relationship with those who have constituted themselves as enemies of the State government.
The Ekiti House of Assembly on Thursday suspended Mr. Aribisogan for 180 legislative days.
He was suspended on the condition that "his conducts henceforth will determine further actions on him."
Aribisogan was also barred from holding any position of responsibility on behalf of the House of Assembly during the period of his suspension.
Furthermore, all benefits associated with his office are suspended.
Also, he must not be seen in and around the premises of the State House of Assembly within 1km radius.
The suspension was sequel to the adoption of the report of the seven-man Ad Hoc panel by the Ethics and Privileges Committee of the House.
The Committee investigated allegations bordering on gross misconduct and acts capable of destabilising the House made against Aribisogan the House Leader of Business, Hon Tunji Akinyele.
Hon. Akinyele had accused Aribisogan of involving himself in acts capable of destabilising the peace and orderliness of the State.
He reportedly presented false information for pecuniary gains, thereby casting aspersion on the House.
Chairman of the Ethics Committee, Hon Fajana Ojoade presented the committee report to the House at its sitting on Thursday.
He said it was established after thorough investigation through interviews, review of facts and unassailable evidence made available to the committee, that Aribisogan actually committed the offence.
Other members of The 7 man panel include; Sina Animasaun, Dr Samuel Omotoso, Akinniyi Sunday, Dele Fajemilehin, Cecelia Dada and Fasanmi Temitope.
The committee chairman said the Deputy Speaker, Hon Segun Adewumi also confirmed both in writing and orally that Aribisogan confessed same to him at a popular hotel in Ado Ekiti on the evening of Friday, September 30, 2016.
Aribisogan said that he did meet with some elements that are against the State Government in Lagos on Saturday, September 24, 2016.
It was done "in a manner that has rubbished the integrity and confidence that the Ekiti people have in the State House of Assembly.
"Hon Segun Adewumi also said that truly, Hon Aribisogan visited Lagos to connive with opposition elements in an attempt to destabilise Ekiti State.
"Instead of showing remorse and apologising for his embarrassing actions despite all overwhelming evidences, Hon. Aribisogan persisted in his shallow denials.
"It is hereby determined and declared that Hon. Aribisogan is guilty of these allegations and should be punished adequately to minimise the bad image his shady movements and conducts have caused this honourable house, while also serving as deterrent to others," the report read in part.
Adopting the report, the House at its plenary on Thursday resolved that Hon Aribisogan's office should remain sealed throughout the period of the suspension and that he should submit all properties of the House of Assembly to the Clerk.
© Copyright 2016 www.elombah.com; Send eyewitness accounts/reports/articles to publisher@elombah.com; follow us on twitter handle @Elombah; like our Facebook page: "Elombah.com"
Share your thoughts in the comment box below: