Ekiti Invasion: This Is Democracy Not Military! —Annkio Briggs
The Convener of the Niger Delta Self-Determination Movement (NDSDM), Ms. Annkio Briggs has lambasted the President Muhammadu Buhari Administration over the recent invasion of Ekiti State Government House by security operatives.
Ms. Briggs made the proclamation in a statement she personally made available to ElombahNews on Wednesday.
The statement titled "This Is A Democracy Not A Military Rule", reads in full: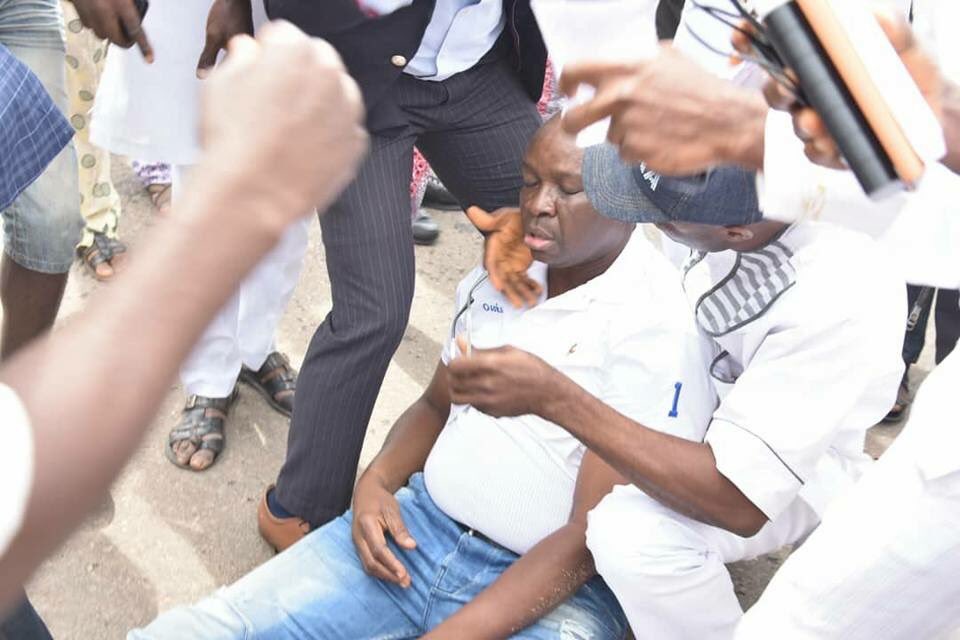 The freedom to speak and to react to issue of National concern is a basic human right guaranteed by the Human and Fundamental Rights in and out of Nigeria.
The electorates must never be afraid to speak for themselves and to make their positions known on issues of the nation.
While the pictures were coming in on social media l was making efforts to reach Gov Fayose and speak to him directly, l was eventually able to speak with my friend the Gov of Ekiti.
I spoke with him and he intimated me that while he was getting ready for the last PDP rally before the 14th of July, when he became aware that Ekiti State indigenes of the PDP Political parties, were been arrested, brutalised and stopped from approaching the government house.
It was at this point he approached the police and Mopol and some in red Barret and introduced himself as the Governor of Ekiti State.
He told me that he was warned not to go further, that orders were given to shoot him; he was tear gassed, he was slapped, the PDP governorship candidate was brutalised and threatened.
All this happening to a position (Governor) that is covered by immunity. Rightly or wrongly that is the law.
That this was disregarded and a sitting governor was so assaulted is unaccepted.
It must be condemned in all it's totality, and l call all lovers of freedom and democracy to reject this action.
Eventually all what happened in Ekiti state today is rejected by the NDSDM and the President of Nigeria Buhari is responsible to give an explanation to Nigerians and the international Community how and why this can happen in a democracy.
The Federal Government, Senators, Governors and the electorates must demand for answers.
If we fail to exercise our rights in condemning this action against Gov Fayose today let other Governors not think it won't happen to them because they are good governors.
I have cautioned a few months ago that no states in the south particularly bin the Niger Delta should think that the herdsmen will stop at the Middle Belt.
I say here let no governor especially of the Niger Delta think that it will only happen to Fayose because he is Fayose.
The REAL TARGETS FOR THIS ATTACKS AND INTIMIDATION IS PRIMARILY NIGER DELTA GOVERNORS.
I have expressed these concerns to my people, youths, politicians, senators, governors and traditional leaders, women that Niger Delta is at high risk because of our region and resources.
Governors and Politicians can't survive this  Government without working with the people, the electorates.
I extend my sympathy to the people and Government of Ekiti State over this assault on their humanity right to Democracy.
---
DISCLAIMER

: Opinion articles are solely the responsibility of the author and does not necessarily reflect the views of the publishers of Elombah News
---
© Copyright 2018 www.elombah.com. Send eyewitness accounts/ reports/ articles  to publisher@elombah.com; follow us on twitter @ElombahNews; like our Facebook page: ElombahNews; join us on WhatsApp HERE
Would you like to be receiving ALL ElombahNews links 'On The Go' on WhatsApp Or Telegram?  If yes, kindly provide us your Telephone number via publisher@elombah.com or sms/inbox +2349050382526 and you are ready to go!
For adverts & inquiries, call +447460770987, +2349050382526