UPDATES:
21:53
The election is taking place in all the sixteen (16) local government areas and the three (3) senatorial districts in the southwest state.
According to the Independent National Electoral Commission, INEC Commissioner of the state, there are 913,334 registered voters in Ekiti state and over 630,000 have collected their PVC as of July 6, 2018.
The election is holding in two thousand, one hundred and ninety-five (2,195) polling units in one hundred and seventy-seven (177) wards.
No fewer than thirty-five (35) political parties are participating in the election. There are twenty-six (26) state constituencies in Ekiti
20:10
The result of 19 PUs in Iyin Ekiti below cannot be verified:
19:53
The people of Ekiti state already know the results that have been declared at the polling centers and as such know where the tide is flowing at every level of the Ekiti electioneering process. pic.twitter.com/CWhQtNZIWw

— Official PDP Nigeria (@OfficialPDPNig) July 14, 2018
19:40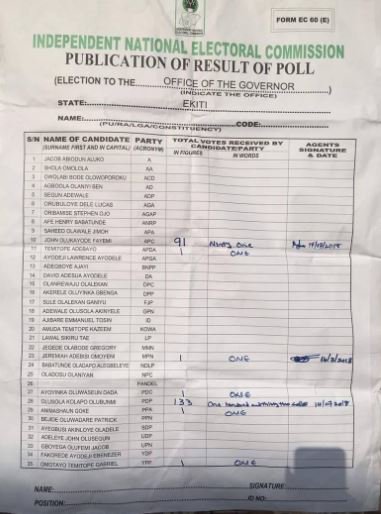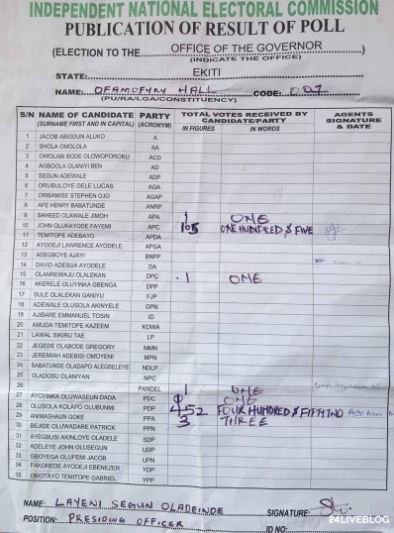 19:35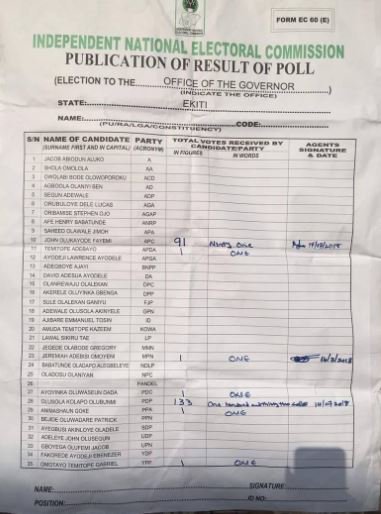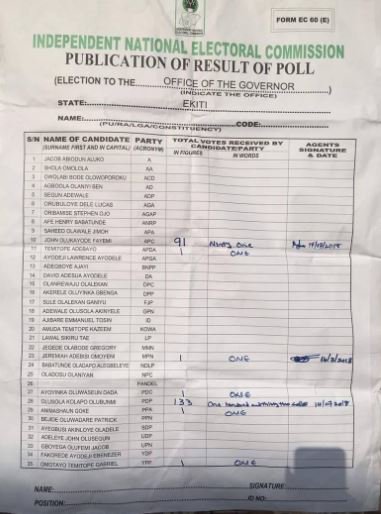 LIVE: Ekiti State Governorship Election | Sahara Reporters
03:55pm. A ballot box was snatched at Ileje-Meje, and the people can be seen screaming that "it was APC" that perpetrated the crime.

READ MORE: https://t.co/uMSzPxWLXz pic.twitter.com/lPxlVMMagW

— Sahara Reporters (@SaharaReporters) July 14, 2018
19:30
A Person With Disability, who turned up to vote at Ode 2, Polling Unit 4, Gbonyin LGA was given special treatment.#EkitiDecides2018 pic.twitter.com/IEFFvjCmFO

— INEC Nigeria (@inecnigeria) July 14, 2018
18:15
18:05
18:00
17:00
A gentleman with Albinism was one of the good people of Ekiti state who exercised their franchise in today's governorship election.#EkitiDecides2018 pic.twitter.com/OHwutBGbRg

— INEC Nigeria (@inecnigeria) July 14, 2018
—
Voting has ended in place polling units. Sorting of votes and counting have also commenced
Meanwhile, the Ekiti state govt paid 3,000 naira to all the civil servants yesterday said to be election allowance for the civil servants to support Prof Eleka of PDP.
Meanwhile, the election has been peaceful and orderly.
—
APC governorship candidate, Kayode Fayemi, casted his vote at Unit 9, Ward 11, Isan Ekiti in Oye LGA while voters card reader rejected the PVC of PDP Governorship candidate.
—
The Ekiti State governorship election is taking places across all nooks and crannies of the state today.
The election is primarily between Professor Kolapo Olusola Eleka of the Peoples Democratic Party [PDP] and Dr. Kayode Fayemi of the All Progressives Congress [APC].
Other parties are minorities.
PDP's Professor Eleka is expected to continue the legacies of Governor Peter Ayodele Fayose if he wins.
Meanwhile, Dr. Fayemi of the APC was a former governor of Ekiti State and was dethroned by Governor Fayose in 2014.
So far, there are all indications that the election is free and fair as accreditation and voting commenced in many polling units without much scandal yet.
Updates will follow…