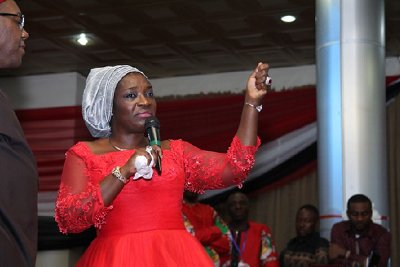 *Ekwunife set to pick APC ticket for rerun **Says no law barred me from re-contesting ***Accuses Appeal Court judges of bias
Despite the judgement of the Supreme Court against Iyom Ekwunife, on February 10, 2017, the ex-Senator has thanked her supporters for their support and prayers.
Iyom in a press statement obtained by APGA Interactive Forum assured her supporters that she won the March 28, 2015 Anambra Central Senatorial election free, fair and square.
She claimed that Chief Umeh has being in courts with every party in order to run unopposed in the rerun, and vowed to use every pint in her to frustrate it.
Read her press statement:
SENATOR UCHE EKWUNIFE REACTS TO SUPREME COURT JUDGEMENT
The much awaited February 10 judgment of the Apex Court of the land has come and gone but not without raising some fundamental issues.
May I first and foremost assure my teeming supporters and the good people of Anambra Central that your prayers and steadfastness during the whole process will never be in vain.
Recall that out of the total registered voters of 720,000 in Anambra Central I polled 98,000 votes to defeat Victor Umeh who scored 83,000 votes.
That's about 23% of the total registered voters, an evidence that the election was free, fair and credible.
Victor Umeh knows that he lost the election. He knows that I defeated him clearly.
All he wants is to go to the polls unopposed by ensuring that no other party fields a candidate.
He has taken all parties to Court to stop them from contesting with him, but I can assure you without fear of contradiction that it will not happen.
It is only Victor Umeh that can explain what transpired between him and the Appeal Court Judges that led the Judges to nullify my election based on party primary election that produced all PDP candidates in that election. 
The election tribunal struck out his petition for lack of jurisdiction stating that a member of another party cannot challenge nomination of another candidate from another party where he doesn't belong but unfortunately Appeal panel headed by Justice AD Yahaya assumed jurisdiction and nullified the election saying I wasn't a product of a valid primary election.
If their position is a true reflection of their findings that's fine, but if not may God mete out the same judgement/treatment on their children.
However, the Supreme Court's decision today that they lacked jurisdiction to look into the petition because National Assembly election petition stops at Appeal Court will further support the impunity in some appeal panels, which means candidates of other political parties can now challenge the processes of nomination of candidates in other parties where they don't belong.
I think a bad precedence has been laid and that negates all judicial precedents on pre-election matters being challenged in election tribunals.
Having lost the election, Victor Umeh is bent on going to the Senate through the Courts but that will never happen: he must subject himself to election with other candidates.
No Court disqualified me because you can't disqualify a candidate based on improper political party primary.
The constitution is quite clear on how a candidate can be disqualified.
All they said in the body of the judgement is merely an orbiter which is not contained in the enrolled order of Court.
If Victor Umeh is sure he will win the election why is he afraid to face other candidates?
Why is he busy running up and down in all courts to get other candidates out of the race in order to go unopposed?
I want to assure you that I am not deterred in any way and therefore I encourage you not to lose hope but to remain steadfast as the battle has just started.
It is Victor Umeh who lost election but went to Court for undue respite that should be jittery as the road to Senate is murkier for him now than before.
God will never allow those who inflicted harm on His chosen one to go unruffled. That is the word of God.
Your unequalled support, solidarity, prayers and loyalty have kept me going. I am certain that my achievements in the Federal House of Representatives for 8 years and in the Senate for few months are enough reasons for your believe in me and that also gladdens and emboldens me.
Again, I am stronger and more determined now to serve Anambrarians and humanity in general. Forward ever, backward never.
In all this I trust in God more than ever and may His name be praised forever. His will only shall be done. 
I thank you all immensely.
By Eneh Victor Chigozie‎