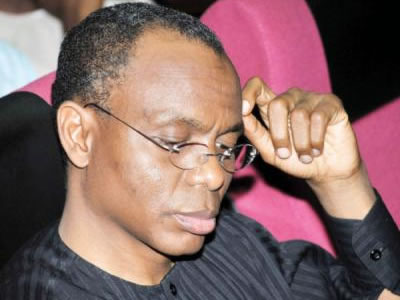 "We will write this for all to read. Anyone, soldier or not, that kills the Fulani takes a loan repayable one day no matter how long it takes" – Mallam Nasir El-Rufai, 2012.
I will never forget these words. 
How I wish that my friend and brother, Governor Nasir El-Rufai, expressed the same level of angst, cold rage, chilling resolve and passion for vengeance after the murder of millions of defenceless and innocent non-Fulanis, including women and children, in his own Kaduna state and indeed all over the country since the coming to power of the Buhari regime one year and seven months ago.
How I wish that he could have learnt a lesson or two from other Nigerian leaders of Fulani extraction who are far more restrained, mature, experienced, knowledgeable and responsible than him like Vice President Atiku Abubakar, Senator Ahmed Makarfi, Hon. Minister Kabiru Turaki, Hon. Minister Hadi Sirika, Governor Sule Lamido, Col. Abubakar Dangiwa Umar, General Aliyu Gusau and countless others that careless and ill-advised assertions, vicious threats and a lack of decorum and restraint have no place in public discourse and could lead to unimaginable consequences including the loss of innocent lives. After all, we are ALL Nigerians.
Given the circumstances I am constrained to write the following for all to see: the spilling of innocent blood in the name of vengeance, religion, ethnicity or anything else is expensive and it comes with a heavy price.
Those who willfully shed it will face the consequences of their actions. They will pay a heavy price from generation to generation both in this world and in the world to come.
Given all the horror stories of murder and butchery that we hear about in Kaduna state today things have certainly got out of hand and every Nigerian, whether they be Christian or Muslim, ought to be deeply concerned.
Such is the carnage and wasting of innocent lives that I cannot but support the columnist Sam Omatseye's call on Christians in southern Kaduna to rise up and use all lawful means to defend themselves from what can, to all intents and purposes, only be described as genocide.
I also support the appeal to the Christian Association of Nigeria to use all lawful means to assist and support them and I commend the gallantry and resilience of the Southern Kaduna's People Union (SOKAPU) who have consistently spoken out and resisted the evil that the good people of southern Kaduna have been subjected to over the years.
I also commend the efforts of men like Bishop Matthew Hassan Kukah, Pastor Temitope Joshua, Apostle Suleiman and numerous others who have consistently urged restraint when it comes to such matters but who, at the same time, have always insisted on justice and equity for the oppressed, the poor, the weak, the vulnerable and the deprived.
For as Thomas Jefferson, one of the great founding fathers of the United States of America once said, "when injustice becomes law, resistance becomes duty".
Self-defence, like self-determination, is a fundamental and inalienable human right and those that take pleasure in mass murder and carnage must be resisted and stopped.
Those that kill, maim and destroy their fellow human beings and compatriots in the name of ethnic and religious hegemony and under the guise of cattle-rearing and herding cows must be brought to justice.
When the International Global Index identified a group that they described as the "Fulani militants" and "herdsmen of Nigeria" as the "fourth most deadly terrorist organisation in the world" the international community was shocked and many world leaders expressed their concern and outrage.
It was only in Nigeria that we took it in our stride and that people found it difficult to comprehend the implications or appreciate the dangers and complexity of the challenge that we were faced with.
It was also only in Nigeria that the government brushed the matter under the carpet and refused to disarm the murderous terrorists or even condemn their actions.
It was only in Nigeria that everyone hid under their beds and ran for cover and refused to say it as it is even though they all knew the truth.
It was only in Nigeria that the blood and the lives of the numerous victims of the Janjaweed-style marauders and murderers were regarded as being less precious and less sacred than the blood of their tormentors and killers.
The fact of the matter is that this is a major issue and a collective challenge. This fight is beyond politics: it is an ancient struggle which is being fought in pursuance of an ancient cause.
Worst still it has an international and global dimension. Simply put, it is essentially about the suppression and systematic destruction and humiliation of the so-called "lesser peoples" and supposedly "inferior ethnic nationalities" of the hybrid mega-nation called Nigeria.
It is about the enslavement, the breaking of the will, the total subjugation and the complete annihilation of an entire people and various ethnic nationalities within that mega-nation.
It is about the forced acquisition of the land, culture, destiny and souls of others, ethnic and religious domination and good old-fashioned conquest.
That is the monumental challenge that we are faced with in Nigeria today by those that covertly commissioned and armed the herdsmen and that are using them to do a dirty job.
Yet few wish to admit let alone discuss, hear or publish such bitter truths in our country. 
And those of us that are willing to do so are insulted, attacked, maligned, persecuted, threatened, ostracised and labelled as rebels and dissidents simply because we have cultivated the strength and courage to identify the problem, speak the truth and stand up for the weak and the oppressed.
The tyrant forgets that truth and timely counsel is worth its weight in gold. He forgets that it is better to have an honest and vocal opposition than to have a false friend.