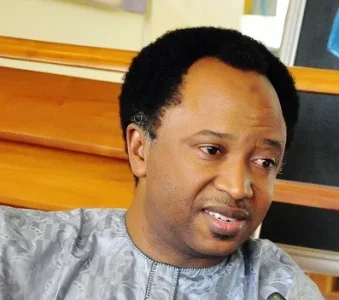 "I wish to state it categorically clear that I hold Governor Nasiru El-Rufai personally responsible for whatever happens to me or any of my family members or supporters."
————————–
Senator Shehu Sani on Saturday stated that Governor of Kaduna State, Nasir El-Rufai should be held responsible to whatever happen to him and his family.
Shehu made this known after an attack was launched at campaign office in Kaduna by unknown gunmen.
He said that he has information that thugs were fully recruited and paid by El-Rufai appointee to unleash terror on him.
The statement, which was earlier published by Elombah.com, reads in part:
Some few minutes ago I received a report that some heavily armed thugs raided and attacked by constituency office located at Stadium Roundabout by constitution Road Kaduna…
Two days ago attempt to burn down my family house in Alkalawa Road, Tudun Wada, Kaduna, by sponsored thugs was thwarted by vigilant residents and neighbors, which led to the brief deployment of policemen in the area.
I wish to state it categorically clear that I hold Governor Nasiru El-Rufai personally responsible for whatever happens to me or any of my family members or supporters.
After the use of financial inducement on APC Excos in the state to silence Shehu Sani in the name of suspension, which never worked, they have now taken the road of violence.
The Governor of the state or his desperate political appointees should know that we can never ever be silenced, coward or intimidated.
Calling on his supporters not to take the law into their hands, Senator Sani wrote:
"I call on my supporters never to take the road of violence or retaliation.
"We are men of ideas, of ideals and of peace. 
"Those who take to the road of violence have no place in a democratic society.
Recently, Elombah.com reported how the Senator representing Kaduna Central was handed an indefinite suspension by his party, the All Progressives Congress (APC).
The controversial Kaduna State governor, Nasir El-Rufai was earlier accused of offering a N3 million bribe to APC officials in Kaduna State for them to suspend Senator Sani.
The APC officials of Ward 6, Kaduna South Local Government Area, said this on Sunday at a press conference.
But a letter addressed to him, dated November 29 and signed by 15 executives from his ward conveyed  suspension.
© Copyright 2016 www.elombah.com; Send eyewitness accounts/reports/articles to publisher@elombah.com; follow us on twitter handle @Elombah; like our Facebook page: "Elombah.com"