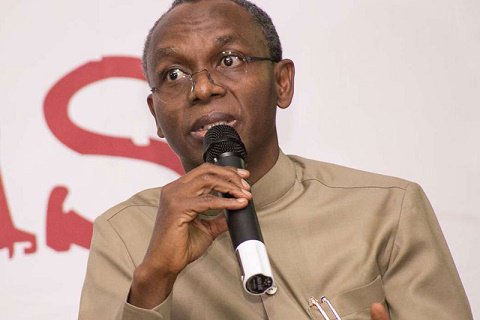 Governor Nasir El-Rufai of Kaduna State has ordered the arrest and subsequent prosecution of Ibrahim Musa, the spokesperson of Islamic Movement in Nigeria (IMN).
This was contained in a press release signed by the Special Assistant to the Governor (Media and Publicity), Samuel Aruwan.
Governor El-Rufai had, a few ago, declared the Islamic Movement an unlawful society in Kaduna State effective from Friday, 7th October 2016.
Drawing on powers vested by Section 45(1) of the Constitution, and Section 97a of the Penal Code, the governor signed an order declaring the IMN as an unlawful society.
According to him, this is in the interest of public order and to protect the rights and freedoms of all persons in Kaduna State.
Violation of this order attracts penalty of imprisonment for seven years or a fine or both, according to sections 97a and 97b of the Penal Code.
A few hours after the commencement of the Order, Ibrahim Musa admitted to membership of the society and identified himself as its spokesman in widely publicized statements. 
The Kaduna State government deemed it as a deliberate and determined affront to the order.
The Commissioner of Police has been directed to ensure the arrest to enable prompt prosecution by the Kaduna State Attorney General and Commissioner of Justice.
All security agencies in the state have been directed to vigorously enforce the law, and demonstrate clear resolve by arresting the said Ibrahim Musa.
Musa is also advised to report himself to the nearest police station or any of the security agencies.
The State government does not wish allow the laws of the state to be wantonly tested and confronted by any one or group who might have the mistaken belief that they are above the law.
The Kaduna State Government wishes to reiterate that it fully respects freedom of religion and other rights as guaranteed by Sections 38 and 40 of the 1999 Constitution. 
The same Constitution imposes an obligation on government to secure the state and protect every citizen against infringement of their rights by others.
© Copyright 2016 www.elombah.com; Send eyewitness accounts/reports/articles to publisher@elombah.com; follow us on twitter handle @Elombah; like our Facebook page: "Elombah.com"
Share your thoughts in the comment box below: