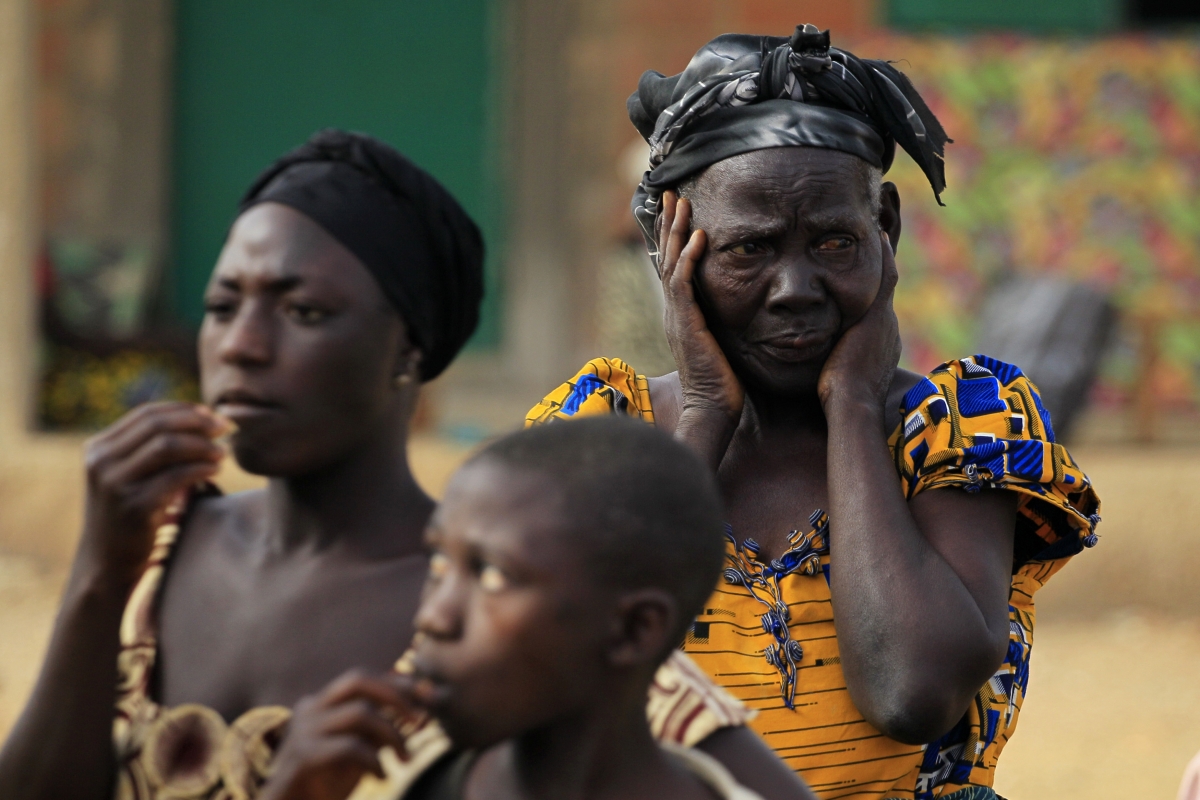 The Deputy President of the Senate, Senator Ike Ekweremadu has assured the Nimbo community of Uzo Uwani LGA, Enugu State following the April 24 massacre.
Photo: Stunned villagers after the attack
He assured them that government and federal lawmakers from the State would never rest until justice was done.
 Ekweremadu was speaking concerning the destruction of life and property by suspected herdsmen.
Senator Ekweremadu spoke on Sunday when he led a team of National Assembly members from Enugu State.
They were on an assessment and condolence tour of the community.
He urged the people of the community to continue to live in peace while a permanent solution to the problem was being sought.
He assured that the perpetrators of the attacks, which led to the destruction of lives and properties in the community, would be brought to book.
Ekweremadu further called on all Nigerians to respect the sanctity of life as well as the culture and tradition of host communities where ever they find themselves.
He donated a transformer to support electricity extension to community while the team also gave N 2 million naira to help in rebuilding the burnt structures in the town.
He said: "On behalf of my colleagues from the national Assembly, we want to send our condolences to those who lost their dear ones in the incident of 26th April. 
"We are here to assess the situation as Members of the National Assembly from the State.
"And we will appropriately report to our colleagues at the National Assembly when we get back.
"We have seen the carnage; we have seen the church that was burnt.
"We have seen other buildings that were destroyed; we have seen families, which lost their dear ones. 
"We have also been to the hospital to see those who were injured.
"We are happy to see that they are recovering and the hospital authorities are giving them adequate treatment.
"We are not going to rest until you get necessary justice and relief to be able to settle down back to your normal lives. 
"Our appeal is that you should continue to live in peace while we are trying to get a permanent solution to this problem. 
"Our people live in other places and we also welcome visitors here.
"But we want a situation where the visitors who are coming to our place will live peacefully with us.
"They will obey the laws of this land; they will also respect our culture and tradition.
"And they will also respect the sanctity of life and also the importance of our properties just as our people do where ever they go.
"We want a situation where Nigerians can live wherever they want and be able to establish there including in our own communities because our people also live in other places. 
"But we will not accept a situation where people will come here and destroy our lives and properties. 
"That is completely unacceptable and we are going to put a permanent end to this kind of indiscipline and irresponsibility.
"On our part we will do everything to ensure that the place is secured because that is the primary purpose of government; to secure lives and property of citizens. 
"To this end, we are going to ensure that appropriate and well equipped police post is established here. 
"We are also going to work with the Governor of Enugu State to ensure that the roads here are made motorable so that the people are able to have access not only to their village but also to their farms.
"I am also happy to announce that the governor has declared Uzo Uwani a special interest area over the next four years.
"And working with the Governor and other people, we are going to ensure that after four years, the story of Uzo Uwani will change.
 "On a personal note, I will also like to support the extension of electricity by giving you a transformer within the next few days. 
"NEMA will be here by tomorrow or next to bring relief materials to the affected people of this community. 
"We will also be giving this community N2 million to support the rebuilding of the church and houses that were burnt," he said.
In his address, the traditional ruler of Nimbo, HRH Eze John Ikemefuna Akor, appealed for adequate protection of the community.
He sought protection against the hostility of herdsmen which he said had disrupted farming in the agrarian community. 
He said the community faced imminent starvation in the wake of the recent destruction of lives and farms in the community.
Among those on the team of the Deputy President of the Senate, were Senator Chuka Utazi and Hon. Chukwuemeka Ujam.
Others are Hon. Toby Okechukwu, Hon Pat Asadu, Hon. Dennis Amadi,  and Hon. Dennis Agbo.
© Copyright 2015 www.elombah.com. Send eyewitness accounts/reports/articles to publisher@elombah.com; follow us on twitter handle @Elombah; like our Facebook page: "Elombah.com"