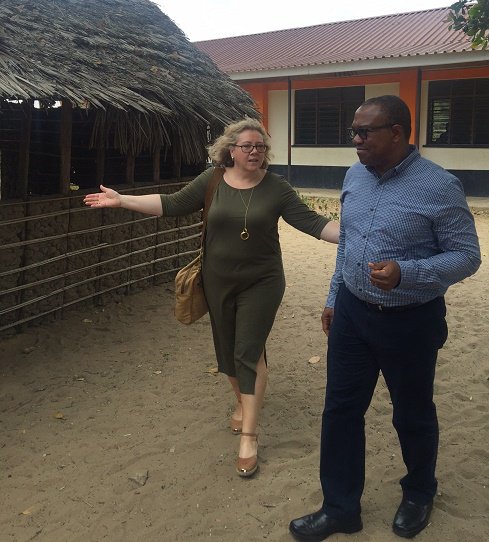 Photo: The CEO of Build Africa, Lynda Edwards (left), with the former Gov. of Anambra State, Mr. Peter Obi (right), during the visit to Kanana Genesis Primary school in Msambweni, Kenya, yesterday.
Immediate past Governor of Anambra State, Mr. Peter Obi, better known in the country today for his unrelenting support to the education sector, has extended the support to Kenya and Rwanda.
Obi was in Rwanda and Kenya on Tuesday on the invitation of Build Africa, the world acclaimed NGO on education. Based in the UK, the organisation is in the forefront of support to education in many countries of the world.
Receiving Peter Obi yesterday in Kenya, Build Africa Chief Executive, Lynda Edwards, said that the urge to work with Obi was based on his consistent support for education. 
Obi and Edwards visited several schools in Kenya, three of them Kwale, one of the three Counties where Build Africa is working in Kenya – building structures, providing learning infrastructure or facilitating exchanges among schools.
At Kanana Genesis Primary School in Msambweni, the former Governor was pleased with the two modern classrooms and places of convenience which Build Africa erected in the school and urged their presence in Nigeria for similar support to the poorest part of the country.
The Head Teacher of the school, Karilo Amba, thanked Obi and the team from Build Africa for the visit and solicited more support, especially in the area of improving girls' education.
The Build Africa Programme Officer in Kenya, Mr. Raphael Sungu, said that the organisation was working in 72 schools in Kenya, chosen from three Counties of Kwale, Migori and Marsabit. 
He said that besides building of structures and improvement on infrastructure, they also carried out special advocacy for improved girls' education, as well as the rehabilitation of victims of child marriages through getting them back to school.
By Isaac Umunna