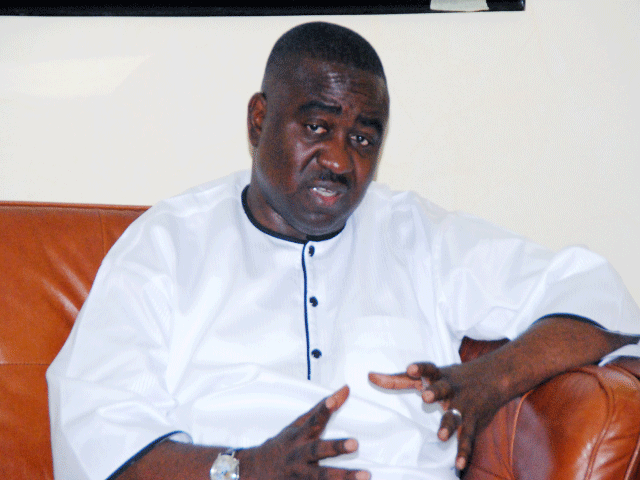 • Hidden assets of 15 other former governors uncovered
The Chairman of the Code of Conduct Tribunal (CCT), Mr. Danladi Umar, has signed the warrant for the arraignment of six former governors for falsifying their assets declaration forms.
The six former governors, according to investigation conducted by our correspondent, include ex-Benue State governor, Gabriel Suswam, and his Cross River State counterpart, Liyel Imoke.
The identities of the four others could not be ascertained at press time.
Also to face trial is a retired permanent secretary for abuse of office while a former governor from the North East is believed to have gone on exile barely a week after the conclusion of paper works for his trial. 
Investigation conducted by our correspondent revealed that the the trial of the ex-public office holders will start any moment from now.
A source who spoke in confidence said: "The next batch for trial at the Code of Conduct Tribunal includes six ex-governors and a retired permanent secretary. The former governors are from the North-Central, North-West, South-South and North-East.
"All these ex-governors will be formally notified of their pending trial next week. Some of them have got wind of it and were already scouting for the charges.
"In fact, security reports indicated that the ex-governor from the North-East got wind of his likely arraignment before the CCT and chose to go on self-exile.
"When all is set for his trial and he fails to show up, a bench warrant will be issued for his arrest and the International Police (INTERPOL) will be mandated to fish him out."
At press time, there were findings that more than 15 former governors under-declared their assets in gross violation of their oaths of office.
"Most of these governors preferred to hide their assets but, unknown to them, their aides or aggrieved members of their cabinets or parties and short-changed business partners used to expose them," a source in the Code of Conduct Bureau said.
CCT Chairman, Umar
The constitution says: "Subject to the provision of this Constitution, every public officer shall within three months after the coming into force of this Code of Conduct or immediately after taking office and thereafter (a) at the end of every four years; and (b) at the end of his term of office, submit to the Code of Conduct Bureau a written declaration of all his properties, assets, and liabilities and those of his unmarried children under the age of 18 years.
"The Bureau shall have power to receive declaration by public officers made under paragraph 12 of part 1 of the Fifth Schedule to this Constitution.
"Examine the declarations in accordance with the requirements of the Code of Conduct or any law.
"Retain custody of such declarations and make them available for inspection by any citizen of Nigeria on such terms and conditions as the National Assembly may prescribe.
"Ensure compliance with and, where appropriate, enforce the provisions of the Code of Conduct or any law relating thereto.
"Any statement in such declaration that is found to be false by any authority or person authorized in that behalf to verify it shall be deemed to be a breach of this Code.
"Any property or assets acquired by a public officer after any declaration required under this Constitution and which is not fairly attributable to income, gift, or loan approved by this Code shall be deemed to have been acquired in breach of this Code unless the contrary is proved."
"Receive complaints about non-compliance with or breach of the Provisions of the Code of Conduct or any law in relation thereto. Investigate the complaint and, where appropriate, refer such matters to the Code of Conduct Tribunal."
But disturbed by the legal issue surrounding the constitution of the Code of Conduct Tribunal, President Muhammadu Buhari has initiated moves to put in place a full panel.
There are only two members in the tribunal instead of three recommended by 1999 Constitution.
The one-judge vacuum has made some of those arraigned to seek redress at the Court of Appeal and the Supreme Court on the ground that the tribunal was not fully constituted for a proper trial. 
Three nominees have been recommended out of which the President will appoint one as a member of CCT. This will put paid to any complaint about the constitution of the tribunal. 
"The three nominees are undergoing security checks after which the President will appoint one of them, " a government source said last night.
Section 15 of Part 1 of the Fifth Schedule to 1999 Constitution says: "There shall be established a tribunal to be known as Code of Conduct Tribunal which shall consist of a chairman and two other persons.
"The chairman shall be a person who has held or is qualified to hold office as a judge of a superior court of record in Nigeria and shall receive remuneration as may be prescribed by law. 
"The chairman and members of the Code of Conduct Tribunal shall be appointed by the President in accordance with the recommendation of the National Judicial Council.
"The National Assembly may by law confer on the Code of Conduct Tribunal such additional powers as may appear to it to be necessary to enable it more effectively to discharge the functions conferred on it in this schedule."
Elombah.com with reports from The Nation Newspaper