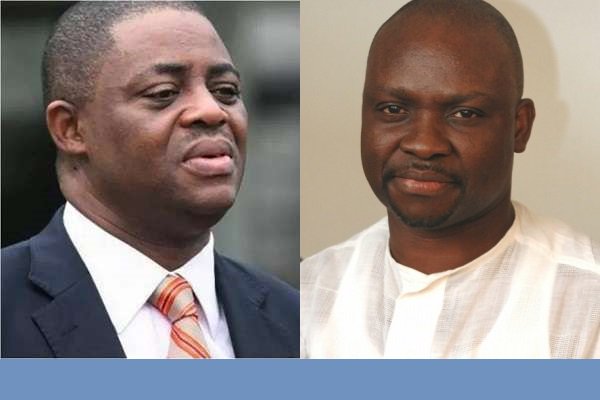 A pan-Yoruba youth group, Yoruba Youth Council [YYC], has fired a stern warning to Northern youths and Elders over recent provocative statements against some Yoruba personalities credited to them.
Elombah.com had, on Friday, reported that Arewa Youth Forum [AYF] had lashed out against Ekiti State Governor, Ayodele Fayose and former Minister, Femi Fani-Kayode and South West leaders in general.
AYF had said that both Fayose and Fani-Kayode are acting out a script prepared by their leaders of thought to destabilise the President Muhammadu Buhari-led government.
The AYF president, Gambo Gujungu also accused them of pitching Nigerians against the Northern region.
Reacting, YYC warned AYF to desist from attacks on prominent Yoruba personalities.
In a statement signed by its National President, Comrade Eric Oluwole and National Publicity Secretary Comrade Dare Oladeinde, and made available to Elombah.com, the group said they are being economical with the true state on President Buhari's health.
They said: "We write to react to the recent statement credited to the Arewa youths by one Gujungu and his kangaroo group, when the Yoruba leaders were lambasted and alleged of using Chief Femi Fani-Kayode and Governor Ayodele Fayose to destabilize President Buhari's Government.
"We considered this statement as an act of political bewilderment that is currently facing the Northern leaders and their appurtenances over the health condition of President Muhammadu Buhari whom they are currently searching for his replacement.
"Yoruba People and their leaders including the respected former Aviation Minister, Chief Femi Fani-Kayode and Governor Ayodele Fayose are men of realities whose voice and actions speaks volume of their passion and dedication for the progress and greatness of this country.
"Therefore, it should be regarded as an act of being economical with the truth and realities from any group or tribe to portray them as destabilizers of president Buhari government but to see them as men of honour who are democratically working to bring stability and sanity to our national polity.
YYC then called on northern leaders to intimate their youths on the political relationship that has existed with both Yoruba and Northerners over the years.
"We hereby call on the northern elders to abreast their youths on the historical artifact of the political relationship between the northerners and the Yoruba that had unarguably responsible for their long reign in the abacus of Nigeria presidency and also direct them to join other Nigerians in a fervent prayer for the ailing president Buhari than causing unnecessary distractions.
It maintained that Gujungu's group and other sinister groups should be warned that Yoruba sons and daughters will not allow any group or individual to molest their leaders.
"We call their northern leaders to call those group into order and to caution them to be careful, we shall not allowed any stupid group from the north to molest our Yoruba leaders, because they have pushed Yoruba youths to the wall for Nigeria to have a breakup and we our ready for it.
"Nigerians should know that Fayose and Fani-Kayode will not keep quiet and nobody can silence them, because they represent the voice of Yoruba against the vampires"                        
—
Would you like to be receiving ALL Elombah.com news links 'On The Go' on WhatsApp?  If yes, please provide us your WhatsApp number via publisher@elombah.com or inbox +2349050382526 and you are ready to go!
© Copyright 2017 www.elombah.com; unless otherwise indicated, all images are courtesy of Twitter; send eyewitness accounts/reports/articles to publisher@elombah.com; follow us on twitter @Elombah; like our Facebook page: Elombah.com; join us on WhatsApp HERE
For advert placement call us on +447460770987, +2349050382526