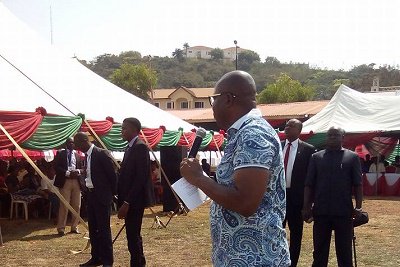 The Ekiti State University, Ado Ekiti, has sacked over 400 workers recently engaged by the institution because their recruitment did not follow due process.
The action followed a directive of the state Governor, Ayodele Fayose, who expressed reservation about the recruitment process.
The governor, who said this on Wednesday in Ado Ekiti, wondered why more than 400 persons would be offered employment without the positions being advertised.
He spoke during an interactive session with the participants in the N-Power Programme of the Federal Government from the state at the Government House, Ado Ekiti.
No fewer than 3,400 people are taking part in the programme in the state.
Participants are to take part in education, health, community and agriculture sectors for the next two years and would be paid a monthly stipend of N30,000 each.
Fayose at the event promised a reward of N1 million and full employment for the best participant in the N-Power Programme.
He, however, called on the Federal Government to tackle unemployment headlong, saying the N-Power Programme was only a palliative.
"This is only a palliative as it will last for only two years and I am strongly appealing to the Federal Government to take the issue of job creation serious. 
"When somebody partakes in this programme and is sent back to the labour market after two years, that is going back to where he or she started, the labour market.
"As for us, we will do our duty to distribute participants to where they would work and monitor them as well as ensuring that we do a proper data capturing of the participants.
"For those in the agriculture arm of the programme, they can take advantage of our desire to adequately support rice and cocoa cultivation. 
"We will support in the provision of inputs and clearing of land. Next year, we are committing about N250m to clear farmlands across the state. 
"From among the participants, we can get serious ones who could be useful in the teaching service and other areas," he said.
The governor also emphasised the need to make appointment into public service free, fair and transparent.
© Copyright 2016 www.elombah.com; Send eyewitness accounts/reports/articles to publisher@elombah.com; follow us on twitter handle @Elombah; like our Facebook page: "Elombah.com"