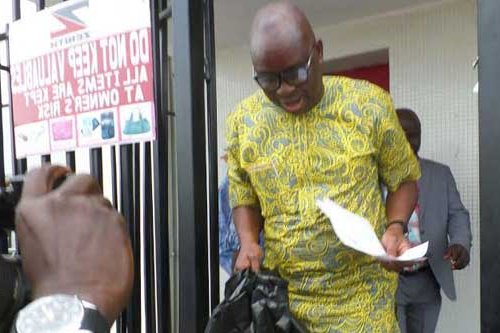 Governor of Ekiti State, Mr. Ayodele Fayose has, on Thursday stormed the Ado-Ekiti branch of the Zenith Bank to make withdrawal from his earlier frozen account.
Mr. Fayose celebrated visit followed an Ekiti High Court order to the bank to de-freeze his account.
During the exchange, Governor Fayose withdrew a total sum of five million Naira in cash.
Addressing newsmen at the premises of the bank after the transaction, Fayose said:
"I came to the bank after serving them the court order that my money should be given to me immediately without delay.
"I have made up my mind that I won't leave this bank until I collect my money.
"They have done the needful and I have written a cheque to get some of the money, which they have given to me, confirming that they have obeyed the court order."
He also thanked Nigerians for standing with him and against what he described as the recklessness of the EFCC.
"I want to thank Nigerians, my supporters and people who believed in my cause that Nigerians should not be oppressed.
"The rascality of EFCC must stop. This over-zealousness must stop. 
"I want to thank Zenith Bank for obeying the court orders."
A Federal High Court in Ado Ekiti had on Tuesday, ordered that Governor Fayose's accounts in Zenith Bank be de-frozen with immediate effect.
The accounts were frozen by the EFCC in June 2016.
The judge said the EFCC action breached the governor's fundamental rights to fair hearing, as the commission did not make him a party to the proceedings for the interim freezing of the account.
He said that the EFCC suppressed facts by not disclosing to the court that granted the interim freezing order that the two accounts that were frozen belonged to a Governor who enjoys total constitutional immunity.
Justice Taiwo cited the immunity which Mr Fayose currently enjoyed as a sitting governor under section 308 of the constitution.
He said it was wrong for the EFCC to have gone ahead to seize his two accounts in apparent perpetuity without first investigating him or making him a party.
He averred that rather than the EFCC freezing the Governor's accounts directly through the third party who did not enjoy any mandate from him, Governor Fayose ought to have been first investigated and brought into the picture.
The judge described Fayose as "a genuinely deprived person who rushed to the court to seek constitutional protection".
© Copyright 2016 www.elombah.com; Send eyewitness accounts/reports/articles to publisher@elombah.com; follow us on twitter handle @Elombah; like our Facebook page: "Elombah.com"