Picture shows some of the Chibok Girls
*Obama, Hollande, Merkel, Putin must act fast*
This passionate plea to world leaders, including Obama, Hollande, Merkel, Putin, Jinping, Ban Ki Moon to help Nigeria's President Buhari and his military to rescue the Chibok girls is necessary because the Nigeria's military through its Chief of Defense Staff, General Abayomi Olonisakin, has truthfully admitted that they do not know the whereabouts of kidnapped girls. According to General Olonisakin, "So far, we don't have any report concerning them (Chibok girls), but of course, we have some Boko Haram terrorists, who have surrendered. Among them are women and children". These girls have been in the hands of rapists for over 500 days and the world is still watching.
I wrote this piece in July 2014, under the clueless regime of Jonathan and nothing tangible was done to rescue the remaining Chibok sex slaves. I am asking the aforementioned world leaders to urgently find the remaining Christian captives before something worse happens to the few remaining alive.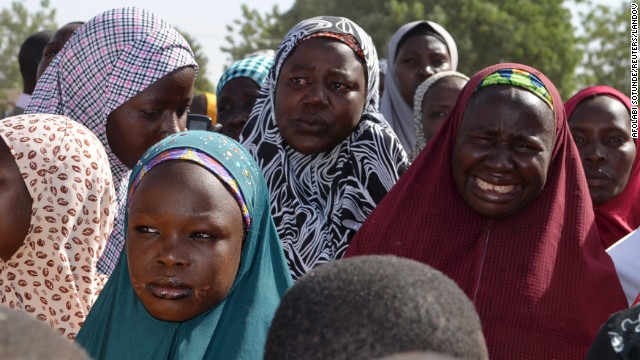 Gang-Raping, Murder of Chibok Christian Girls-SOS to Obama, Hollande, Merkel, Putin
This is a passionate plea to world leaders viz Obama, Hollande, Merkel, Putin, Jinping, Ban Ki Moon and other leaders to do something urgent before the Boko Haram Jihadists gang-rape to death the over 250 school girls abducted in Chibok in April and another set of teenagers and young girls numbering above 250 abducted in villages near Chibok in numerous other raids between April and June. Below are lists of what these Christian teenagers are facing in the hands of Jihadists who claim that they want to modify the secular status of Nigeria.
Some of the Chibok Girls' parents
(1)  The first hint of what these Christian school girls are passing through was when a little boy of 15 years discovered two of the abducted girls tied to a tree, raped and abandoned to die in the forest about a week after their abduction. The crime of those girls was that they refused to convert to Islam and terrorists raped them either unto conversion or unto death. According to Baba Goni "I heard the girls crying and telling the others that they had been raped, and just left there. They had been with the other girls in Chibok, all taken from the school in the middle of the night by armed men in military uniform" Baba Goni also said that the villagers told him that" four were dead, shot by their captors for being stubborn and uncooperative"
(2) Few days later a few girls escaped from the camp of the religious rapists and narrated that they are being raped up to 15 times in a day. According to Oladimeji Thompson of the Omoluabi Network, a clergy and Christian Councillor working with other groups to help the traumatized victims, "one of the girls I interviewed told me that she was raped 15 times by 15 men in a day." Going further Oladimeji said that "…it is obvious the girl needs to be managed she looked confused. She found it hard to talk to me but after much prodding she confessed to me that she was raped 15 times a day by 15 men throughout the time she was with the Islamic insurgents before she could escape from their den"
(3)  Weeks later, another escapee Christian girl who was earlier abducted some months before the Chibok abduction narrated her experience in the hands of the terrorist. According to this lady by name Rosemary (surname withheld to avoid victimization) who was captured months earlier around Maiduguri, but fortunately was able to escape Boko Haram, somewhere near Bama. She spoke to newsmen lying on a hospital bed. Rosemary narrated that over seven men slept with her every day for over two months.
The victim also confirmed that she was held captive with more than 30 other women and young girls. Rosemary said that all the females were forcefully used by the insurgents as sex toys. The virgin ones and the very young girls were usually given to the leaders. The older women, or the married ones, were left for ordinary fighters.
Some of the Chibok Girls' parents
Many of the abducted women and girls would never return. Rosemary confirmed that Boko Haram kills women for non-compliance to the sexual demands, punishes them regularly. Female hostages at terrorists' camps die from torture as well.
(4)  Senator Ahmed Khalifa Zanna, representing Borno Central in Nigeria's legislative chamber revealed that some of the girls are being gang-raped and shot and the video is being circulated in Borno. According to Senator Zanna's testimony, "actually the information I'm getting, some of them are very disturbing. Although I don't want to mention but they are just raping the girls on camera and even showing them on video, releasing it to the public"
Zanna explained further that "Somebody told me that they were shown being raped, and in turn, it is the girl who was raped that came out kneeling down and begging the man to be patient. Do you know the reason why? They said when they rape them they shoot them. Therefore the girl after being raped, she curled down to the man, kneeling down and begging him to please be patient. So disturbing".
(5)  A Boko Haram commander who came to Borno to buy lorry loads of foodstuff for the insurgents by name Mallam Hassan Ali was apprehended in May and the sexual Jihadist confessed to the Civilian JTF (a volunteer group of locals against Boko Haram activities) that two of the abducted school girls were already married off to him, despite his advanced age. Later reports that the girls are being married off reached the leadership of Christian Association of Nigeria (CAN). Senators Zanna and Ali Ndume from Borno State later confirmed that they are being married off.
(6)  Mallam Abubakar Shekau had said in his televised video that he will sell off the girls as slaves because in his own words Allah told him to do so. According to Shekau" "I abducted your girls. I will sell them in the market, by Allah," Going further the murderer said that "God instructed me to sell them, they are his properties and I will carry out his instructions," This came weeks after those girls, most of them virgins, have been sexually molested to heights beyond hellish comprehension ostensibly on the orders of Allah.
The BringBackOurGirls campaign group has suddenly gone mute
(6) Former President of Nigeria Olusegun Obasanjo had alluded in a controversial interview that the many of the abducted girls will never return alive (probably those being shot or raped to death for failing to convert to Islam, and those who converted earlier and after heights of inhuman sexual molestations, decided to recant their conversion). He also talked of those already pregnant with children. Obasanjo claimed that government failed to act on time to rescue the girls and inferred that his attempt to negotiate the release of the girls was not accepted by the Nigerian government. These girls are just abandoned in the hands of Jihadist rapists.
(7) Two weeks ago, Chibok Christian residents disappointed that the over eight hundred thousand personnel of the Nigerian Armed Forces could not deliver their precious daughters from the hands of the Jihadist rapists despite empty promises, resorted to prayers to intercede for God to save their children. Boko Haram would have none of their prayers, they attacked them in their churches on a Sunday morning and by the time the violence was over, nine churches were burnt down and over eighty worshipers killed, including some relations of the abducted girls
(8)  Chibok is literally dead, the town is deserted, residents are hiding inside the bush, parents of the abducted girls are dying one by one, as at last count, nine have died while the rest are walking corpses. The rest of the nation sees the Chibok issue as stale news, politicians are looting treasury, including funds meant to fight the insurgents, and political spokespersons of government and the opposition are hypocritically throwing tantrums at each other. 
(9)  Going by the account of the few escapees, they are raped by 15 men, 15 times daily, a harrowing experience for teenagers of age ranging from 12-18 years. 15 different men raping a little school girl 15 times daily translates to 1350 different men having forced carnal knowledge of each girl within the 90 days they have been kidnapped and if by the next ten days, when they would have clocked 100 days in detention, there is no negotiated or forced release from the den of the Jihadists, they would have been raped 1500 times by 1500 different men.
(10) Nigeria's government of Goodluck Jonathan and his entire armed forces have shown cluelessness concerning the Chibok issue and the false hopes they gave  the victim's parents  (many of whom have died as a result of heart break) that their daughters will soon be back, prevented these parents from seeking self-help solution. Government preoccupation is funding and winning the forthcoming presidential election, scheduled for first quarter of 2015, and Chibok abduction have ceased to be an important factor, except for few public relations rhetoric. 
The Islamic leaders of Nigeria have equally failed to mobilize the Muslim populace to stamp out this group committing atrocities in the name of Allah, and continued to deny that the perpetrators are their members. The international community should close all differences and save these innocent girls abandoned to an evil fate by an insensitive Federal Government and Islamic Leadership living in self-denial.
Obama, Hollande, Merkel, Putin, Jinping, Please Save these girls
This crime of using multiple inhuman gang-raping to force people to convert to Islam is another export from the Nigerian brand of Jihadists, and if the United States, Britain, France, Germany, China, Russia and indeed the entire developed nations do not join hand to rescue these girls and prosecute those responsible, other Islamic militias all over the world will adopt the ideology of kidnapping and raping school girls as means of prosecuting warfare. I enjoin world leaders like Barrack Obama, Francois Hollande, Angela Merkel, Vladimir Putin, Xi Jinping, Ban Ki Moon and other world leaders to either authorize the storming of the terrorist hideouts and release the girls or directly initiate negotiations to effect their release, whichever is more expedient.
Obinna Akukwe; profetobinna2@yaho.com, www.facebook.com/obinnaakukwe, @ObinnaAkukwe