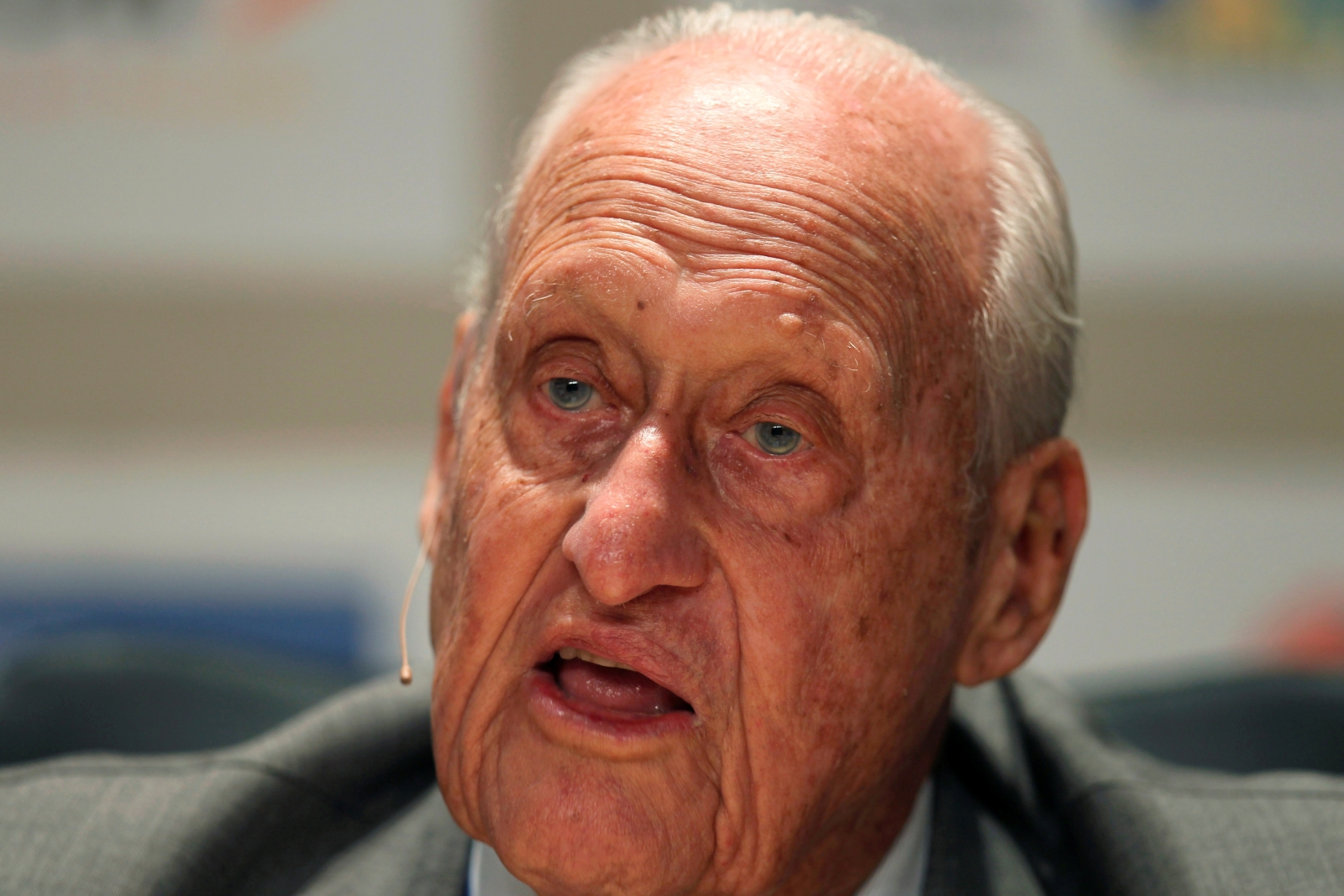 Image: Jean-Marie Faustin Godefroid "João" de Havelange was a Brazilian lawyer, businessman, and athlete who served as the 7th President of the Fédération Internationale de Football Association, from 1974 to 1998
Former FIFA president Joao Havelange is dead. He died aged 100.
Havelange oversaw massive expansion of world soccer during his tenure.
The President of FIFA from 1974 to 1998, Joao Havelange died in Samaritano Hospital, Rio de Janeiro. 
FIFA President Gianni Infantino expressed his sympathies: 
"During his 24 years as FIFA President football became truly global, reaching new territories and bringing the game to all corners of the world. 
"Something the whole football community should be grateful for. I extend my condolences to his family."
Born in Rio de Janeiro on 8 May 1916 to Belgian immigrants, Jean-Marie Faustin Godefroid de Havelange proved himself to be an exceptional swimmer.
He represented Brazil at two Olympic Games, competing in the 400m and 1500m freestyle events at Berlin 1936.  
He also formed part of the country's water polo team at Helsinki 1952.
Though he trained as a lawyer, Havelange continued to pursue a career in the world of sport.
He became the head of the Brazilian delegation at the Melbourne Olympics in 1956 and the honorary president of Fluminense Football Club. 
In 1958, at the age of 42, he was appointed chairman of the Brazilian Sports Association (CBD), which later became the Brazilian Football Association (CBF).
Voted on to the International Olympic Committee in 1963, Havelange was elected President of FIFA on 11 June 1974. 
During his six terms in office a total of 50 new associations joined the governing body of world football. 
It was also during his presidency that FIFA organised the inaugural Women's World Cup in 1991.
Also the first Futsal, Men's U-20 and Men's U-17 World Cups, in 1989, 1977 and 1985 respectively. 
 © Copyright 2015 www.elombah.com. Send eyewitness accounts/reports/articles to publisher@elombah.com; follow us on twitter handle @Elombah; like our Facebook page: "Elombah.com".
Share your thoughts in the comment box below: