French ex-Prime Minister François Fillon and his Welsh wife have received jail sentences in a "fake jobs" case.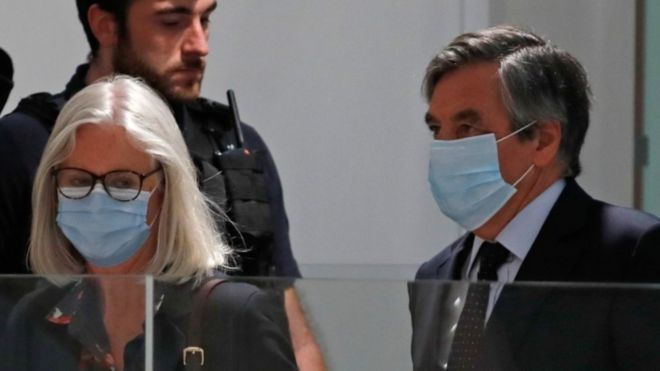 The conservative politician was found guilty of paying Penelope Fillon €831,400 (£760,000; $938,000) for work she never did as his assistant.
He was sentenced to five years in prison, three of them suspended. She was given a three-year suspended term.
The scandal ruined his presidential bid in 2017. Both have appealed, blocking Mr Fillon's immediate detention.
He is the most senior French political figure to receive a custodial sentence since the start of the Fifth Republic in 1958.
Delivering the verdict in a Paris courthouse on Monday, the presiding judge said: "The payment was disproportionate to the work done. Mrs Fillon was hired for a position that was without use."
Ms Fillon was found guilty of complicity to embezzle and conceal public funds.
Who is François Fillon?
Fillon has been in politics for decades. After serving as an MP, senator, and in a number of ministerial roles, he became France's prime minister between 2007 and 2012 under then-President Nicolas Sarkozy.
Ahead of the 2017 presidential election, he won the centre-right Republican party's presidential primary, and in January 2017 was the clear front-runner in the polls.
But his bid for the top job fell apart later that month.
Le Canard Enchaîné, a satirical magazine, alleged that Penelope Fillon – formally employed as his parliamentary assistant for about six years in the 1990s and 2000s – never actually did her job. What is more, she was paid €831,400 in the role.
Mr Fillon denied the allegations. He said his opponents were trying to sabotage his campaign through his wife, and vowed to press on with the election.
As the scandal grew he apologised "profusely" for employing family members, saying that though legal the practice had caused "mistrust".
But his poll ratings dropped sharply. He came third in the first round of voting, missing out on the second-round run-off.