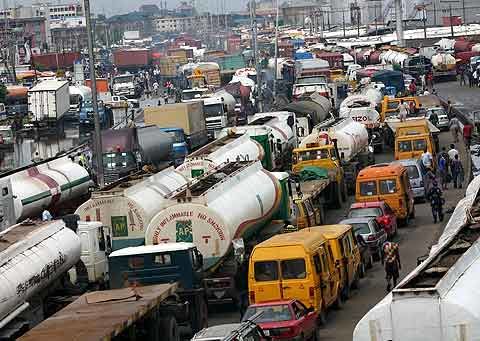 The school of Lagos-watchers that keep an eye on the city's traffic management chiefly out of a morbid fear of decline or of possible worst-case scenario has taken on new adherents of late. For signs are mounting that the stakeholders' response to the revolutionary measures taken by Governor Akinwunmi Ambode less than a week after his inauguration to tackle the Apapa gridlock has slowed – or even, some say, gone into reverse. 
Though the governor and his team have continued in a most civil manner to confront the menacing situation by experimenting on a range of time-honoured strategies including consultations with stakeholders and inspection tours to black spots, the chief worry is that the situation goes beyond what a state can handle.
It is connected to fuel scarcity, which obviously reflects the failure of a nation to harness and effectively manage her natural resources. 
What started as crawling traffic in and out of the Tin-Can Island ports, the tank farms, the factories, and other establishments and investments that generate traffic around the ports has degenerated into a landmark of endless and apparently stagnant queues of trailers and tankers. 
The road pavements between the Coconut and Liverpool bridges have continued to fail and to give way to deep gullies, rapidly turning the road into an impasse. Freight Forwarders and Importers lament on the galloping losses they incur daily as a result of delays and mishaps. 
This exacerbates a deeper unease: a belief that the visit of the Senate Committee on Marine Transport last week to Tin-can Island is of no consequence since the delegates were unable to access the flashpoints for firsthand assessment. 
The belief is reinforced by reports of refusal of the delegation to show concern and commitment by walking down the road, inspecting and assessing the damage, mingling with stakeholders and the people, asking relevant questions, hearing them out, feeling their pains, encouraging them, and giving them a sense of belonging.  As it stands, the delegation is being written off on the grounds that it lacked remedial instincts. 
For some years now since our refineries packed up and the nation's demand for fossil fuel continued to depend on imports, increased tanker traffic to the over 45 tank farms in Apapa has left endemic traffic gridlocks in its wake and, to this effect, experts have continued to hold the tank farms culpable and have at different fora advocated their relocation. 
Contrary to this view, Ambode's government, people-oriented as it has turned out to be, has given a 90 days grace period to operators of tank farms to expand their loading bays so as to enhance their service delivery and reduce the tanker queue or otherwise risk being shut down.
However, is this growing concern about tank farms justified? Mostly not. Take the downstream oil industry serviced with subsidy payments and plagued with comatose refineries. The poor performance of our refineries is responsible for the oil marketers' dependence on importation and consequently the quayside tank farms. 
Certainly, the anaemic performance of the sector is responsible for the prevailing traffic situation in Apapa and this follows long years of extraordinary distress. The Federal Government has over the weekend repaid N413bn subsidy to oil marketers and tankers have started loading from the tank farms. Habits are hard to change. 
So even though the once growing queue of tankers is steadily dwindling because oil marketers have been paid and tank farms have become operative, this has not reflected on the refining capacity of our refineries. 
And so, in all fairness, if the Federal Government does not expedite the ongoing turnaround maintenance for our refineries, the queues are sure to return. 
Notwithstanding, Lagos State Government's directive for tank farms and their loading bays is in order and implementation will be effective provided oil marketers are paid their subsidies as at when due or our refineries begin to operate at full capacity.
Meanwhile, expectations are rising, even if habits have not yet caught up. The Minister of State for Petroleum Resources has assured that two out of Nigeria's four Refineries would be re-streamed for production before December 31, 2015. 
And to ensure that a permanent solution was found to the perennial fuel scarcity the country has been facing, the minister reiterated that efforts were on to engage private investors to build new refineries within the premises of existing ones to enable benefit from economy of scale by sharing some operational facilities, such as power, pipelines and other resources. 
This revelation is one lifeline for the daunting traffic gridlock in Apapa. As the minister continues to throw out hints of wanting to bring about far-ranging structural change in the oil and gas industry, we wish him well. 
For Governor Ambode, these are early days though he seems to have set his priorities right. With the determination and the zeal with which he is addressing traffic issues in Lagos, especially in Apapa, reformist achievements are no doubt in the offing. 
Chigozie Chikere, Member, the Chartered Institute of Logistics & Transport (CILT) Nigeria; E-mail: grandefather@yahoo.com, Phone: 08039504536