The Nigerian Senate
15:30
Senator Musa Sani: "Temporary closure of borders does not change economic situations in Nigeria. The closure of border is good for security but not good for the economy."
Senator Emmanuel Bwacha: "On security, the border closure is the best decision because most people killing Nigerians are not Nigerians. It is good to close the border and look inward to put things in order in the aspect of security."
Senator Sam Egwu: "In our deliberations, we should not talk about asking Mr. President to give a specific date to the closing of the border because he may have an information we may not have."
Senate, thereafter, resolved to:
1. Commend the President-C-in-C on the very patriotic decision to temporarily shut down all our land borders in order to rectify the deteriorating effect on our country of persistent smuggling of products that negatively affect the Nigerian economy's decline the well-being of our nation;
2. Urge the Ministries of Foreign Affairs & Interior to increase diplomatic outreach to the government of the Republic of Benin, Cameroon, Niger and Chad to take urgent measures to stop their countries from being used as smuggling base to perpetuate the illegal importation of unwanted goods into Nigeria;
3. Commend the Nigerian Customs Service and the Security Services for their role in intensifying the curbing of smuggling across the borders and assure them that the Nigerian Senate is with them in their onerous task of ridding Nigeria of smuggled goods and services;
4. Reassure friendly countries around the world that the border closure should not be perceived as a punitive measure targeted at them but a necessary action to save our economy from collapse and protect our people from terrorism and insecurity;
5. Direct the Committee on Customs and Tariff, Trade and Investment and Interior to review the border closure and recommend sustainable resolution; and
6. Review the country's border control mechanism.
Senate President, Dr. Ahmad Lawan: "Thank you my Distinguished colleagues for the various contributions made. We are here to serve our people. We hope the resolutions made are strictly adhered to by the various agencies of the government."
Senate Leader moves that all items on the order paper be stood down to another legislative day. Minority Leader seconds.
Plenary is adjourned to Thursday, 26th September, 2019.
Gavel bangs!
14:13
Continuing, Senator Suswam said: "A nice points from Sen Adamu but my question is what has Nigerian govt done or put in place to protect the citizens from experiencing the direct impact of this border closure.
"The price of rice in particular is unacceptable n the people must eat. Price controls/subsidy is needful.
"Certainly it's a good step "action n reaction is equal n opposite" but in this case it's only action, now the reaction is on the masses again, remember we pay TAX, high VAT n CASH FLOW VAT etc.
"For the people no hardship allowance for unemployed but they must eat.
"Your points should always include THE SENSITIVE aspect. His points were just in one direction remember school of taught on "MERITS AND DEMERITS" very important in our daily lives.
"Senate supposed to protect the people not their pockets."
13:40
2. The impact of border closure on the Nigerian economy by Senator Adamu Aliero.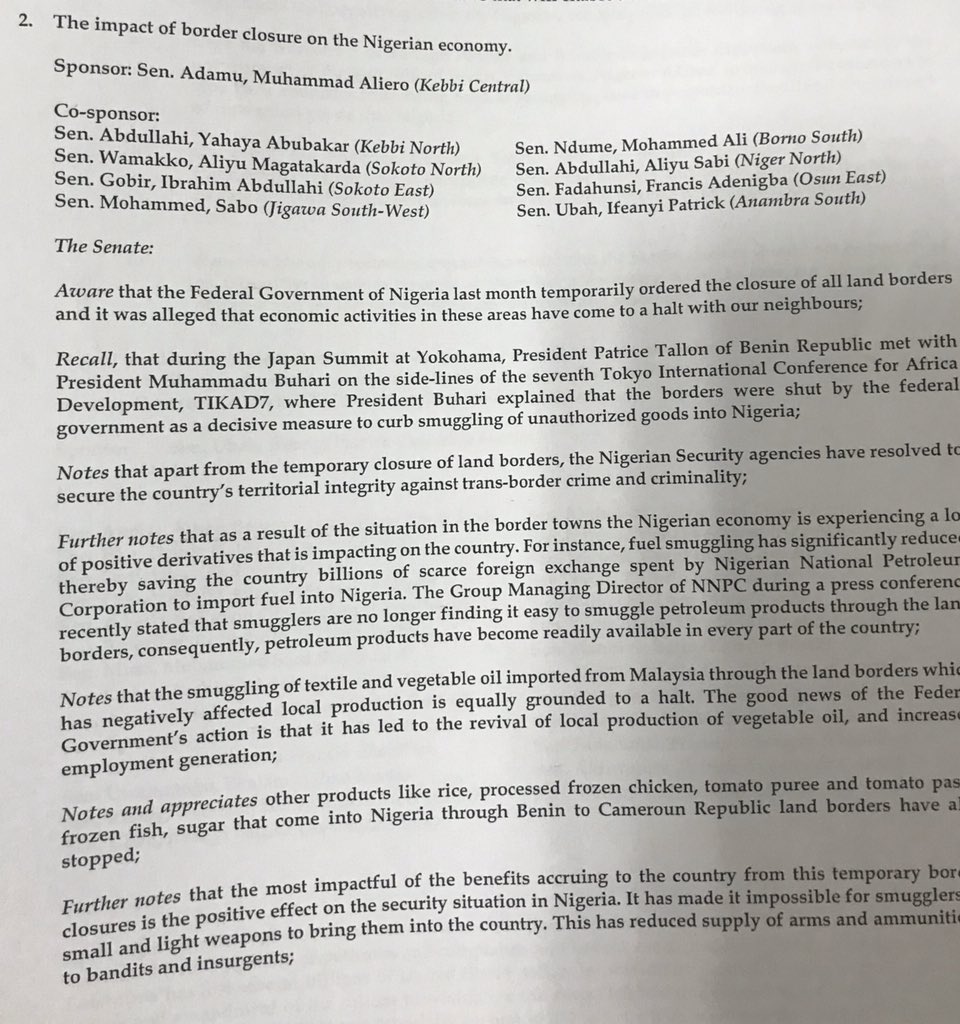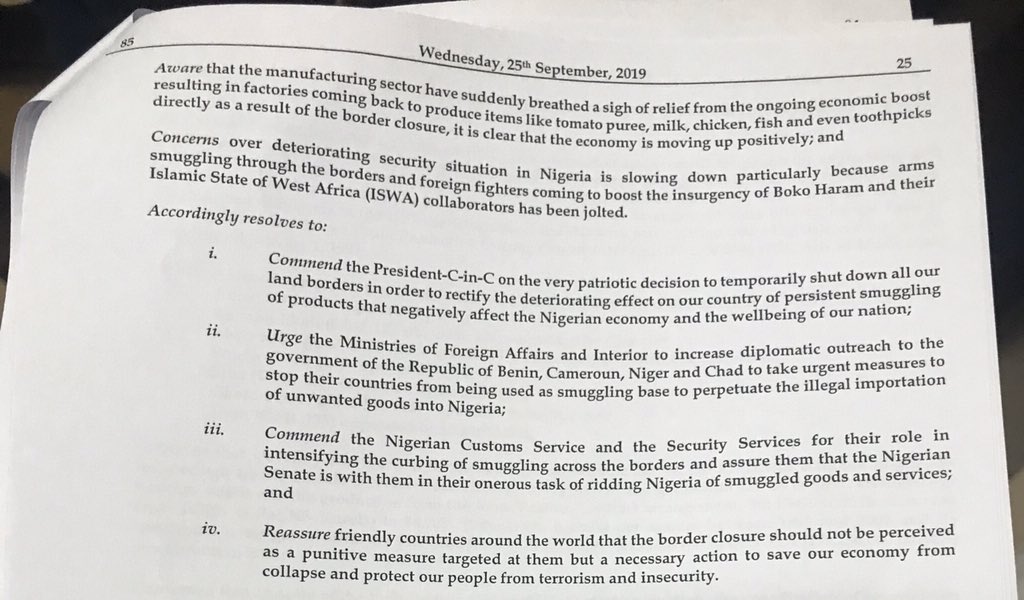 "I rise to second and support this motion. One reason I am rising up is because my Senatorial district borders Benin Republic. We must commend Mr. President for closing down borders to curb the activities of smugglers."- Senator Adeola Solomon.
Senator Gabriel Suswam: "The way forward is to engage countries that border us and patrol our borders. Let us as a Senate give Mr. President the support he needs to secure our borders."
12:55
Senator Ali Ndume: "As I speak, there are about 75 NGOs scattered in Maiduguri that nobody knows what they do."
Senator Ajibola Bashiru: "A lot of resources are given to non-state actors without knowing what they are used for."
Senate resolves to:
1. Direct the National Planning Commission to develop a policy framework that creates mechanisms for development cooperation and aid effectiveness in Nigeria;
2. Direct the relevant standing Committee to monitor the implementation of resolution (1) and produce any necessary legal framework that would ensure the attainment of the objectives;
3. Direct the relevant standing Committee that oversee Ministries, Departments and Agencies (MDAs) who are beneficiaries of development aids/ grants to request for, analyze and consider such aid/ grants in appropriation of funds for the MDAs activities; and
4. Advise the State Planning Commissions and House of Assemblies to domesticate and implement federal policies and laws that will enable the states to achieve aids effectiveness.
Senate President Lawan: "This is also an important topic that forms our legislative agenda. Aids to Nigeria should not be treated like it is treated elsewhere. We need a framework that will ensure that if there is any aid given to us, it must be for the benefit of our people."
12:12
2. Lagos State Special Economic Assistance Programme (Est, etc) Bill, 2019 (SB. 3) by Senator Tinubu Oluremi.
Lagos State Special Economic Assistance Programme (Est, etc) Bill, 2019 (SB. 3) is read the FIRST TIME.
Senate moves into the MOTIONS of the day.
1. The need to make Development Aids more effective to work for Nigerians by Senator Oloriegbe Yahaya.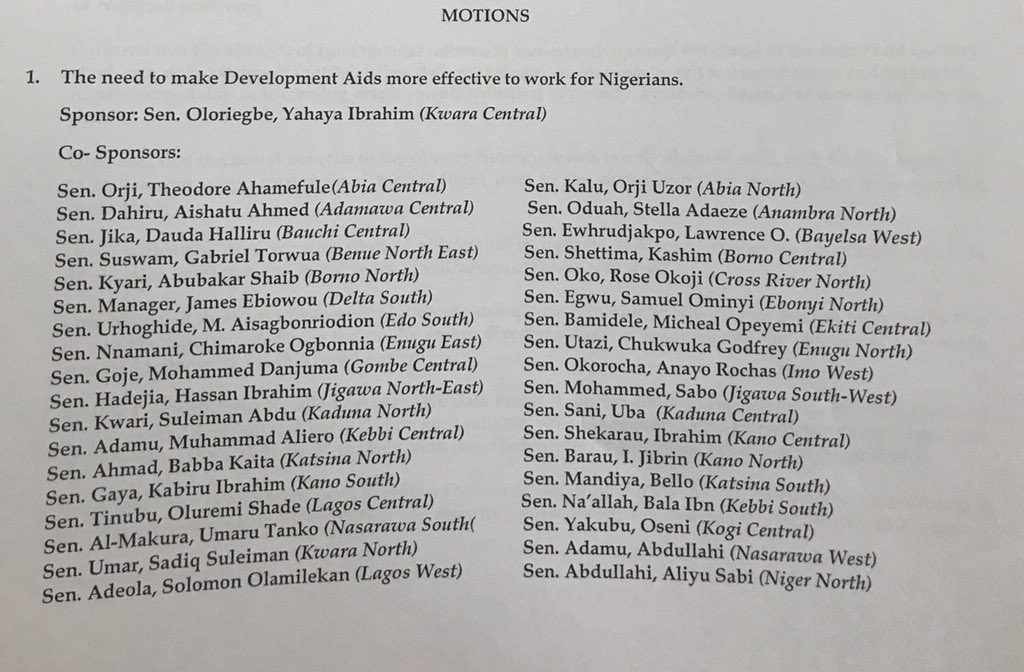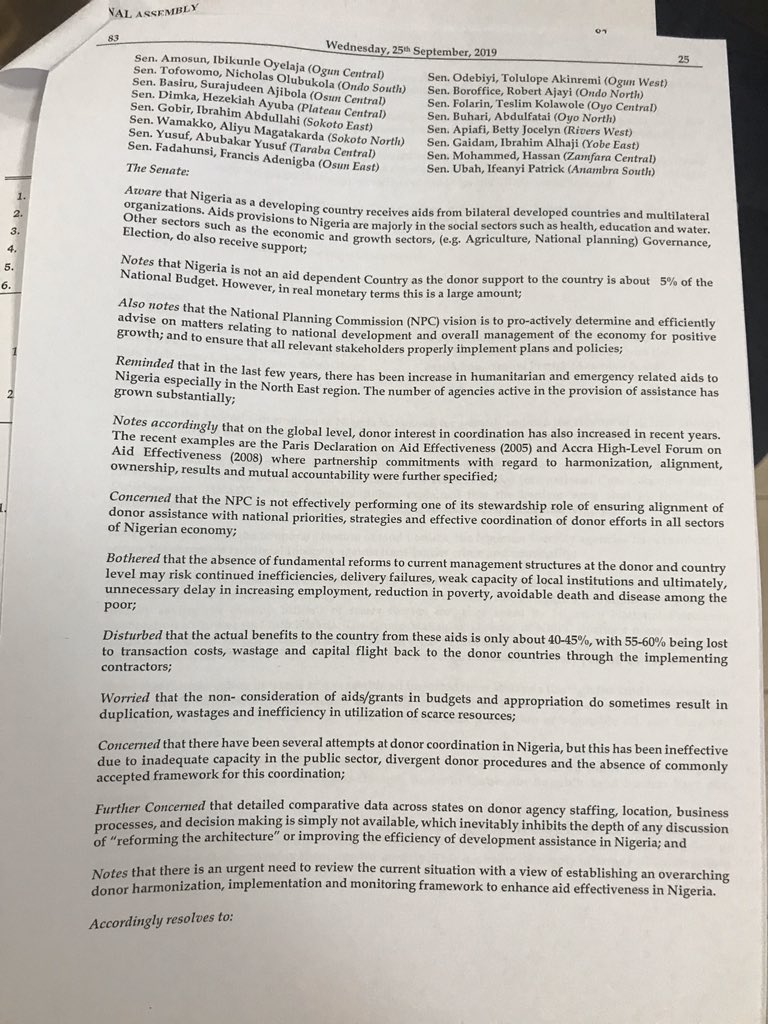 12:02
Welcome to a new Legislative Day in the Senate of the Federal Republic of Nigeria!
Senate President, Dr. Ahmad Lawan leads the Principal Officers into the chambers; takes the official prayers; and begins the day's proceedings at 10:11am
Senator Suleiman Abdu Kwari moves for the approval of votes and proceedings of Tuesday, 24th September 2019. Senator Francis Fadshunsi seconds.
Senate President, Dr. Ahmad Lawan reads a letter from Mr. President on the submission of the 2020-2023 MTEF/FSP.
Senate moves into the presentation of Bills for first reading.
1. National Assembly Inauguration Bill, 2019 (SB. 4) by Senator Suswam Gabriel.
National Assembly Inauguration Bill, 2019 (SB. 4) is read the FIRST TIME.
More updates will follow…