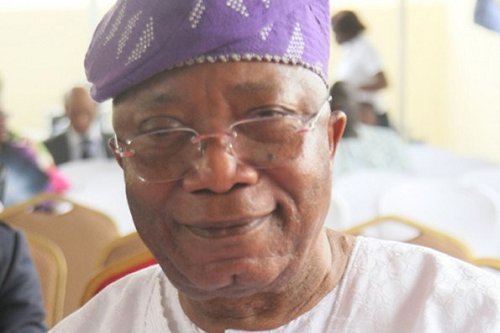 Foremost whistleblower in Nigeria, Dr. George Uboh, through the George Uboh Whistleblowers Network [GUWN] has uncovered how Premiere Lotto limited (PLL), popularly known as "Baba Ijebu", scams the federal government billions in taxes.
George Uboh Whistleblowers Network is a conglomerate of different whistleblowers nationwide ranging from bankers, Federal Inland Revenue Service [FIRS] staff, etc. 
According to investigation carried out by the Whistleblowers Network, Chief Kessington Adebutu, the owner of Premiere Lotto rakes in over one billion daily.
However, after taking in approximately N1 billion Naira daily, Baba Ijebu pays flat tax rate of approximately 500 million Naira per annum which is a fraction of the real tax exposure.
Speaking with Elombah.com correspondent over the development, Dr. Uboh asked:
"On what pretext does Premiere Lotto pay flat tax rate of approximately 500 million Naira per annum while actually taking in over N365 billion per annum?
"Is 500 million Naira commensurate to over N365 billion in taxes?
"Is there really anything like "flat tax rate"? Is it not PAYE [Pay As You Earn]?"
Consequent to the development, GUWN thus wrote PLL [Baba Ijebu] on August 30, 2017, via Freedom of Information [FoI] Act to furnish documents indicating daily revenue/intake/gross receipts, taxes paid, assets owned, etc. as below:
Elombah.com learnt that the lottery outfit has, till date, failed to furnish details germane to the above information.
GUWN asserts it is ready to fight PLL up to the courts to compel PLL disclose the aforementioned information. 
It would be recalled that FoI Act was recently used by Socio – Economic Right and Accountability Project [SERAP] to compel the federal government to disclose names of looters.
After extensive investigative journalism, Elombah.com also came up with more demeaning data on Premiere Lotto limited (PLL), a.k.a. "Baba Ijebu":
1. Premiere Lotto's license was revoked in 2008 on grounds of monopoly; 
2. When Baba Ijebu's license was reinstated and other lotto houses were allowed to operate, Chief Adebutu ensured that Baba Ijebu had interests in those lotto houses e.g. Bet.Naija.
Commenting on the mafia-style operation of Baba Ijebu, Dr. Uboh said this is reminiscence of how the Italian and Jewish mafia ran gambling in Las Vegas.
That was until the justice department launched serious criminal investigations which led to hundreds of arrests and convictions hence sanitized the influence of the mafia in the gaming industry.
As a fervent corruption fighter, the GUWN Chairman posits that the corruption network Chief Kessington has perfected has enabled him to evade any serious investigation and arrest.
The corruption ring, he said, is costing Nigeria billions in earned but unrecovered taxes from the gaming industry in Nigeria. 
President Muhammadu Buhari had promised to rid Nigeria of corruption but ended up leaving the fight to the likes of real fighters like Dr. George Uboh who is now taking the bull by the horn.
—
Would you like to be receiving ALL Elombah.com news links 'On The Go' on WhatsApp?  If yes, please provide us your WhatsApp number via publisher@elombah.com or sms/inbox +2349050382526 and you are ready to go!
© Copyright 2017 www.elombah.com; unless otherwise indicated, all images are courtesy of Twitter; send eyewitness accounts/reports/articles to publisher@elombah.com; follow us on twitter @Elombah; like our Facebook page: Elombah.com; join us on WhatsApp HERE
For adverts & inquiries, call +447460770987, +2349050382526