How Gov. Rochas Okorocha And His Son In-Law Uche Nwosu Amassed Over 1000 Properties In Imo State
By Oliver Fejiro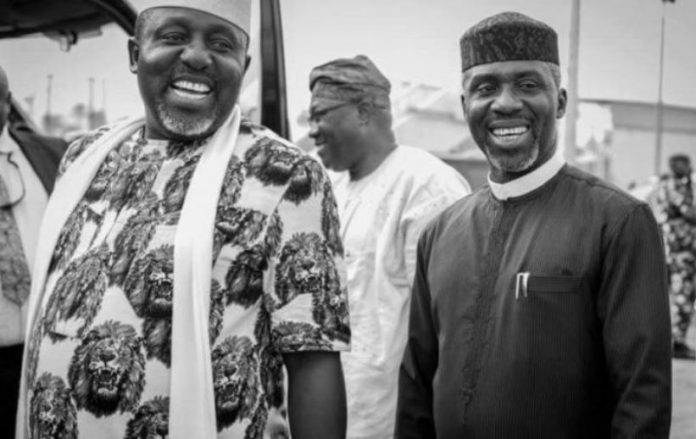 Rochas Owelle Okorocha, governor of Imo State has turned the government of Imo state into a family business taking undue advantage of his authority to monopolize the properties and wealth of the Imo people throwing caution to the wind.
SecretReporters can authoritatively report that the Imo state governor Rochas Owele Okorocha and his family members have used their various positions over the past seven years to illegally acquire hundreds of properties, through the influence of their brother who has cunningly placed each of them in strategic positions to aid and abate their looting escapades.
Evidence available to our newsroom reveals that in 2011 before he became governor, Rochas Okorocha acquired a small portion of land on which he built an estate called "Spibat Estate", but upon his victory as governor he forcefully acquired the remaining portion which is over 100 plots from the Mbieri community of Imo state. Gov. Rochas has since expanded this estate, as it now has double drive ways, about 64 buildings and a lawn tennis court.
Information made available to our reporters revealed that his son in-law Uche Nwosu forcefully acquired a piece of land from a civil servant on which the wife of the governor Nkechi Okorocha built the popular Municipal Plaza located at M.C.C Road, Owerri.
To further show that corruption runs in the blood of the Okorocha family, it was also alleged that Geraldine Okorocha, the elder sister to Rochas Okorocha acquired former Mr. Fans building and has since opened an eatery called "Twitter Bites" located at Mba Road, Owerri after frustrating the initial owner out of business.
Looking at what looks like a blueprint to solidify the movement for the looting and illegal acquisition of properties in Imo State, Gov. Rochas Okorocha who recruited his son in-law Uche Nwosu as his secret weapon of mass looting and theft, appointed him the Deputy chief of staff from 2011-2013 to fraudulently amass wealth and properties from the hard working civil servants of the state.
The Governor not fully satisfied and bent on dealing treacherously with the Imo populace also appointed him as the commissioner for Lands and Housing, a position he occupied from 2013-2015. Uche Nwosu we learnt used his office as Commissioner for Lands and Housing to forcefully and illegally acquire lands from the innocent people of the state by revoking their certificate of ownership and transferring the same lands to his proxies and family members.
Some of these lands include the Akachi Estate, which seats on over 80 plots of land acquired by Nkechi Okorocha through Uche Nwosu; the land has 10 duplexes and ten bungalows all fully and well furnished, to be used as service apartments and are valued at over 6 billion naira.
It is also pertinent to note that the oppressive governor celebrated owning over 1000 Certificate of Ownership (COs) some years ago, according to a source, feat he was able to achieve using his son-in-law who was the lord when it comes to matters of land and housing in Imo state.
To further promote Uche Nwosu and boost his career as an executive looter, SecretReporters gathered that Gov. Rochas Okorocha in 2015 appointed him as his Chief of staff, a position he occupies till date.
It is no news that the statue loving governor in a more recent move presented his commissioner of mass looting as the next governor of Imo State in other to perfect his scheme and evade possible prosecution after he vacates the office as the governor in 2019.
Below is a list of some property owned by him and his family members:
Woodi wellness Centre, owned by Nkechi Okorocha, the wife of the Governor. The property is located at former Imo State Civil Service Secretarial, Orlu Rd., which was forcefully taken by Uche Nwosu as commissioner for Lands and Housing, the other part of the land was shared among his family members for private use.
Westbrook Hotel, located at New Owerri, owned by Okorocha's son-in-law Uche Nwosu, who in 2011 was a 10,000 job applicant of the Ikedi Ohakim examination, as a commissioner of land and housing, he acquired the land by revoking the license of the original owners.
Farmers Market owned by Geraldine, Okorocha's elder sister, acquired through Uche Nwosu as commissioner for lands.
A filling station under construction beside Farmers Market owned by the Governor's brother Gerald Okorocha, acquired through Uche Nwosu.
A filling station under construction along MCC Road, owned by Uche Nwosu. Over 20 plots of lands acquired by Uche Nwosu for his private school project which is still under construction.
Women Centre, 20 plots of land acquired by Nkechi Okorocha through Uche Nwosu for Event Center, just opposite the land Uche Nwosu is building his school.
A new mansion under construction opposite ISOPADEC building beside El Freda compound owned by Gerald Okorocha acquired through Uche Nwosu.
A mansion at Udunwa Estate owned by Uche Nwosu. Over 25 plots of land acquired by Uche Nwosu for his wife's El Freda foundation.
Billions of state funds have purportedly been laundered through this foundation.
Estervia Mega Supermarket opposite Civic Center estate owned by Ogechi Ololo Rochas Okorocha's younger sister who is presently the commissioner for happiness.
Municipal Plaza MMC owned by Nkechi Okorocha acquired through Uche Nwosu.
Alex home, along MMC road owned by Nkechi Okorocha through Uche Nwosu.
Akachi Estate occupying over 80 plots of land with 10 duplexes and ten bungalows all fully and well-furnished acquired by Nkechi Okorocha through Uche Nwosu valued at over 6 billion naira.
A storey building under construction at world Bank near Newcastle Hotel owned by Geraldine, Okorocha's elder sister.
Geraldine Okorocha acquired former Mr. Fans building which now houses Twitter Bites located at Mba road using proxy.
Spibat Estate, sitting on over 100 plots of land, with double drive ways and has about 64 buildings and a long tennis court in it.
Former IBC land at Orji now used by Rochas Okorocha as the site for his private school.
Private mansion at High brone Civic Center Estate, owned by Uche Nwosu which cost about 250 million naira, Uche Nwosu also changed the name of the street to Uche Nwosu Street.
House of Freeda a multimillionaire mall, which has branches in Lagos and Abuja, owned by Uche Nwosu and his wife.
Uche Nwosu owns a very large poultry farm, beside Shoprite Owerri.
Disney hotel and resort, owned by Okorocha. Well furnished with the state funds collected under the guise for flood victims in 2017
* It is alleged that Rochas Okorocha tried to buy Rockview and when the owner the Young Shall Grow refused, and he started using machinery of government to frustrate them. *
Rochas owns Concorde Hotel through a shell company *
Rochas Okorocha leased Adapalm to his private company *
Geraldine Obinali's son Obinna has a Manson behind Ahiajoku Center *
Using proxy Rochas acquired NTA land near Concorde
CREDIT: secretsreporter.com