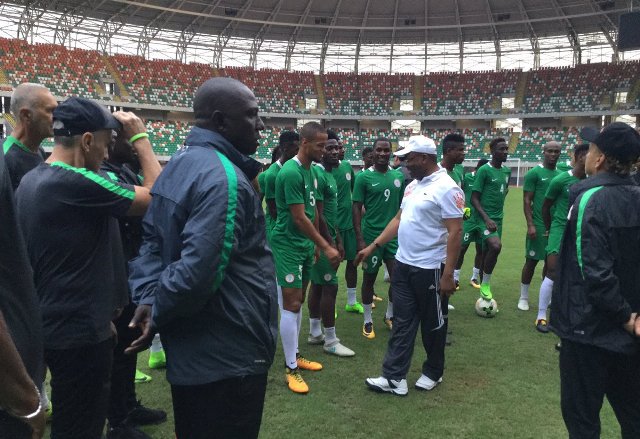 I cannot waste my money going to the Nest of Champions stadium built by renowned allegedly corrupt Former Gov. Godswill Akpabio whose looting legacies Udom Emmanuel is fast beating. 
For heaven's sake, the Super Eagles do not need to be paid money by Udom to win a match!
What happens to playing for patriotism that they have to be given the collective wealth of Akwa Ibomites for doing their job, which is to kick the ball inside the net? 
The N10.4 million is enough to pay salaries of a thousand teachers that Udom still owes. The $40,000 is enough to renovate the bad roads in some quarters within the state 
Why has Udom chosen to waste our money like he owns them? 
What actually is his benefit to the state as an ex-banker and business school graduate yet cannot have a scale of preference?  
Udom is a shame to everything governance. What if the eagles had scored ten goals? 
It means that Udom could have washed away over N20 million from the state coffers from the treasury without accountability! Who only made him a signatory to our common bank accounts?
The stadium is more of a liability than a resource yielding venture. The Super Eagles out of love for Akwa Ibom suffering workers should reject the money. 
They should stop coming to the state to play match as their coming is costing the State so much waste of resources than helping us. 
The constant gift of money to the Super Eagles whenever they play in the state is a cause for concern. 
The stadium is truly a curse to Akwa Ibomites than a blessing, as it is fast depleting the state meager resources. 
The crèche governor has no idea of what it takes to govern the State. 
He needs to undergo a 6 months crash program from Ex. Gov. Peter Obi on how bankers govern states and not the looting program course that Akpabio tutored him on as professor of lootology. 
Udom is a curse just as the stadium is a bigger curse. 
I rise. 
Fejiro Oliver (God's Pen of Morality)
—
Would you like to be receiving ALL Elombah.com news links 'On The Go' on WhatsApp?  If yes, please provide us your WhatsApp number via publisher@elombah.com or sms/inbox +2349050382526 and you are ready to go!
© Copyright 2017 www.elombah.com; unless otherwise indicated, all images are courtesy of Twitter; send eyewitness accounts/reports/articles to publisher@elombah.com; follow us on twitter @Elombah; like our Facebook page: Elombah.com; join us on WhatsApp HERE
For adverts call us on +447460770987, +2349050382526