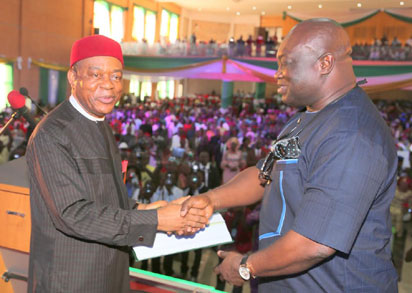 The Abia State Governor, Dr. Okezie Ikpeazu, has congratulated his predecessor and Senator representing Abia Central, Senator Theodore Orji, on his victory at the election petition tribunal. 
The petition of Bailiff Ahamdi Nweke of the All Progressives Grand Alliance (APGA) seeking for the annulment of the declaration of Chief Orji of the Peoples Democratic Party (PDP) as the winner of the Abia Central Senatorial election by the Independent National Electoral Commission (INEC) was yesterday struck out and dismissed for lack of competence and for being vague, unverifiable and unreliable. 
Governor Ikpeazu described the verdict as not the victory of Senator Orji in particular but that of the people of the Abia Central and Abia State in general, adding that the rulings of the tribunal and that of the Appeal Court in Owerri in the week have been a vindication for PDP and a vindication for democracy.
He described Senator Orji as the father of the modern Abia and a symbol of equity and justice, stating that his victory is another feather to his cap and another crown of glory for his doggedness and resilience in liberating Abia and in evolving a new state of equity and balance of power. 
While using the occasion to congratulate all other candidates of the PDP who have emerged victorious in the tribunal, the Governor said he is not in doubt that all the candidates will prove themselves as worthy ambassadors of their constituencies and the state both in the National Assembly and State House of Assembly. 
He further commended the leadership of the PDP for remaining steadfast in the pursuit of justice through the rule of law, noting that the victor in all the political struggles will be the people and the masses of the state whose will and aspiration have been upheld by the tribunal and upon whose mandate the candidates are serving in their different capacities.
The Governor also appealed to members of the opposition not to take the law in their hands by resorting to violent demonstration as reaction to the tribunal rulings as this is capable of breaching the peace in the state. 
He advised them to always channel their grievances through the appropriate quarters which, in the circumstance, are recourse to the appeal court.
Signed:
Godwin Adindu
Chief Press Secretary to the Governor