TONY NWOYE: WHEN A MAN SPEAKS OUT OF CONVICTION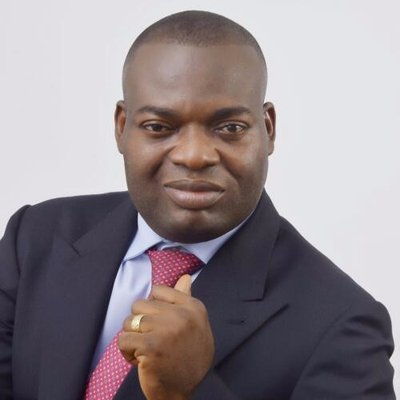 Recently, the gubernatorial candidate of the APC, Dr. Tony Nwoye, perhaps in a deliberate choice to covey the real message of misappropriation of funds to the people,  spoke in Igbo, he said : "Obiano bu Onye Ohi". Immediately,  Gov. Obiano's people went after him. Yesterday, as has become their trade mark, they wrote a stinking article against Nwoye on the backpage of the Sun. I hope Tony knows that the article came from them.  He really needs to triple the exposure for the heath of the State.
But when a man speaks out of conviction, not even the tyrants threatening countenance can stop him from voicing out the truth. Thus, yesterday, at St Mary's Catholic Church Awada, Dr. Tony Nwoye repeated what he said, this time slightly modified.
Shall we hear him: "in the history of the South-East, no Governor has stolen what Obiano steals from the treasury of the State. Obiano bu nnukwu Onye Ohi."
Strengthened by his conviction, Nwoye said that usually if anybody made such a weighty statement against anybody, the person accused went to court. He challenged Obiano to go to court if what he said was wrong. He said he had his facts.
Interestingly,   Tony made a frank confession of  how he, as the  Chairman of the PDP in Anambra State with other PDP stakeholders, engaged  in anti-party activities by secretly supporting Obi's re-election bid, because Obi was doing extremely well. 
Using his town as an example, Nwoye said it was Obi that built the first road to Nsugbe in his first tenure, from 33 to the College and that in his second tenure he connected the two sides of Nsugbe. Additionally, he said, he did so much in Nsugbe schools.
He emphasized  that if Obiano was doing well, that he would not be contesting and  that only a wicked person who did not want the progress of Anambra State would support Obiano because of the grave harm he was doing to the State.
Frank to  a fault, Dr. Nwoye said the PDP candidate was a good man and that he would  not deny a man with integrity and character because of an election. He finally said that if there were 5 votes, that the people should cast 3 for him and 2 for Oseloka  because as a younger person he was more abreast with the problems of the State.
Oseloka has experience and I can assure you that what he sees sitting down cannot be seen by the younger ones even if they climb trees. In governance, experience matters and Oseloka has it in abundance.
With what Nwoye  says recently, I think he has earned my respect. The society progresses when we challenge  bad governance exuded by those that govern us.
The exorcism by Fr. Mbaka is not enough to drive away whatever is… , we need to drive him away with our votes.
Anambra people cannot tolerate a man who cannot account for over 100 Billion Naira (adding set aside funds), received from his predecessor.
Anambra people cannot tolerate a man who has not bought 1 vehicles for our schools, yet he bought over 400 for his campaign.
Anambra people cannot tolerate a man who was handed over a debt-free state but is now owing over 60 Billion Naira, thus enslaving posterity.
Anambra people cannot tolerate a man that did over 35 roads in his Village and is yet to complete one in my and your towns.
Anambra people cannot tolerate a man who abandoned all major projects he inherited: Agulu Lake  and Onitsha Hotels; Nnewi and Onitsha Malls, among others.