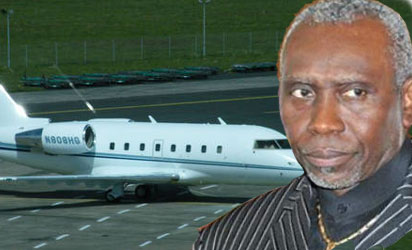 Following the recent media report that rocks were found inside the engine compartment of Pastor Ayo Oritsejafor's aircraft, Move on Nigeria, a Non-Governmental Organization and Civic Action Group has called on the Federal Government to thoroughly investigate the incident so as to bring the perpetrators to book.  
In a statement released to the media in Abuja  by the groups National Coordinator, Mr. Clem Aguiyi, the organization  bemoaned the untold assassination attempt on the life of the CAN President, while distressed at the silence of the Federal Government in investigating the matter since it was blown open.  The silence of the Federal Government and the Aviation Ministry over the incident is giving to speculations.
'We are making this call not just because it targets the life of the CAN President but because every human life is precious and must be treated as sacred. We must not allow our nation to again drift back to the period where citizens with contrary religious or political views disappear without trace or aircrafts drop from the sky for no good reasons but man-made accidents."
Mr. Clem who added that the ugly development should be prioritized by the Federal Government, stating that nothing should happen to the revered man of God. He moreover said it not only puts a question mark on the Federal Government, but also the authorities of the Federal Airports Authority of Nigeria (FAAN).
Furthermore, the organization strongly admonished the Federal Government to sincerely and properly scrutinize the shocking occurrence so as to fish out the culprits, adding that such happenings casts doubts over the safety of Nigerians and others who travel through Nigerian airports.
Recall that the media recently reported the bizarre discovery of rocks placed inside the engine compartment of Pastor Ayo Oritsejafor's Bombardier jet. The discovery was made by engineers conducting a routine check on the aircraft.
FAAN is a government agency responsible for the security and safety of Aircrafts parked in any of the airports across Nigeria. The authority has not been able to identify any culprit since the discovery was made. Pastor Oritsejafor has reportedly written to the agency through his lawyers demanding for explanation. 
Aviation security experts have explained that a rock or any object inside the engine of an aircraft can cause the engine to malfunction and crash while midair. The question remains: who want Oritsejafor dead? 
Is it the Islamists Boko Haram group whom he has been vociferous against or some fifth columnists desperate to provoke a religious war in Nigeria? Has the Islamists infiltrated the aviation sector and who are their collaborators inside government?
By Clem Aguiyi