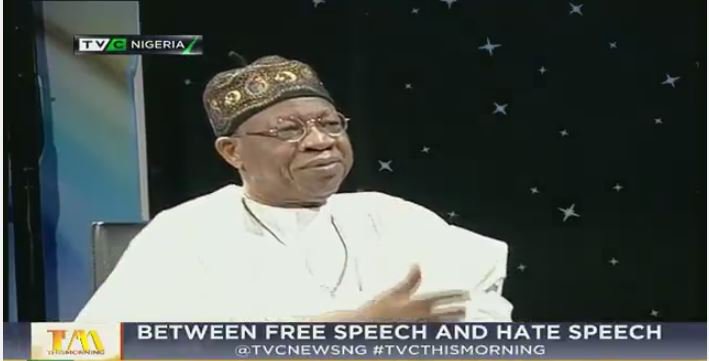 Are Lai Mohammed's pronouncements fake news or just mere party propaganda? 
President Buhari is sounding like President Trump and Aso Rock sounding and looking like the White House. 
Hate speech and fake news analogies do not apply to Nigeria and Nigerians. Hate speech in America is when derogatory speeches are directed towards minorities such as Blacks, gays, Jews and women.
Fake news according to Trump is when CNN and other news media are reporting stories not favorable to his presidency and myopic agenda for America.
However in Nigeria, the government controls the media through its brown envelopes giveaway and the people crying foul against hate speeches are the ones who have over the years exhibited hatred towards others. 
How in the hell can someone or some people who gave covert support to Boko Haram can now be shouting against hate speeches.
What constitutes as a hate speech in the new Nigeria?
If you disagreed with the government or don't like some outdated policies or ideas and you expressed yourself, is that now a hate speech? 
If you make fun of the President, is that a hate speech? If you say death to herdsmen, is that a hate speech? 
If you say kill Boko Haram before they kill us, is that a hate speech? 
If you say the rats and rodents stories are false, is that a hate speech or fake news?
When one cried out against his or her oppressors, it is not a hate speech, it is free speech!
When one writes about abuse of power and poor governance, it is not fake news; it is freedom of the press. 
You cannot issue a gag order against the people yarning for a real change.
How do you define hate speech and fake news? 
Is Lai Mohammed's pronouncements considered fake news?
Is arresting and harassing Shiite Muslims and Christians hate speech and hate actions?
—
Would you like to be receiving ALL Elombah.com news links 'On The Go' on WhatsApp?  If yes, please provide us your WhatsApp number via publisher@elombah.com or sms/inbox +2349050382526 and you are ready to go!
© Copyright 2017 www.elombah.com; unless otherwise indicated, all images are courtesy of Twitter; send eyewitness accounts/reports/articles to publisher@elombah.com; follow us on twitter @Elombah; like our Facebook page: Elombah.com; join us on WhatsApp HERE
For advert placement call us on +447460770987, +2349050382526