It is no longer news that the Anambra State governor, Willie Obiano shut down Enugu/Onitsha Expressway at its Awka axis.
What will remain news, however, is the fact that a former BANKER will shut down a major artery of the state economy just to commission a supposed "private" filling station, Stanel, without recourse to the economic implications to his state.
Unsuspecting users of the federal highway were given the shock of the day when on arriving at the said axis they found the road closed.
Numberless vehicles stretching kilometers were seen parked helplessly waiting for the event to round up to complete their journeys.
A concerned citizen of Anambra State, after ruminating over the colossal economic damage accrued to the government from closing a major highway in the state, while speaking to Elombah.com, asked:
"Does this government understand the damage closing an expressway for their commissioning of a filling station has cost Anambra State economy?"
He then lamented that "poor Knowledge of impact of government behaviour on state economy by Governor Obiano is the result of what we are into in Anambra!
"Anambra State is one State that many of her citizens are championing industrialization before Governor Obiano and… to shut the state for opening of a filling station in 2017 shows that Obiano and his team are yet to understand what 21st century Knowledge Driven Productive Economy (KDPE) should be!" he noted.
He, therefore, advised Anambra voters to end the Obiano anathema with their votes come November 18 during the state's governorship election.
On a sad note, another concerned citizen of Anambra State who is an insider into the affairs of the state confidently informed Elombah.com that the filling station belonged to the wife of the governor, Mrs Ebelechukwu Obiano.
To buttress his point, he questioned the rationale behind the governor making it a state affair, even going as far as closing a major artery of the state economy to commission a "private" filling station.
Elombah.com had, on June 7, reported that the filling station reportedly belonging to Ebele Obiano had  kicked off business in Awka, the state capital.
The station, which operates under the name Stannel Oil, was seen receiving petroleum from 20 brand new trucks with same "Stanel Oil" name.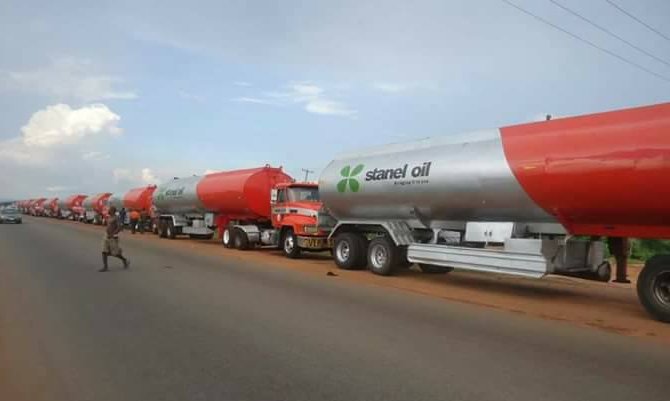 QUESTIONS FOR THOUGHT
Why have Obiano's aides, including Special Assistants and Senior Special Assistants been advertising on several platforms for Stanel Oil?
Why did the commissioning proper witness the state government closing down all the ministry and moving them down to the venue with the government serving both food and drinks?
Why did Obiano's government provide the land for the Station?
Why did Obiano's government provide all the Security that guarded and are still guarding the Filling Station?
Why did Obiano's government provide all the Logistics used for and on Stanel Oil?
Why did Obiano's media men handle all the commercials?
For example, the following is an "advert" by the Senior Special Assistant to Governor Obiano on Facebook, Ifeanyi Aniagoh to Stanel Oil on Facebook:
"Don't wait for orders before you Listen to the #Akulueuno Call of Gov Obiano… Follow Stanel Example!
"24 hr Stanel Ultramodern Luxury Service Station Set to Open in Awka, Anambra State: First of its kind in the whole of South East, Nigeria
"Why refuel at Stanel World:
1. Accurate metre reading
2. 24 hour service
3. Pay with ATM cards
4. Quality petrol products
5. No scarcity
6. Access to other valuable services (Chicken Republic, lounge, event centre, car wash, laundry services, bakery, vehicle alignment, farmer's market, domestic gas sales, etc.)
According to our correspondent, "what Mr Stanley contributed to the business is just the sign post which he didn't even pay for! "
Would you like to be receiving ALL Elombah.com news links 'On The Go' on WhatsApp?  If yes, please provide us your WhatsApp number via publisher@elombah.com or inbox +2349050382526 and you are ready to go!
© Copyright 2017 www.elombah.com; unless otherwise indicated, all images are courtesy of Twitter; send eyewitness accounts/reports/articles to publisher@elombah.com; follow us on twitter @Elombah; like our Facebook page: Elombah.com; join us on WhatsApp HERE
For advert placement call us on +447460770987, +2349050382526