A lady, one Mrs. Uzoma has revealed that a transportation company, Peace Mass Transit, with office in Utako, FCT — Abuja, buried her sister and some other dead passengers without informing or involving the relatives of the deceased ones.
Mrs. Uzoma made the disclosure on radio during a human rights protection programme on Thursday.
According to her, the sister boarded a bus en route to Enugu on from the terminal of the above-mentioned company.
In the course of the journey, they kept communicating until the bus approached Lokoja, the Kogi State capital.
Then suddenly the telephone line ceased communicating and all further effort to reach her proved abortive.
Hours later, she called relatives at home to confirm her arrival but those at home said she had not reached the destination.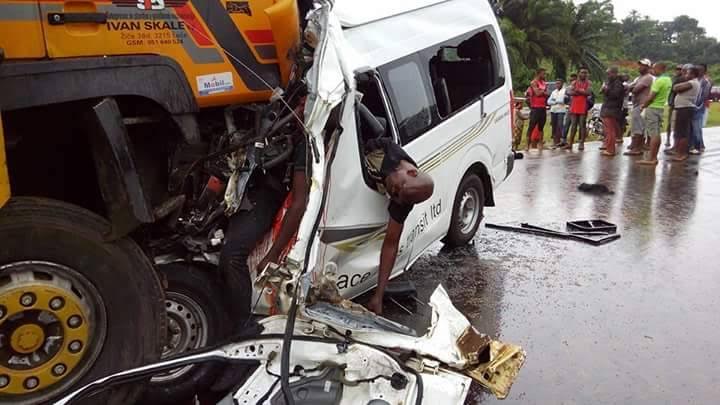 The next day, the worried lady went to the transport company to check the movement of the bus withs its occupants and was told that the bus in question was involved in fatal accident and burnt to ashes.
She was also told that the passengers got burnt beyond recognition and were buried immediately without contacting the relatives.
She demanded for official documentation by the police or the appropriate authorities and was directed to the Federal Road Safety Commission [FRSC] in Lokoja.
On getting to Lokoja, the FRSC officials responding to her inquiry about the dead occupants of the vehicle, told her that 14 out of the 16 occupants burnt beyond recognition as they picked them up in bits and pieces.
Out of the two survivors, One died before he could get medical help while one was taken to hospital where he is in critical condition.
The beleaguered Mrs. Uzoma was further thrown into further torment when she was told that her late sister was buried, neither with police report, nor any sort of documentation.
Other relatives of other deceased passengers, were also present in search of their dead relatives, also corroborated the story.
During the interview with the anchorman of the programme, the distressed lady asked:
"How could a transport company, in collaboration with government authorities, bury our dead loved ones without notifying the relatives?
"Why did they not make effort to contact us, the relatives, before burying my sister, even though my telephone number was written in the "manifest" of the company?
By the way, what is the legality of burying a deceased with proper police documentation?"
Worse yet, the ill-mannered FRSC official rudely asked her if they are employed to make phone calls to distressed persons.
Ironically, the same FRSC officer made similar assertions when he was called on the phone as the radio programme lasted.
As at the moment of this publication, neither Peace Mass Transit company, nor FRSC, nor the police has provided any shred of documented evidence about the incidence and the whereabouts of the passengers.
Efforts to reach the transport company proved abortive as they keep rejecting the calls.