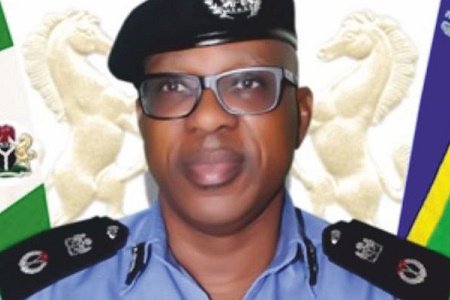 IMO POLICE COMMISSIONER, DISTRESSED HUSBAND, HIS WIFE AND SUPOL ABIOLA
Marriage is an honourable good thing divinely ordained by Almighty God between a man and a woman, so that the purpose of their life on earth would be fulfilled to the glory of God. 
But the devil and his human agents are not happy about this; hence they always seek and plot on how to scuttle and indeed scatter such a family and turn them (husband and wife) against each other and finally against Almighty God, who initiated marriage in the first place.
Behind every quarrel and trouble between a husband and his wife is the shameless idiot called the Devil. The devil is very subtle and with very little manipulation, he destroys a once happy and joyful family. But the devil does not operate alone. He has human agents through which he operates.
A little misunderstanding which could have been resolved quietly and amicably is left to grow wings, and in the process, taproots of disunity develop. At this very point, the devil "innocently" knocks at the door as an angel of light but with the sole intent to kill, steal and destroy a once happy and joyful home.
Mr. Emmanuel Esonwune is a brother and friend of about 20 years. His wife, Sergeant Hope Esonwune of the Imo Police Command is a sister and friend of about 17years. My wife and I attended their traditional wedding in October 2002. We equally attended their Church wedding in December 2002 at St. Paul's Catholic Church in Owerri-Imo State.
Emmanuel started life in the late 90's as a Vulcanizer. He also sold engine oil and other allied products. His office was at the junction leading to the defunct Progress Bank Plc. Headquarters in Ikenegbu Layout Owerri. 
I was his immediate neighbour, where I mounted some of my numerous kerosene tanks which serviced the kerosene needs of residents in that part of Ikenegbu Layout Owerri. I was the biggest licensed Kerosene dealer in Owerri with 17 workers.
Emmanuel and Hope are blessed with three surviving children (2 boys and a girl). Earlier, Emmanuel had enrolled Hope at the Police Training College Enugu, before she was commissioned as a Police Woman.
Emmanuel on his part enrolled himself at the Imo State University Owerri, where he studied Government and Public Administration (ICEP programme). His businesses boomed and progressed until August 2007 when the then government in the State destroyed his business outfit.
He suffered a great loss. I equally suffered the biggest loss, for I lost over 75,000 liters of DPK kerosene and many drums of Engine Oil.
8 out of my 12 Kerosene surface tanks were destroyed. Many people in various businesses suffered losses. As a warrior, I openly  stepped out and declared total war against the then government led by my now good friend, brother, Uncle, father and in-law, His Excellency Chief (Dr.) Ikedi Godson Ohakim.
I showed my strength to the extent the then Government paid the "Supreme'' price in the 2011 governorship election. The reading Public should forgive me for being cynical here, and for this digression.
Emmanuel Esonwune on his part suddenly became a poor man. When he could not secure any paid employment, he became an Okada man. When Okada motorcycle was banned in May 2009, he eventually became a Keke driver and operator.  Since then, Emmanuel Esonwune has been managing his life and family.
This narrative is necessary so that the reading public would see how a wrongly applied Government policy provided the platform, opportunity or lacuna through which the devil crept into a once happy family, and created disunity between the Husband and his wife. 
Like I stated earlier, the devil is very subtle. Having gained a foothold in the family, the devil now brought in his shameless human agent – one Supol Abiola of the Imo State Police Command in a final plot to destroy this once prosperous family. But TUFIAKWA, Almighty God is on the throne.
EMMANUEL VISITED AND COMPLAINED TO ME
On the 20th of January 2017, Emmanuel called my telephone number and sought to see me urgently, and I told him I was at home. About forty minutes later he was at my residence here in Owerri. I was shocked to see a distressed, depressed and unhappy Emmanuel Esonwune.
I asked him what the problem was, that he should be looking the way he was looking. Emmanuel went on a long journey to narrate to me how the devil disorganized his family using an agent, one Supol Abiola of the Imo State Police Command. 
He told me Supol Abiola was having an affair with his wife and that he (Emmanuel) had on more than six occasions confronted the so called Supol Abiola to stay away from his wife. Rather, he had always received threats from the said Supol Abiola, who threatened to waste his life if he disturbed him again.
Emmanuel told me how Supol Abiola was taking his wife to various fast food joints, guest houses, hotels (especially Rock View Hotel) and club houses.
Emmanuel told me how he has pleaded with his wife on many occasions to turn a new life. Emmanuel told me how he has reported to his in-laws about the crisis in his family and for them to intervene.
Emmanuel told me how a Reverend Father had intervened on the matter but to no avail. Emmanuel also told me that his wife Sergeant Hope Esonwune has packed out of his house with his children, and without his consent. 
Emmanuel also told me he is now living in fear due to Supol Abiola's threat to kill him. Finally, Emmanuel told me that many people have come into the matter, without achieving positive result, and that the problem has persisted because of his present economic condition as a tricycle-keke operator.