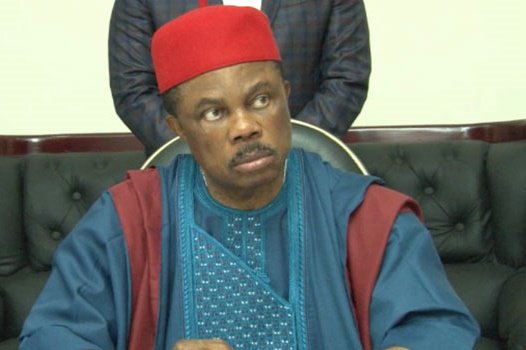 Each time I write about the profligacy of Anambra State governor, Willie Obiano, some people will come forward and argue that he was a rich man before he became governor.
Obiano was evidently broke before he became governor!
Or, rather, let me rephrase: "he was kissing poverty after his retirement from the bank ".
Not that he wasn't well paid in Fidelity Bank but we understand that having party at Gbagada residence every weekend will drain even the wallet of Dangote.
Truth is that when he was due for retirement from Fidelity Bank, he went to Mr. Peter Obi almost crying that he was not ready and prepared for life after retirement and begged to be given few more years. 
On Obi's intervention, his tenure was extended by two years.
On retirement, he was paid over 100 million Naira, which he used to buy house in Houston, USA, where he relocated to; not just house that will simply accommodate him but one with swimming pool .
In the USA, he was just idly retired and tired.
You can now understand while he said he was swimming and drinking champagne before he was called back.
The man merely wrote and begged Obi to use his influence to facilitate his becoming a director in Orient Petroleum. 
That was all he needed, before the governorship issue took the turn that saw him being favoured. 
Now, he was rich before he become the governor according to Aguleri people, yet he  did not have money to buy ticket to return to Nigeria!
He did not have money to purchase nomination form and other rudimentary things a person contesting will do on his own before help will start coming!
He did not have vehicle (the pushed type) and did not have money to buy [vehicles were purchased for him and his wife according to his specification].
He said he could not stay in Aguleri because his house was dilapidated. 
He was put in a hotel (most expensive then) and paid daily allowances for feeding.
It was during campaign that Architect Callistus Ilozumba organized contractors to raise money for him, with which he completed his house in Aguleri and did the landscaping.
All the money that were directly donated to him were hidden rather than be paid into campaign funds. 
After the election, many people revealed how he compelled them to re-write cheques already written in the name of the campaign organization to his personal name. 
His Campaign DG, Chief Joe martin Uzodike said as much.
Willie Obiano was simply a poor man before he became the governor, thanks to God and Peter Obi who he hated with atrocious hatred.
ASSET DECLARATION
We have the facts of how he declared 4.9 million Naira as the cash he had in his asset declaration form and how the scandalized it by asking someone to jerk it up to 40.9 million Naira. 
We have the name off the record.
If we are lying, we challenge his people to tell us how much he declared.
So somebody should stop selling lie to us!
—
Would you like to be receiving ALL Elombah.com news links 'On The Go' on WhatsApp?  If yes, please provide us your WhatsApp number via publisher@elombah.com or inbox +2349050382526 and you are ready to go!
© Copyright 2017 www.elombah.com; unless otherwise indicated, all images are courtesy of Twitter; send eyewitness accounts/reports/articles to publisher@elombah.com; follow us on twitter @Elombah; like our Facebook page: Elombah.com; join us on WhatsApp HERE
For advert placement call us on +447460770987, +2349050382526