The Independent Investigative Panel on allegations of human rights violations by the defunct Special Anti-Robbery Squad (SARS) and other units of the Nigerian Police, weekend, listened to how SARS operatives severely tortured one John Ogbu at their office, 'Abattoir', and broke his leg.
John Ogbu, a dealer in new and second hand electronic and home appliances in Gwagwalada narrated to the panel that on the 24th April 2018, at about 3pm, a man, who he later identified as Insp Edwin Kendiry came to his shop with a stranger who claims that he sold stolen electronics to Ogbu.
In his testimony before the panel, Ogbu said immediately the stranger pointed him out, Insp Edwin carried nine television sets from his shop without explanation and thereafter he handcuffed and took him away to Gwagwalada Police Station.
Upon interrogation at the Police Station, Ogbu maintained he had never seen the stranger before that day, this infuriated Insp Edwin, who started beating him.
He was detained for 2 hours; thereafter he was taken to the popular SARS office, Abattoir.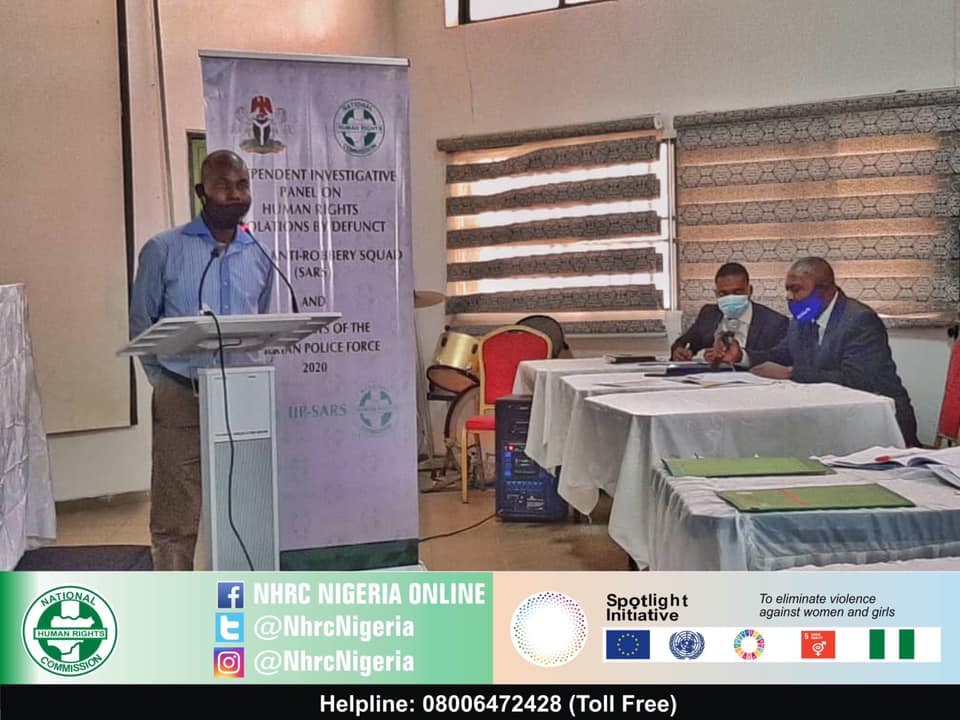 Continuing in his narration before Garba Tetengi SAN, who stood III for the Chairman, Ogbu said the next day he was taken to the torture room where his arms were twisted to the back and chained to his legs which were bent behind from the knee.
He was then hanged onto the ceiling and then beaten continuously with dangerous weapons by other SARS operatives led by Insp Edwin.
After the severe torture he discovered he could not walk again and two weeks later was released, because investigation revealed that he was wrongly accused.
He was then granted bail in the sum of N 150,000, thereafter he was taken to the University of Abuja Teaching Hospital Gwagwalada for medical examination.
An x-ray was carried out, and it was confirmed that the bone in his right leg was broken.
He had to undergo surgery at the Allied Hospital in Gwagwalada at the cost of N400,OOO, to fix his leg.
His prayer to the panel is that he wants to be compensated for the cruel and inhuman degrading treatment he suffered, including the injury to his right leg.
This is because he still walks with iron within his leg and the losses he suffered when his goods were carted away.
The panel adjourned for further hearing to 15th March, 2021 for the first respondents (Insp Edwin] to appear before it.