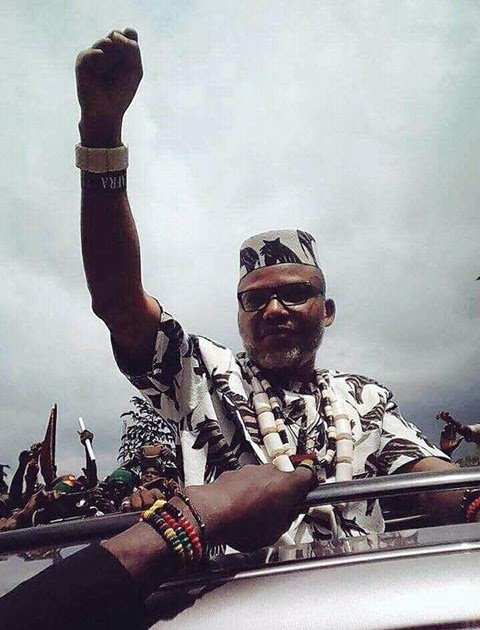 I don't know if Nnamdi Kanu will ever get to read this but I will say it anyways. 
As much as we hate to admit it, there is no political figure that pulls the kind of crowd Nnamdi Kanu pulls where ever he goes. 
I'm not talking about rented 500 naira per head crowd o. I mean loyal people who are ready to die for him and the cause he represents. 
If I'm Nnamdi Kanu, I will use this to a better development of the Biafra land I love so much and ready to defend. 
I will use the multitudes of loyalists at my beck and call to shake the grassroot politics in Biafra land and make every political leader accountable for his /her position starting from the councillor up to the Governor. 
Its either you work or leave. Keep them on their toes with fear of "work or quit". Every allocation must be accounted for. 
Be a positive political GODFATHER and turn the 5 states that represent Biafra to the next African "Dubai". 
Hold these south eastern political rats to ransom with your supposed influence! 
Let every senator and House of Representatives member know that weekly sittings at the Assembly isn't a place to warm their asses and take fat pays home but to represent our interests and fight for it or be ready to be recalled!
Let every Governor know how impeachment can be easily pulled through if good governance isn't achieved. 
Let them know how the masses have the power and how their vote can still count! 
You have the power, Mazi Nnamdi Kanu. USE IT! 
If Biafra can boast of good governance and economy my dear Nnamdi Kanu you will be amazed at how our positions in the Nigerian politics will turn out and be a force every ethnicity will want to identify with! 
You will be amazed at how you will achieve so much without bloodshed! 
You will be marvelled at how this Biafra you love so much will evolve right in your eyes! Leave this Ojukwu strategy you are towing!!! 
Restrategise! 
Tell Anambrarians to go and vote massively for the right candidates who will deliver and if they turn out to misrepresent, tell them again to recall, protest, pressure these politicians to deliver! 
Use your power!
We mustn't be a country to be great again! 
We can be a region that will make Nigeria great again with the strength in us as a people!
—
Would you like to be receiving ALL Elombah.com news links 'On The Go' on WhatsApp?  If yes, please provide us your WhatsApp number via publisher@elombah.com or sms/inbox +2349050382526 and you are ready to go!
© Copyright 2017 www.elombah.com; unless otherwise indicated, all images are courtesy of Twitter; send eyewitness accounts/reports/articles to publisher@elombah.com; follow us on twitter @Elombah; like our Facebook page: Elombah.com; join us on WhatsApp HERE
For advert placement call us on +447460770987, +2349050382526