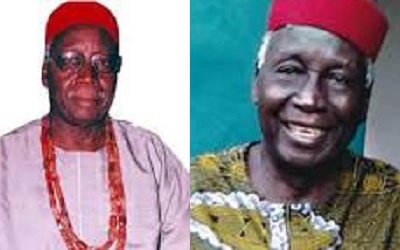 Igbos from all over the country have been commended by a former President- General of Igbo socio-cultural organization, Ohaneze Ndigbo, Dr Dozie Ikedife for embracing the ruling All Progressives Congress, (APC) en masse.
According to the Ohaneze chieftain, "the current movement of Igbo politicians to the ruling All Progressives Congress is a welcome development".
He saw it as an inalienable right of any discerning politician to position himself where it would benefit his people best at any moment in time. That the tactical move was not limited to the Igbos alone
He saw the APC as the hope of the Igbo, adding that nobody should attack Igbo politicians for dumping their former parties for APC.
He said, "The movement of many major political players from the zone into the APC is a good strategy that will remedy the political marginalization of the Igbo. 
"Today, APC is holding sway at the federal level.
"I want to think, and I believe that these  people moving into APC from other parties are not doing so because of 'food is ready politics', or stomach infrastructure.
"But they are doing so in their honest belief that the future of people from the South East is  better in APC", Ikedife stated
From Chuks Collins, Awka
© Copyright 2017 www.elombah.com; send eyewitness accounts/reports/articles to publisher@elombah.com; follow us on twitter handle @Elombah; like our Facebook page: "Elombah.com"; call us on +447460770987, +2349050382526