Honestly, opposition and criticism apart, the most pressing problem in Imo State today is the increasing lamentations by workers and pensioners for the inability, refusal, or both, by this current regime to pay salaries and pensions. I speak as a patriotic citizen!
Since January 2020, the story of payment and non-payment of salaries and pensions have remained recurrent and at the front burner of discourse in the State.
The summary has been that a large number of workers and pensioners haven't been receiving their dues from the regime as they should be receiving.
It's amid that sordid situation of non-payment of salaries and pensions that news has frittered out of Douglas House that a huge downward review of workers' salaries is in the offing, to be declared anytime soon!
For a State, characteristic of being a civil service State, the urgency and importance of regularly paying salaries and pensions needn't be over-emphasized. Imo people need their salaries and pensions for effective sustenance of their lives and those their families!
Therefore, denying Imo workers and pensioners their salaries and pensions on any single month is a very big blow for many families and for the State as a whole.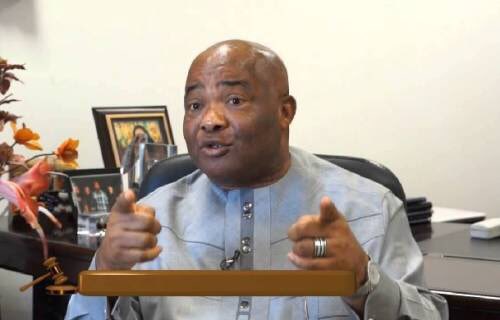 Unfortunately, that ugly trend has been going on for months now, without any end in sight. The situation even looks set to get worse, with the ill-advised contemplated deductions in salaries!
Certainly, that's a minus for a regime that prides itself as Share Prosperity regime. There's an obvious incongruence in the non-payment of salaries and pensions, and the claim to be a Share Prosperity regime!
Rather, with the regime persevering in non-payment of salaries and pensions, it's sharing poverty, penury, hunger disease, sickness and death in the State! That's just how bad it is as long as this regime plays politics with the payment of salaries and pensions in Imo State!
Then, in another vein, it's so sad that the current regime has been unable to understand the dynamics of regular payment of salaries and pensions in the State.
It's surprising that in its cluelessness, ineptitude and incompetence, this regime doesn't see the econometric import of paying salaries and pensions as and when due!
Should the chief operators of this wobbling and fumbling regime not know that it's when workers and pensioners get paid that the wheel of the economy of Imo State gets its real engine oil to roll on without frictions and hiccups?
Paying Imo workers and pensioners can be likened to a farmer who recognizes the need to effectively fertilize his crops for greater performance and bumper yield at harvest time!
Paying Imo workers and pensioners can be likened to a wise farmer that understands the need to feed his goats and sheep with rich green palm fronds and foliage, with the hope of fattening them for a good price at the market square!
Workers and pensioners use their salaries and pensions to buy their needs and those of their families. That impacts positively on the economy of the State as it enhances the level of the internally generated revenue (IGR)!
With the bad system of non-payment of salaries and pensions that has been reinstated since January 2020 by the current regime in Imo State, the economy of the party and specifically the IGR will suffer remarkably, as the State and the people will be impoverished the more!
In the spirit of my resolve to keep providing this regime with constructive criticism, I here once again offer pro bono the advice for the operators of this regime to do everything humanly possible to make payment of salaries and pensions a frontline charge as was done by its predecessor, the RebuildImo administration led by His Excellency, Rt. Hon. Emeka Ihedioha CON from May 29, 2019 to January 14, 2020!
If this regime discard this messenger for obvious reasons, let it not discard the message for any reason. It's for the overall economic, social and even political benefits of Imo people in general!
By God's grace, Imo State must be rebuilt!