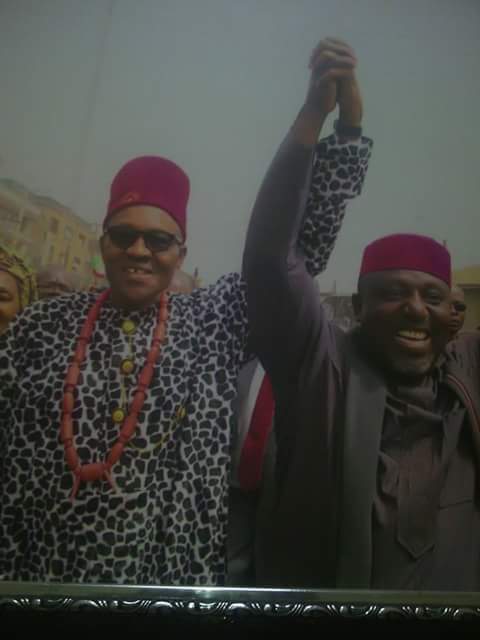 The government of Imo State has applauded the 3-million-man-march solidarity rally for President Muhammadu Buhari and the state governor, Rochas Okorocha which held in Owerri, the state capital.
Chief Press Secretary to the state government, Mr Sam Onwuemeodo disclosed this in a press release made available to Elombah .com.
In the press release Mr Onwuemeodo pointed out that the anti-Okorocha rally which was slated for Monday did not take place because nobody came out.
The statement said in full:
Unprecedented crowd took over the major streets of Owerri on Tuesday July 4, 2017 for the 3 Million-Man-March Solidarity Rally organized by Imo people from various interest groups for President Muhammadu Buhari and Governor Rochas Okorocha for what they called good governance, fight against corruption, exemplary leadership and amazing achievements.
The 3Million-Man-March Solidarity Rally was initially scheduled for Monday, July 3, 2017 as a Counter to the Planned One-Million-March anti- government rally being organized by a PDP Chieftain and former Speaker of the State House of Assembly, Rt. Hon. Kelechi Nwagwu also scheduled to take place that Monday.
But the governor directed the organizers of the pro-government 3Million-Man-March to shift their own rally to enable the anti-government rally take place without any challenge on Monday and even told the Police to grant them the permission for the rally since we are in democracy.
However, on Monday July 3, 2017 neither the organizers of the much publicized anti-government rally showed up nor anybody or group of persons and not even Rt. Hon. Nwagwu thereby authenticating the government's optimism that no reasonable and patriotic Imo man or woman would come out for a protest rally against a government that has achieved so much in Six years.
The Pro-government 3Million-Man-March Solidarity rally literarily shot down Owerri, the State Capital and in spite of the hold-ups caused by the large crowd, nobody complained, rather, motorists were shouting from their cars in support, while traders were giving them groundnuts, banana, gala and other items.
They finally arrived Government House where the Coordinator, Comrade Jeff Nwaoha told the governor that they had organized the rally in appreciation of the President's achievements especially the relentless war against corruption and the governor's monumental achievements in the State,.
He added that Imo people have never had it so well before now and that the achievements of Governor Okorocha in Six years have surpassed the achievements of all those who governed the State before him put together.
He also pointed out that they wanted to appreciate the President and the governor for their people-oriented leadership and to assure them that Imo people are solidly behind them thanking the President and the governor for the amnesty programme. 
They prayed for the quick recovery of President Buhari.
His words "If you can recall your excellency, few months ago, when ordinarily a governor would have given directives to slaughter and kill the militants and agitators in the Niger-Delta region of the State, you in your normal wisdom decided to grant people from Ohaji/Egbema & Oguta amnesty and saved them from total annihilation. 
"We have also come to say thank you".
Addressing the crowd in excitement, Governor Okorocha said: "Today you have shown me that I am really the Senior advocate of the masses and the Civilian general of the people. 
"Thousands and thousands of people coming all over the State to show solidarity at your own time and cost and to shame our detractors who could not bring out one person for their one million-man-march against me, I shall never fail you people".
For him "There is peace in the Niger Delta. These young men seated maybe most would have been killed by the police or army if I did not intervene with the amnesty program. 
"Today we have peace in Ohaji/Egbema and Oguta. Today we have broken the jinx that poor people can never be millionaires. 
"We have taken 305 youths here and made them millionaires. With this jinx broken all of you have the capacity to become millionaires in the future".
He continued "I have heard your request for a proactive successor, before I leave I will send you the holy spirit, I will never leave you alone, you can imagine if previous government for the past 30 years have been working the way I am working now, by now Imo State would have been London. 
"The massive infrastructure in the State is only within Six years, so think of 30 years".
The governor also urged Imo people to pray fervently for Mr. President's recovery.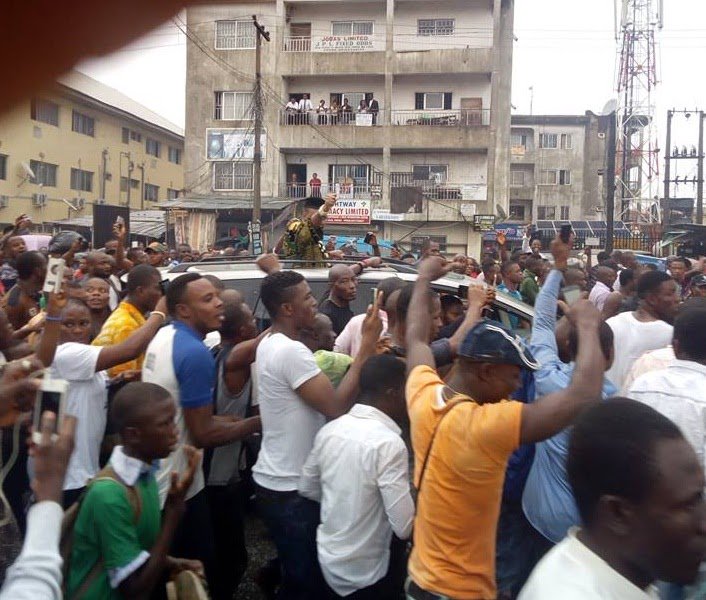 The groups and Associations that participated in the Mother-of-all Rallies in Imo include, Imo Progress Movement (IPM), Imo State Council of Youths (ISCY), Youths Assembly of Nigeria (YAN), Nigeria Union of Road Transport Workers (NURTN), Imo State Amalgamated Traders Association (ISAMATA), National Union of Imo State Students (NUISS), Niger Delta Youths (NDY), Imo Pilots (IP), Niger Delta Rescue Youth Movement (NDRYM), Women for Good Governance (WGG) Youth For Defence of Democracy, Niger Delta Volunteer Corps, ISOPADEC Youths, Timbers Drivers Association, Student Union Governments etc.
Another report, however, said that the crowd split up when they caught a glimpse of the leader of the Indigenous People of Biafra [IPOB], Mr Nnamdi kanu passing by and hailed him with royalty.
Would you like to be receiving ALL Elombah.com news links 'On The Go' on WhatsApp?  If yes, please provide us your WhatsApp number via publisher@elombah.com or inbox +2349050382526 and you are ready to go!
© Copyright 2017 www.elombah.com; unless otherwise indicated, all images are courtesy of Twitter; send eyewitness accounts/reports/articles to publisher@elombah.com; follow us on twitter @Elombah; like our Facebook page: Elombah.com; join us on WhatsApp HERE
For advert placement call us on +447460770987, +2349050382526