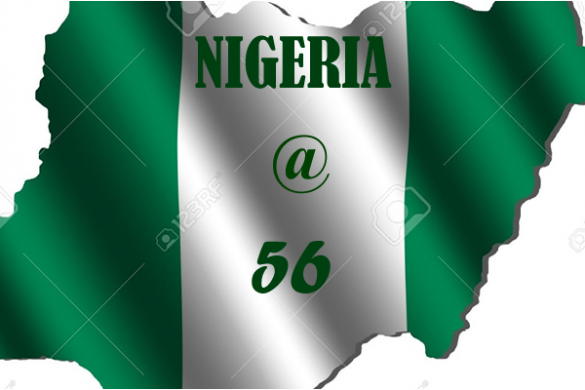 The Lagos State Chapter of the All Progressives Congress, APC has called on Nigerians to gird their loins and brace up for a brand new and sophisticated Nigeria that is unfolding  in our own very eyes even as we celebrate 56 years of independence as a sovereign country.
In a release signed by the State Publicity Secretary, Mr. Joe Igbokwe the Party says that Nigerians have every reason to celebrate our dear Country even in the face of economic recession, adding that even in weakness we shall be made strong again.
"A lot of Nigerians may be passing through difficult times now;
– a dollar may be selling for N450, 
– a bag of Thailand rice may be selling for N20,000, 
– a lot of young Nigerians may be out of jobs now, 
– our infrastructure may be in dilapidated shape now, 
… but there is hope that tomorrow will be better because we see responsive and responsible actions in place that tell us that our leaders are not sleeping"
"The days of the locusts are gone and gone forever, the impunity of yesterday is disappearing with frightening speed, the system and systemic corruption we were saddled with yesterday are beginning to give way for a transparent and committed leadership, the shameless and irresponsible governments we witnessed in the past are giving way to sensible and robust leadership, the shame of yesterday is gradually and meticulously being turned to glory today"
"We appeal from the bottom of our hearts that you should not be discouraged even at a time like this. There is light at the dark end of the tunnel and there is hope that the bones shall rise again. 
"The foundation we did not lay yesterday is hurting us today but the good news is that the foundation for tomorrow is solidly being laid today and we know that Nigeria will bounce back in the fullness of time. Please take this as a promise"
"If you can see what we are seeing now;
If you can see the future of our Country clearly now ;
If you can feel the wind of change from our old ways;
If you can see what few Nigerians did to our common patrimony;
If you witnessed the huge amount of cash and property recovered;
If you can see how corruption, insecurity and infrastructure deficit is being tackled and;
If you can see silent development in the power sector and the serious attempt to generate jobs even in recession, please fill up your glasses and let  celebrate Nigeria at 56″
© Copyright 2016 www.elombah.com; Send eyewitness accounts/reports/articles to publisher@elombah.com; follow us on twitter handle @Elombah; like our Facebook page: "Elombah.com"
Share your thoughts in the comment box below: