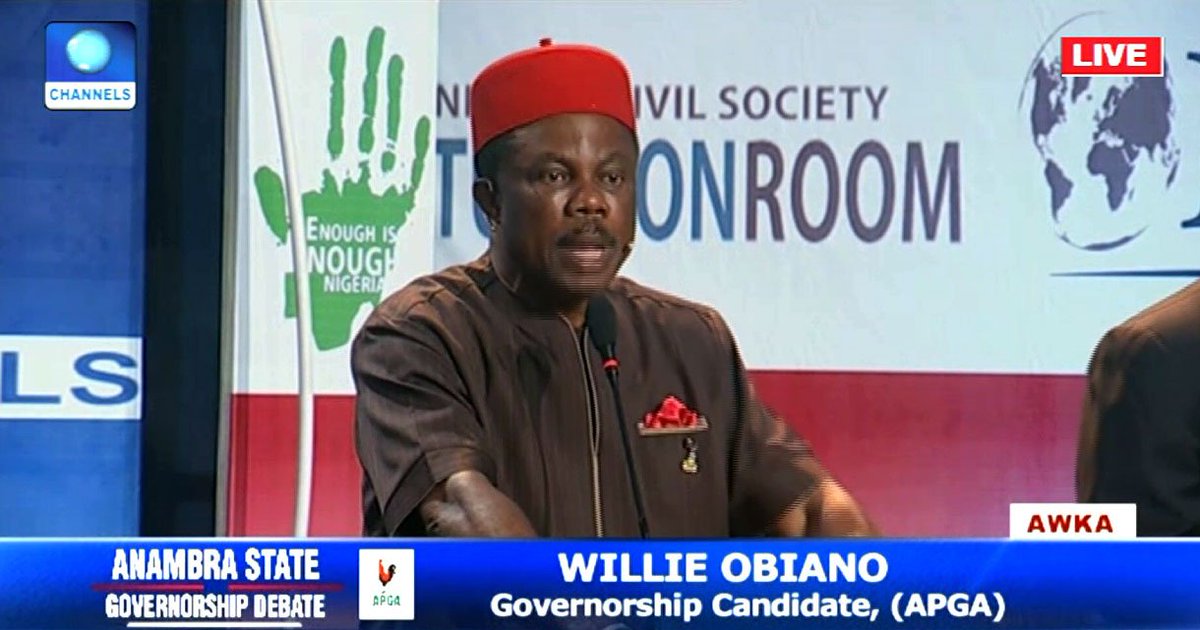 On leaving office on March 17, 2014, outgoing Gov. Peter Obi declared that his administration had left a staggering sum of N48,629,473,469 [N48.6 billion] – inclusive of Set-Aside Funds – in the coffers of the State. 
Mr. Obi further revealed that he also saved US$156 million [valued at N27 billion then], which he tagged Anambra Future Growth Funds.  Left intact, those savings should have been worth US$200 million [about N75 billion] today. 
These bequeathals were all properly processed and documented with reputable financial instruments and institutions.
Alas, from its assumption of office in March 17th,  2014, the successor Government of Chief Willie Obiano has been in denial; adopting all manner of subterfuges to refute the huge bequeathals. 
As the controversy simmered, Mr. Obi's aides published the account names, account numbers and identities of banks where the former Gov. left the monies.
In spite of the clear documentations, Gov. Willie Obiano persistently denied the existence of such funds – in Naira and US Dollars alike.  
Such was the vehemence of Obiano's rebuttals that many Anambrarians became confused on who or what to believe.  But, the revelations were sure to come. 
A few days ago, the respected The Nation Newspaper – which had earlier reported the sale of Anambra State US Dollar savings  in 2015, through exemplary investigative journalism – further unravelled  the several occasions Obiano has sold the Dollar savings; through transactions he instructed be done  in secret. 
Commissioner Mark Okoye was his anchor man on this reckless sales.
Consequently, in the gubernatorial debate of 12th November, 2017, when Gov. Obiano was asked about the savings left by the Obi administration, he admitted that he had sold the US Dollar components.  
Not even sobered by the admission of a truth he had denied for over three years, he further insulted the sensibilities of the panelists, audience and viewers by asserting that the monies should be used now as it is of no use saving for the future. 
Asked what he used the monies to do, he said "to pay salaries". 
He foraged deeper into the mud when he claimed he had completed 51 roads, 99% of which are known to have been undertaken by the Obi administration.
Several queries arise from this mind-boggling revelation of financial recklessness. Among them are: 
– Was it desperation that made Gov. Willie Obiano sell the US Dollars at N314 to the Dollar when the exchange rate at that time was N415 to the Dollar – an unaccounted difference of N101 on each Dollar sold? 
– If he really used the saved monies to pay salaries, what did he do with the over N500 billion he confessed he got from Internally-Generated Revenue [IGR]? 
– To what use did he put the State's monthly allocations from the Federation Account running into billions of Naira? 
– If he used his predecessor's Dollar Savings to pay salaries, what "Other Things" did he use the Paris Refund in excess of N20 billion to fund? 
Anambra State does not have any decent future under Obiano with his coordinated culture of deceits and lies; and the people had better known it – in their collective interests.
See attached documents:
— 
Would you like to be receiving ALL Elombah.com news links 'On The Go' on WhatsApp Or Telegram?  If yes, please provide us your Telephone number via publisher@elombah.com or sms/inbox +2349050382526 and you are ready to go!
© Copyright 2017 www.elombah.com; unless otherwise indicated, all images are courtesy of Twitter; send eyewitness accounts/reports/articles to publisher@elombah.com; follow us on twitter @Elombah; like our Facebook page: Elombah.com; join us on WhatsApp HERE
For adverts & inquiries, call +447460770987, +2349050382526
---
DISCLAIMER

: Opinion articles are solely the responsibility of the author and does not necessarily reflect the views of the publishers of Elombah News