President Buhari meets freed Chibok girls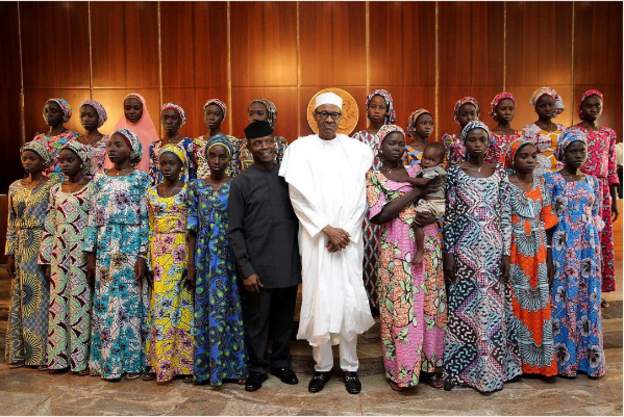 Above photo: President Buhari and the feed Chibok girls
Nigeria's President Muhammadu Buhari has met the 21 Chibok girls who were released last week by militant Islamist group Boko Haram after more than two years of captivity. 
READ ALSO SPEECH BY BUHARI AT RECEPTION FOR THE RELEASED CHIBOK GIRLS 
They were freed as a result of negotiations between the Nigerian government and the militants. 
In a statement on his Facebook page, Mr Buhari said:
Today I received 21 dear daughters. They have seen the worst that the world has to offer. It is now time for them to experience the best.
They will be given adequate and comprehensive medical, nutritional and psychological care and support. The federal government will rehabilitate them, and ensure that their reintegration back to the society is done as quickly as possible.
Aside from rescuing them, we are assuming the responsibility for their personal, educational and professional goals and ambitions in life. Obviously, it is not late for the girls to go back to school and continue the pursuit of their studies. We will be with them every step of the way.
While joining their parents to rejoice and praise the Almighty, we shall redouble efforts to ensure that we fulfill our pledge of bringing the remaining girls back home."
A total of 197 are still missing. The abductions led to one of the biggest social media campaigns under the  #BringBackOurGirls hashtag on Twitter.
The girls were seized from a boarding school in Nigeria's north-eastern town of Chibok.