US Secretary of State Rex Tillerson sacked after meeting with Buhari
US Secretary of State, Rex Tillerson has been sacked after meeting with Nigeria's president Muhammadu Buhari yesterday.
Mr Tillerson had just returned from an official state tour of five African nations this morning.
President Donald Trump confirmed the replacement of REX Tillerson as the US Secretary of State,  on Twitter in an unprecedented White House shakeup.
The US President tweeted:
"Mike Pompeo, Director of the CIA, will become our new Secretary of State. He will do a fantastic job! Thank you to Rex Tillerson for his service! Gina Haspel will become the new Director of the CIA, and the first woman so chosen. Congratulations to all!"
It remains unclear what prompted the ousting of Mr Tillerson, who was one of the most senior members of the Trump administration and had served the President since he was inaugurated last January.
A senior White House official told Reuters that Tillerson's departure was a result of the President's plans to install a new team ahead of planned talks with North Korean dictator Kim Jong-un later this year.
Mr Tillerson, a former chief executive of oil and gas giant ExxonMobil, joins a growing number of senior White House officials who have left their posts in recent months.
The US Secretary of State Rex Tillerson was in Nigeria for what became a flying visit.
Mr Tillerson arrived in Abuja on Monday afternoon, having already made a brief stop in Chad after leaving Kenya yesterday.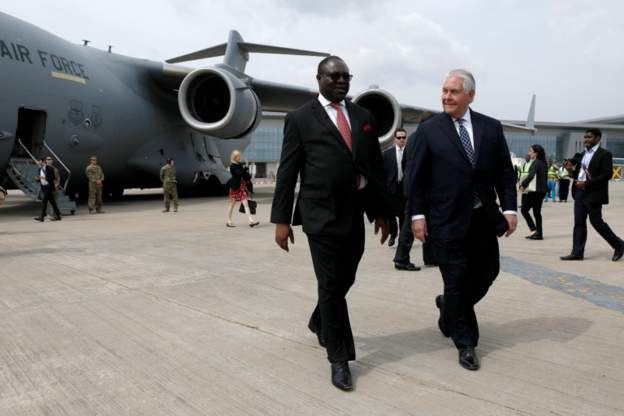 Mr Tillerson had originally been meant to spend the night in Nigeria before flying home, but cut short his visit, saying he felt unwell.
His staff said he had to return to Washington in order to deal with urgent matters back home.